Sally Face: Episode One – Strange Neighbors
review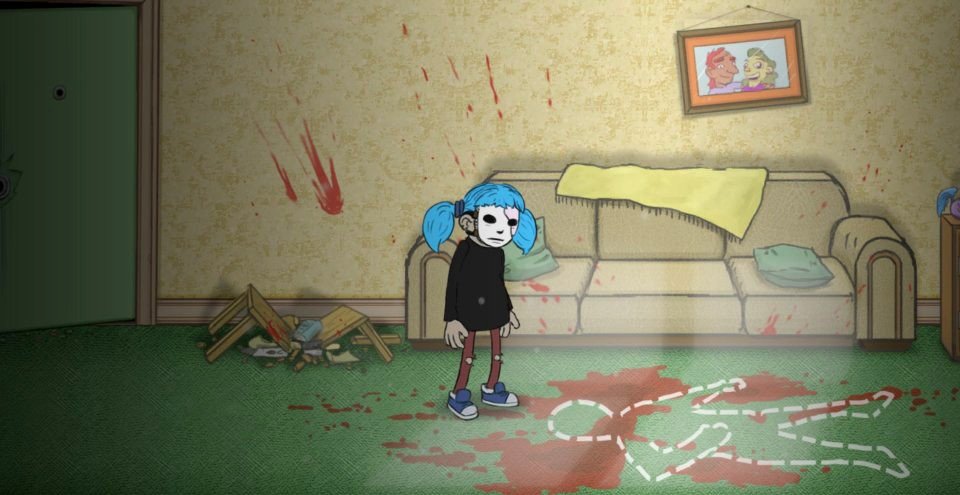 Game information
You might also like these adventure games
Advertisement
Adventure games by Steve Gabry
BITMAP BOOKS
"Whoa, nice mask!" says your new neighbor. "It's a prosthetic," you reply in a dry tone. The camera cuts to a close-up of said facial covering, lingering on your frozen visage for an unsettlingly long time, your eyes lurking inside dark, unblinking sockets.
This is just one of many unsettling moments to be found in the first chapter of Sally Face, a side-scrolling episodic adventure courtesy of indie developer Portable Moose. This is a game that seeks to draw you into the mysterious, tormented psyche of a boy with a dark past as he explores his new home and meets new friends. Already, with five episodes planned in total (the second and third of which are also available at time of writing), the story does a great job of making you want to uncover its secrets. Unfortunately, the series debut is hampered by the way in which you're invited to do so, with a world that at times seems to actively resist being explored, resulting in a game that frustrates as often as it intrigues.
Sally Face begins as so many horror games do: in a creepy hospital. You'll awaken as the eponyomus Sal, a boy in a hospital gown with his face completely covered in bloody bandages. Soon you receive a phone call from your father, telling you to meet him, which involves some simple puzzle solving to find your way out of the hospital. The tone for the game is set pretty early on, as you experience vivid, nightmarish visions of your parents and admonishments written in blood. It's effectively eerie, and does a pretty good job of drawing you in. Having done so however, it's soon revealed to be a nightmare (or perhaps a flashback), and now the actual game can start.
Sal is a 15-year-old boy with a Michael Myers-like face mask and blue hair tied up in pigtails. He and his father have just moved into a new apartment, and the goal here is to explore the building and introduce yourself to the neighbors. With this very simple objective in mind, you will set off to meet your fellow denizens of the building, making some friends, getting wrapped up in a murder mystery, and experiencing more disturbing visions.
Although in many ways the gameplay is traditional, it wouldn't be appropriate to call this a "point-and-click" adventure, as there's neither pointing nor clicking involved. Indeed, you never use your mouse at all. The game is controlled entirely with the keyboard, with Sal only ever able to move left or right. His movement speed is surprisingly fast, and holding down the directional keys makes him jog swiftly from one area to the next. It's a little bit too fast though; tapping the directional key will make Sal immediately lurch forward, and there's a slight delay when trying to stop. This means you tend to overshoot where you want to go, and I often found myself having to nudge Sal back and forth to get him where I wanted him.
Exploring and item gathering are extremely streamlined. Rather than searching the environment for clues and essentials, interactive objects are indicated simply by walking near them. There's never any choice in how to interact with hotspots, with the appropriate command simply appearing over them, ("Talk To", "Open", etc.), carried out by using the "F" key to make the action happen. There's rarely more than a few interactive items in a given room, and never more than one character, so each location only has a small handful of things to do.
Gameplay is very simple, mostly consisting of speaking with the odd tenants of the apartment building. You'll go to one place and talk to someone, then go to a different place and talk to someone else. If you find an item you can collect, it's added to your inventory but there's no combining objects there and you can't show things to people – really you can't experiment or need to figure things out at all. If you have the right item, it just gets used automatically when necessary without any real input from the player. There was never a moment I had to stop and think about a puzzle or make a decision about where to go next.
I'd have very much liked to have more options to examine the surroundings. I appreciate making the game a bit more streamlined to focus on the story, but here the locations are so limited it harms the immersion. Once you've walked through a room and the only two highlighted options have been exhausted, there's no reason to stick around and search for clues or simply soak up the atmosphere. As a result, the game quickly runs out of unique scenes and things start to get repetitive. I eventually found myself sprinting from location to location, confident there was nothing to do and no story to trigger until I got to my next destination.
There are a few effectively chilling moments triggered by entering certain locales, and the game does a great job of making you wonder if they were real or just hallucinations on Sal's part. Was what you saw just another freaky vision, or is there something more sinister going on in this building? Several characters you meet indicate that there have been rumors of ghosts for years, though most are quick to dismiss them as nonsense. Then, of course, there is the brutal murder in the apartment next to Sal's, the investigation of which makes up the bulk of the game's main mission.
Sal himself is a potentially interesting protagonist, with his unique appearance and haunted psyche. We're given a number of hints along the way as to the nature of some horrifying tragedy that occurred in the not-too-distant past. "I miss mom," you say to your father, to which he only replies "I know, son. I do too." Despite the absence of voice acting, you can almost hear the cryptic melancholy in the man's voice. Sadly, the first episode never gives us much insight into Sal's personality. He very rarely muses about the things he observes (not helped by how non-interactive the game world is), and conversations are very straightforward, revealing very little of what makes him tick. He's meant to be a mysterious boy, sure, but giving him a few more relatable traits would only add to his unsettling nature, not detract from it. As it stands, Sal's a bit of a blank slate, so hopefully the remaining installments will better flesh him out.
Most of the supporting cast is equally one-dimensional. The first person you meet is the cartoonishly grouchy police officer standing guard outside the apartment of your murdered neighbor. His incredibly hostile responses to the most basic of questions actually made me laugh, which I'm pretty sure wasn't the designer's intention. There's a big fat nerd who's gross and weird and refuses to talk about anything other than his collection of My Little Pony "Sparkle Ponies". A lady on the first floor is angry and ends each conversation by slamming the door in your face. All of these characters are glued to their spots, doing nothing and going nowhere, waiting dutifully for you to come by and trigger the next story beat. Which would be fine if they were well-written characters who are enjoyable to interact with, but here the conversations are brief and barely more interesting than knocking on six floors' worth of unanswered doors.
That's not to say there are no memorable characters or events in Sally Face. My favorite is Larry, who lives in the basement apartment with his mother (the building's maintenance woman). He's a friendly metalhead who ultimately helps solve the murder. The best part is when Sal reveals he's never heard heavy metal, so Larry puts on an album and you both headbang to the music. This moment stuck out in my mind, not just because I wholeheartedly approve of Sal's new taste in music, but because it's one of the few legit attempts at character-building in the game.
Speaking of music, the soundtrack is something of a mixed bag as well. The songs are creepy and unobtrusive electronic tunes, serving more as ambience than actual songs. And by "songs" I mean "song". As in, there's one single score that plays while you're exploring the apartment. There are a small number of other tracks that play at the beginning and very end, but for the most part you'll be listening to the same short music loop. It got pretty grating after a while, and we really could've used another track or two to mix things up a little.
The art, on the other hand, is quite excellent. Characters are all hand-drawn in sketchy lines that pulse and undulate, making them feel very much alive. This more than compensates for the rudimentary animation, though Sal's run cycle looks fine. The visual style is cartoony yet slightly macabre; characters all have odd proportions and simple designs, but they're also suitably unnerving. This is used to particularly good effect when you catch a glimpse of the "ghost" that's been haunting the apartment (or was it a ghost at all?). The colors are all somewhat muted, and the backgrounds are detailed enough to feel real. All in all, the game has the look of a teenager's sketchbook, with dark and disturbing imagery drawn in a style that I found extremely appealing.
As the first chapter in a series, Sally Face's debut clocks in at about 75 minutes. During that time, a lot of hints are dropped about where the overarching story might be going, while a number of items attained are presumably being saved for the next installment, and a lot of characters clearly have much more to say than what they've revealed so far. The ending in particular has a few fairly big twists, teasing even more mysterious tragedies in the future. For such a brief episode, it does a very good job of laying a lot of groundwork for future chapters to elaborate on.
If you demand meaty puzzles and lots of exploration in your adventures, Sally Face doesn't seem like the game for you, though it's possible the difficulty might ramp up considerably later on. That said, I do recommend it for players who are more interested in experiencing a grim story unfold. It's far from perfect so far, with a number of elements that hurt the experience: its tiny, barely-interactive environments, shallow characters and repetitive music all work against it. However, the interesting story premise, gorgeous art direction and effective atmosphere all worked to draw me in anyway. I'm very interested to see where all these loose narrative threads go, and I'm looking forward to finding out in the remaining chapters ahead.
Our Verdict:
Light on puzzles but heavy on intrigue, the debut episode of Sally Face does a good job of teasing a haunting story premise, though hopefully future installment swill be much more interactive and filled with better-developed characters.
GAME INFO
Sally Face: Episode One – Strange Neighbors is an adventure game by

Steve Gabry

released in 2016 for Linux, Mac, PC and Switch. It has a Stylized art style, presented in 2D or 2.5D and is played in a Third-Person perspective.




By jacal01 on Feb 28, 2019
Atmospheric jewel
The initial episode is more about story setup than game, but this little sidescroller quickly immerses you with its creepy ambience and chilling innuendos. An almost Kabuki theater effect of the protagonist Sal's blue pigtailed...

Read the review »

review
Other articles you might enjoy