LAYTON'S MYSTERY JOURNEY: Katrielle and the Millionaires' Conspiracy
review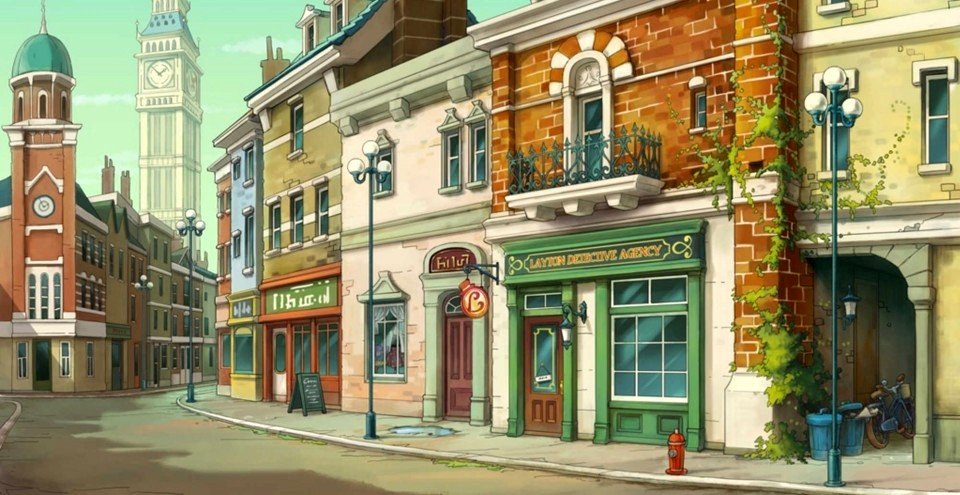 Game information
You might also like these adventure games
Advertisement
Adventure games by Level-5
BITMAP BOOKS
The Layton games are a bit like hot fudge sundaes. Not only can they both cause brain freeze if consumed to excess, but rather than mix their seemingly disparate elements together into one cohesive whole, they distinctly layer them one on top of the other. Instead of ice cream, sauce, and whipped cream, of course, here it's story, puzzles, and exploration. These aren't always the most unifying of ingredients at the best of times, so forget all that blending nonsense. Never mind trying to integrate puzzles into the story, and vice versa. (Exploration is the whipped cream equivalent here; it's so light you barely notice it, but serves its purpose in smoothing the transition between the two stronger flavours.) Just keep scooping 'em both in until the dish is overflowing, then hand players a spoon to sort it out for themselves.
It's a recipe that really shouldn't work nearly as well as it does, and yet for nearly a decade, Level-5's puzzle-centric detective series has immersed gamers worldwide with its abundance of brainteasers, gorgeous presentation, charming characters, and enough intriguing mystery to hold it all together. Surprisingly, though its unabashedly casual approach to gameplay is tailor-made for the mobile experience, the franchise hadn't previously made its way to tablets and phones (other than the Layton-in-name-only Layton Brothers: Mystery Room). Now, however, LAYTON'S MYSTERY JOURNEY: Katrielle and the Millionaires' Conspiracy introduces the series to a whole new generation of conundrum fans, both in-game and out. This latest confection is still an acquired taste, mind you, and very similar to what came before. It's not quite as tasty as its predecessors, and its serving sizes are smaller, but as usual it's got a whole parlour full of goodies and a host of extra toppings to offer.
If a food analogy seems like a strange way to introduce a game, blame it on the protagonist. The top-hatted gentleman archeologist is nowhere to be found this time around, having disappeared under mysterious circumstances. Instead, it's the professor's daughter Katrielle (Kat) taking up the family mantle of mystery-solving with the opening of the Layton Detective Agency. Bright, eager, and perpetually optimistic, if a little prim and proper, ditzy at times and frequently distracted by edible treats, Kat is joined in her new venture by the gangly, love-struck unpaid assistant Ernest, and a talking dog named Sherl… Wait, what? Yes, the company's first-ever customer has been turned into a Basset Hound, lost his memory, and now seeks help in regaining his identity. (Infuriatingly, he's the only client whose case is NOT solved by game's end. That's not a spoiler, because they never even try.) Far more cynical and world-weary than his human companions, this pup (named after the famed Mr. Holmes) is mainly here for comic relief, but he too has a nose for puzzles when circumstances dictate.
Where previous games were centered around a larger mystery, LAYTON'S MYSTERY JOURNEY is instead broken into a dozen individual cases. There is something of a broader story arc involving the "Seven Dragons" (the titular millionaires representing London's elite) that is tied up in the final episode, but for the most part each case is a standalone investigation. These range from a missing clock hand at Elizabeth Tower to a legend of lost lovers to a potentially haunted house. Some are even more whimsical in nature, like helping Inspector Hastings find a last-minute anniversary gift for his wife or deducing the culprit behind a lost Titanic-spoof film reel. Even the protagonists find themselves in the crosshairs of the law at one point, with both Ernest and Kat being fingered for crimes they surely didn't commit. (Right?) On the one hand, I'm disappointed to see the series' more ambitious storytelling disappear; on the other, these smaller cases are actually far better suited to mobile platforms and casual gameplay that lends itself to shorter sessions.
In keeping with the more piecemeal approach, you'll never venture very far from the office, making trips to such places as the banks of the Thames (day and night), Scotland Yard, the London Bridge, a ritzy movie theatre, quaint shops along Chancer Lane, and a number of posh mansions on Millionaire's Row, with the odd minor detour to a luxury cruise ship or the shadier part of town along the way. Each case tends to introduce a couple new areas to explore, while also frequently recycling those you've already visited. You'll encounter many of the same people numerous times as well, giving the game an increasingly repetitive feel over time, a feeling reinforced by the soundtrack, which is a pleasant backdrop of strings, woodwind, and accordion the first time around that may as well be nails on a blackboard by the tenth.
But what stunning locales they are! As always, the artwork has a Studio Ghibli vibe, with backgrounds gorgeously hand-painted in a soft pastel palette with an impressive amount of detail, from the many cat-related ornaments in a wealthy socialite's house to the yummy pastry-lined shelves of the local bakery. Cinematics are generously sprinkled in and are just as lushly animated, though by default they're shown in landscape view, forcing you to turn your device whenever one begins and ends. (There is a setting to switch to portrait, though of course that means a loss of display size.)
Speaking of portraits, the character models are all delightfully stylized with slightly caricatured features, from pronounced square jaws to oversized heads to toothpick legs to massively rotund bellies. Sherl tends to float unnaturally at people's feet, but you can't help but be amused by the man in a rabbit costume onesie or the rhyme-talking superhero Ratman. As is common with Japanese anime, Kat and Ernest look more like twelve-year-olds playing dress-up than actual adults, and often act as such, which helps underline the fact that Miss Layton is usually looked down upon for her youth and inexperience. Overall it's a nicely eclectic group – at least until you start to get sick of seeing the same faces over and over. As a lover of wordplay, I got a kick out of the shamelessly pun-filled names, whether the bank's Bianca Teller and Grant Sloanes or the newspaper's Douglas Dert and Taboras Lloyd. Yet even that wasn't enough to stem the gentle tide of resentment each subsequent time one appeared.
Voice acting is largely limited to cutscenes and key interactions, and it's all superbly done. The remaining conversation – in an extremely dialogue-heavy game – occurs purely through subtitles that trill distinctively for each person as they scroll across the screen (which happens fairly quickly but can be clicked through to speed up further). The text is littered with accents and speech affectations, further helping to immediate differentiate the person speaking at any given time. The writing itself is nothing special, however. I never felt particularly attached to any of the characters, and even the comedic barbs from a sarcastic Sherl are more cute than actually funny.
Much like any good sundae, the game is divided into two distinct elements (well, three if you count map clicks on the next clearly marked location, but let's not). The… for lack of a better word, let's call them… "investigation" sequences don't really involve any detective work. Sure, you visit crime scenes to look for clues – in fact, there are six crucial clues per case to help you measure your progress – but really this means nothing more than clicking on the relevant characters present to begin lengthy conversations, and sweeping the screen for hotspots.
You're not simply looking for necessary triggers to move the entirely linear story along, but also hint coins and hidden bonuses like optional puzzles and minigame recipes. These can be anywhere (including the actual clues), so expect to be viewing the game through a lot of smudged fingerprints. In keeping with the series' Nintendo DS roots, the screen is divided into top and bottom halves, the bottom serving as a kind of trackpad for the cursor on the top. But if you prefer, you can simply tap things (at least on the iPad) directly in the environment instead.
You could skip searching for hint coins, but you'd almost certainly regret it when you begin plowing into the plethora of puzzles. Story trappings aside, the puzzles are really the raison d'être of these games, and that is every bit as true for Katrielle as it was for her illustrious father. As always, there is only the barest attempt to integrate them into the actual story, if that. There's even the odd tongue-in-cheek comment about the absurdity of certain puzzles being hidden where they are, or the ridiculousness of stopping to solve one while being actively pursued by the police. It's just the game's way of winking at the farce of it all, admitting it's in on the joke, then carrying on anyway because… well, Layton.
There are 168 puzzles all told, though not all of them are mandatory. They come in many shapes and sizes too, from tangrams to pipes to pattern-completion, usually with their own unique twists and very few actual repeats. The best puzzles are those that allow you to manipulate elements directly on the screen, whether placing shapes to enclose scattered animals, moving matchsticks to form new symbols, or angling mirrors to reflect light beams. These capitalize on the interactive nature of the medium, rather than simply comprising an animated puzzle book. Even for those that don't let you interact with the puzzle itself, the "memo" feature brings up a translucent overlay that lets you make notes or diagrams on-screen. Oddly, with all the excessive hand-holding tutorials imposed for basic mechanics, there's nothing to alert players to this feature, so it can easily be overlooked.
Unfortunately, the more common (at least, they feel more common) puzzle type comes in the form of word problems. We've all encountered the basic idea: "If Train A leaves the station at 5pm going 25 miles per hour, and Train B leaves the station an hour later going 5 mph slower…", etc. It's a valid kind of brainteaser, no doubt, but there are several issues that make them troublesome here. The first is that introducing a puzzle with a wall of text is initially overwhelming, and all the more so when the wording is unclear. On some occasions I simply wasn't sure of the scenario details, while on others I believed I had a legitimate answer, only to discover that the game interpreted the issue another way (and of course, its way was right, my way was wrong). Word problems, indeed.
If that were my only complaint, I'd only be mildly annoyed, but the bigger culprit is how frequently the game is determined to trick you conceptually. Again, I'll accept that as viable aspect of problem-solving, but it happens FAR too often here, such that I was actually surprised whenever a particular puzzle was just posing a plain ol' math or logic riddle to work out. Just like we all hate those illogical inventory puzzles in traditional adventures that can only be reverse-engineered to make sense, so too do some of LAYTON'S MYSTERY JOURNEY's puzzles feel like they're intended to make you read the developer's mind instead of working towards a reasonable solution. Don't get me wrong: the ratio of perfectly plausible puzzles to trick problems is enormously slanted towards the former, but my blood boiled a little hotter with each repeat offense of the latter.
This dependency on fakery makes the difficulty level of each puzzle – represented once again by picarats, the collectible commodity that contributes to an end-game bonus – seem even more random than it already does. Some puzzles I blew through with ease in mere seconds, mystified why it had been worth 45 picarats, while sometimes I was tripped up for a time by a supposedly simple 25-pointer. That's where the hint coins come in, financing a four-tiered system of tips to get you unstuck. Unfortunately, rarely did I find the first three hints particularly useful, and the few times I was REALLY stumped, even the two-coin "superhint" didn't fully spell things out.
You can bypass any optional puzzle by simply quitting out of it, and should you ever wish to take another crack, you can return to the case at any time (even after it's been solved) via the message board in the Layton Detective Agency office. Most of the dozen cases are unlocked only when the previous one has been completed, though there are four in the middle that can be investigated in any order. I say "solved" somewhat reluctantly, as really you have no input into the outcome of a mystery other than leading Kat to the big reveal. At times I knew the solution long before the protagonist caught up, while other times the endgame depended entirely on Kat's "miraculous intuition" in the total absence of actual evidence. This lack of player agency at the moment of truth seems like a massively wasted opportunity – in a game that's all about solving problems, the only puzzles you aren't even permitted to entertain are the ones that matter most.
Though you may not really get to prove your worth as a detective, you can always try your hand as a hobbyist caterer, store organizer, or animal liberator. Three different minigames are accessible from Kat's bag icon at any time once unlocked, adding even more gameplay on top of the main campaign. The first sees Katrielle creating special dishes according to customer wishes, so long as you've collected the necessary recipes to fulfill them. The second has you organizing store displays in order to sell out inventory in a task I never fully grasped, if only because it was so un-fun that I stopped bothering to try. The third has Sherl overcoming grid obstacles in limited moves, which is a highly engaging exercise whose difficulty quickly ramps up with each new obstacle. You can also redecorate the office by spending "décor dockets" earned by solving puzzles, which is a trivial but amusing little diversion. None of these bonuses amount to much in the grand scheme of things, but for those who just can't get enough of the latest Layton experience, this extra bit is the cherry on top.
It'd be easy to summarize by simply claiming that existing fans will enjoy LAYTON'S MYSTERY JOURNEY well enough even with its change in protagonists, individual case focus, and an over-reliance on trick word problems, while those who have never cottoned to the series' segregated story-puzzle-story-puzzle pattern won't be converted by the minimal changes here. Both of these statements are true. Its more widespread release on new mobile platforms, however, means this will be the first potential Layton experience for many, so it's important to know exactly what you might be getting into.
For newcomers, then, I would say that Katrielle and the Millionaires' Conspiracy offers better value than it does an actual game experience. If you love puzzles, there are ample helpings of chin-scratchers here to keep you busy for many long hours, varying widely in both difficulty and fun factor. Expect to spend at least 90 minutes per case (unless speeding through using hints and skipping optional extras – but then what kind of puzzle fan would you be?), and even more going back and finding what you missed, then dabbling in all the extra bonuses besides. The stories aren't anything to get excited about, more silly than serious, and the new stars not as interesting as the old ones. But it's harmless enough fluff, and more accessible if you're gaming on the go or can't devote enough attention to an in-depth plot. The production values are second to none, but there's no getting around the rigidly structured nature of the gameplay. You may well find that the puzzles interrupt the story, or the story interferes with the puzzles, depending on your preference. And that's a perfectly rational complaint – it's a forced coexistence, to be sure. But then, if cold ice cream and hot chocolate sauce can do it, you may just find that story and puzzles can too.
Our Verdict:
Offering the same abundance of barely-integrated gameplay as its predecessors but with new protagonists and smaller cases, the gorgeous LAYTON'S MYSTERY JOURNEY is ideal for puzzle fans on the go, though at times it sacrifices quality for quantity.
GAME INFO
LAYTON'S MYSTERY JOURNEY: Katrielle and the Millionaires' Conspiracy is an adventure game by

Level-5

released in 2017 for 3DS, Android, iPad, iPhone and Switch. It has a Stylized art style, presented in Slideshow and is played in a First-Person perspective.


Want to share your own thoughts about this game? Share your personal score, or better yet, leave your own review!

review
Other articles you might enjoy