Full Throttle Remastered
review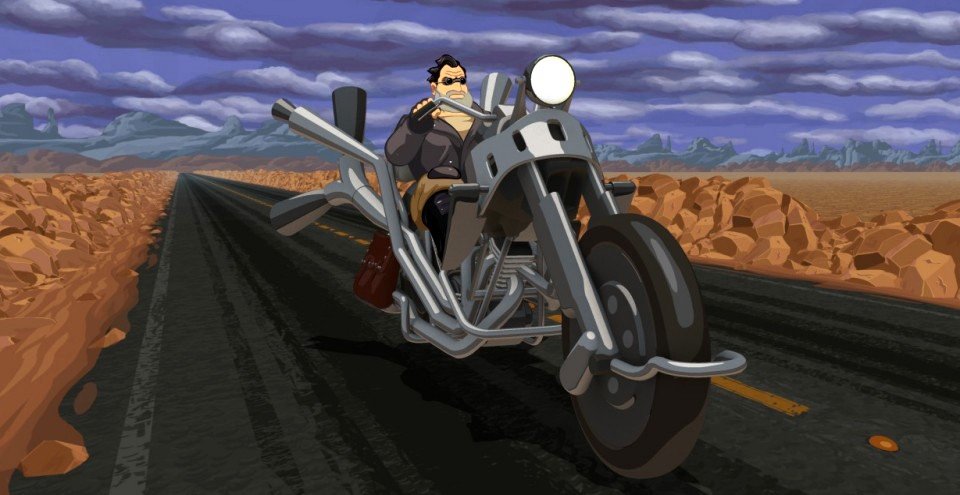 Game information
Adventure Gamers Awards
You might also like these adventure games
Advertisement
Adventure games by Double Fine Productions
BITMAP BOOKS
Many of us playing adventure games today probably got our start during the genre's Golden Age, cutting our teeth on classic point-and-click adventures from LucasArts and Sierra. By the time Monkey Island and Day of the Tentacle co-designer Tim Schafer was kicking the tires of his new biker-themed graphic adventure, the genre was transitioning to the medium of CD-ROMs, allowing for noticeable advancements in graphics, audio, and overall quality of presentation. Full Throttle, when it released in 1995, took advantage of this, with full motion animation, a complete voice cast, and a suitably Rockabilly soundtrack featuring The Gone Jackals. More than two decades later, the remastered version still provides all the humor, memorable cast of characters, and grit 'n' gravel action of the original, though it may just be too faithful for its own good, as the less desirable design decisions occasionally found in its precursor remain along for the ride.
The world of Full Throttle is a mercilessly dreary one, with good reason. As Schafer mentions in the remake's optional commentary track, it is a world modeled after the wasteland of the Mad Max universe. The game's locales feature all the accoutrements one would expect of a dust-and-asphalt desert, like broken-down trailers, rusty water towers, seedy bars, shadowy canyon roads, and gaping chasms, though its unapologetic desolation and solitude can wear on you after a while. The cowardly murder of Malcolm Corley, owner of biker-friendly Corley Motors and one of the last champions of rubber-meets-road modes of transportation (think Harley Davidson), has been blamed squarely on the leader of the Polecats biker gang, Ben. On the run from corrupt authorities and corporate henchmen, Ben must find the true heir to the Corley Motors fortune and expose the real murderer to prove his innocence.
Full Throttle has developed a reputation for being short, and compared to a score of other LucasArts classics its five-hour runtime won't win any records, but dismissing it due to its length would be a mistake. The majority of the game takes place in well-crafted point-and-click environments and cinematic set pieces. From a rural mechanic's shop to the cavernous CEO's office at Corley Motors; from a destruction derby to an abandoned mink farm, the wasteland fires new challenges and scenery at you at a pretty brisk pace. Ben can travel between the four or so main area hubs on his hog, then visit individual scenes at each location on foot, solving inventory-based puzzles along the way.
Progress is paced via bookmarking at certain points. For example, early in the game, Ben's bike is mangled after a major crash, and you are confined to the starting area until a series of puzzles and interactions have been solved to procure the parts necessary to repair it. Later in the game, another sequence of events is designed to upgrade the bike in order to be able to jump a demolished bridge. This is a one-way jump, and it opens up the game's final area, from which there is no turning back.
The game uses a contextual interaction menu appearing on-screen when an interactive object is clicked on. This system, which incorporates basic commands like "Look" and "Kick" in a Polecats emblem, is a natural fit for home console versions of the remake. The puzzles themselves range from simple to clever. Figuring out what a rubber hose and empty gas can are for is pretty straightforward, but finding a use for a box of fluffy battery-operated bunnies or infiltrating a heavily-fortified junkyard requires a good bit more ingenuity. Still, the locations available for each objective are often somewhat limited, so your inventory never grows to the point of being unmanageable, and there are usually only a certain number of possible tools available for any given job, so even the trickier puzzles can be worked out using process of elimination.
Less palatable are the more arcade-ish elements laced throughout. The (pretty epic) final showdown, for instance, operates on an unseen timer, and will result in a game-over if not successfully resolved. This could be likened to an early predecessor of today's Quick Time Events. Thankfully, failing a critical obstacle will simply restore the game to a save state from moments earlier. The greatest departure from the traditional gameplay formula involves a couple of "action" sequences you must participate in. One such section sees Ben motor down a dusty stretch of highway, getting into physical fights with other bikers while burning rubber. This works a bit like rock-paper-scissors in that each biker gives up his or her weapon when beaten, which can be used to take out someone further up the totem pole. In execution, however, this sequence lacks a clear directive; winning bouts seems to depend as much on awkwardly-implemented timed button presses as it does on weapon selection and luck. It just isn't fun, and takes way too long to progress through. A later scene where Ben participates in a Destruction Derby is equally frustrating due to unresponsive controls and a poorly clued objective.
One benefit of these sections is seeing Ben interact with the competing biker gangs Full Throttle brings to the table. Apart from Ben's Polecats there are the Vultures, the Cavefish, and the Rottwheelers. Each one is easily identifiable by a unique look, emblem, bike type, and even uniform. The hostile rivalry between gangs is only one backdrop for the colorful characters populating this otherwise barren world, however. There's also Adrian Ripburger, Malcolm Corley's stiff corporate counterpart, as well as his goons Bolus and Nestor, who have a real brains-and-brawn relationship. Then there's Maureen, the mechanic who becomes a potential romantic interest for Ben after she fixes up his wrecked bike, and Father Torque, the grizzled former leader of the Polecats, now retired, riding into sunsets and completely stealing scenes on a daily basis.
The cast is brought to life with deft voice performances, particularly the gravelly growl given to Ben by the late Roy Conrad, and Mark Hamill doing a Joker-ish Ripburger. All of the voiced dialog is lifted right from the original game, with the remake's audio coming across crisper, sharper, and without the slight echo apparent in its predecessor. Toggling between the original and new HD graphics at any time, even mid-cinematic, switches the sound quality back and forth as well. The game's soundtrack, perhaps one of its most iconic characteristics, remains a master class in licensed music. While the original score works well in calmer gameplay scenes, it's The Gone Jackals' raucous rock 'n' roll that truly sets the stage for this heavy metal desert outlaw adventure; the manic guitar riffs that kick in during action scenes or just when Ben takes to the road again create that rarest of feelings associated with a graphic adventure: badassery.
Much like the audio, the game's visuals have received an overhaul. Though the difference seems fairly subtle, every single scene has been completely re-painted, smoothing out previously jagged edges and expanding past the image borders into a widescreen format. However, purists need not fear, because while everything has been updated, not a single pixel has actually been altered from its initial inception. (And, of course, the original graphics have been preserved intact, if you prefer to play that way instead.) The in-game animation is the single largest beneficiary of this process, as the earlier version didn't stand the test of time quite as well as the background art. These improvements take a game that already looked and sounded great in 1995 and bring it fully into the twenty-first century without losing its hand-painted appeal.
If you haven't yet had the pleasure of playing Full Throttle, the remaster offers a welcome second chance to check out this one-of-a-kind adventure for yourself. For existing fans of the game, it could potentially be a harder sell on a technical level, facing a much narrower gap to bridge than some of Double Fine's other LucasArts re-releases. In staying unwaveringly true to its predecessor, it even carries over a few of the less desirable arcade qualities unchanged. However, it's still worth it to re-experience not just a part of graphic adventure history, but to get an utterly unique and wonderfully tongue-in-cheek game to boot. Get pulled back in by new features such as the developer's commentary track, an image gallery, and a fully functional soundtrack jukebox, then stay a second (or third, or fourth) time for the memorable characters, witty point-and-click puzzle gameplay, and biker-themed setting that's unmistakably Schafer through and through.
Our Verdict:
Full Throttle is another cherished page from the annals of genre history restored for a brand new audience. Though the remake will have limited appeal to those familiar with the highly polished original, the game belongs in the library of every adventure gamer, and it's as enjoyable now as it was two decades ago.
GAME INFO
Full Throttle Remastered is an adventure game by

Double Fine Productions

released in 2017 for iPad, iPhone, Linux, Mac, PC, PlayStation 4 and Xbox One. It has a Stylized art style, presented in 2D or 2.5D and is played in a Third-Person perspective. You can download Full Throttle Remastered from:


By McPillager on Jul 14, 2017
Back to the future
FT was one of my favorite adventures of all time and always included in my top 5 list of memorable games back from the old good days. Having said that, I could certainly not resist...
Read the review »



By My Dune on Apr 22, 2017
I'm glad I got the opportunity to play this remastered version
I missed this game when the original came out and I'm glad I got the opportunity to play this remastered version. I'm a fan of the old pixel adventures and with this remastered version you...

Read the review »

review
Other articles you might enjoy