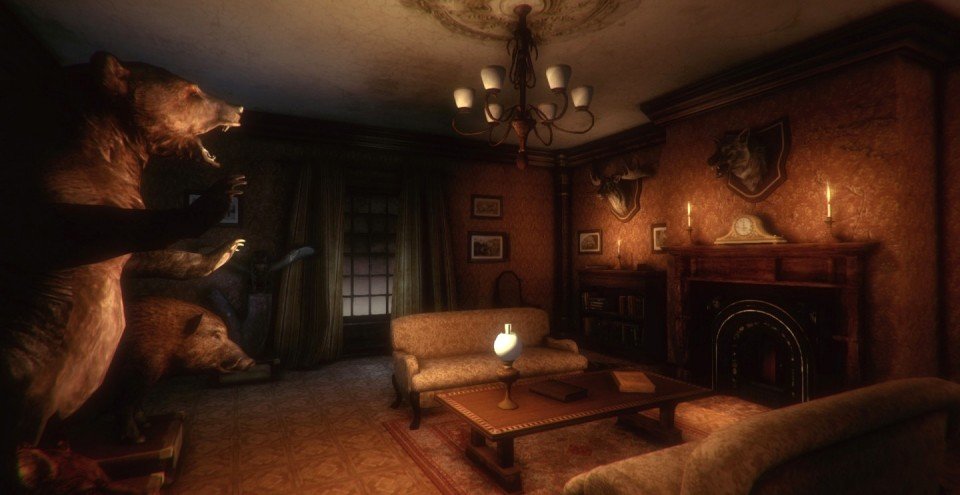 Game information
You might also like these adventure games
Advertisement
Adventure games by Rosebud Games
BITMAP BOOKS
Lester Barnard is a child kidnapped on his way to school in Candlewood, USA, in the early 20th century. He awakes in a seemingly abandoned house and must now set out to escape, as well as find out why he has been taken prisoner. In House of Caravan, Rosebud Games have developed an eerie "escape the room" variation that feels like a cross between Gone Home and Edgar Allan Poe, except not nearly as good as either. The slick 3D graphics help establish an unsettling atmosphere and the puzzles provide a nice distraction, but you'll spend much of your time in both literal and figurative darkness, lacking empathy for any of the characters or any investment in a meager background story.
House of Caravan takes place over the course of a single night, during which players take control of Lester. The house has more than 10 rooms to unlock and explore, and 14 letters to find that provide more detail about why Lester was captured. The documents have some proofreading errors but not much depth, presenting only the bare bones of what brought this situation about, along with Lester's connection with the owners of the house. Each letter is no longer than a paragraph or so and fails to offer any real insight into the secondary characters, including Lester's mother, Mr. and Mrs. Caravan (a couple unknown to Lester), and their butler. With no journals or conversations to further flesh any of them out, it is hard to relate to these characters, who remain two dimensional throughout, including Lester himself.
At first it seems like House of Caravan intends to be a horror game, but really it's not. The house is not haunted but does have a spooky atmosphere, largely because its rooms are enveloped by darkness, plus the odd random scare like suits of armor falling over or glass breaking mysteriously. There are brief earthquakes every once in a while, too, though these are never explained and play no part in the events of the game. The setting is suitably unnerving, but its eerie ambience proves so irrelevant that the mood cannot hold up.
The game is fully rendered in realtime 3D, with the WASD or arrow keys used to control Lester's movement and the mouse to pan the first-person camera. Left-clicking interacts with hotspots as they come into view, while right-clicking cycles through inventory items to use. Most of the rooms are locked at the beginning, until you find the keys to open them. Inventory items mostly consist of keys and other tools used to open things, such as a knife or letter opener. A given tool will only open a specific object, and you are not able to use them interchangeably like it might make sense to do. When I need to look for a hammer when I already have a knife and hairpin, it's a bit frustrating. Many items that aren't put into inventory can still be interacted with: picture frames can be thrown across the room, glass plates can be put down gently, books can be zoomed in on to read (though no turning pages). This level of object interactivity does not feature in any puzzle solutions, however, and candlesticks cannot be picked up to use in other areas.
Lester can also crouch and jump, but these aren't needed for survival. You crouch not to avoid enemies, but to gain access to one hard-to-reach place. Jumping can be more useful here than in most adventures, since the camera perspective is at Lester's lower line of sight as a child. It's refreshing to see a game world from a slightly different point of view, like not being able to peer into the top drawers of a dresser, or only seeing the bottom of a mounted deer head. Chairs can also be moved around and stood on to look into those high drawers if you're dying of curiosity, but it's not really needed, since everything above Lester's line of sight is purely decorative.
Because so much of the house is shrouded in darkness, most of the gameplay revolves around lighting the multitude of candles and lamps scattered around, which can be done by scouring for matches. Some areas are dimly lit already, but there are dark patches lurking in every corner. When approaching a candle (or other interactive object) obscured by darkness, the cursor will highlight the object when you get close enough that your matches can be used. The darkness can make it hard to see, but the default brightness level can be changed in the options menu if necessary. There are enough matches in the game to light all of the candles, but there are still small spots hidden in darkness that require an alternate light source to examine.
There are tons of cupboard doors and drawers to open, but most of them won't reveal that next hidden letter or matchbox. But you keep opening them all so you don't miss the rare time that there is something waiting. Many drawers have paper documents in them that look like they can be read but cannot, and that can become frustrating. One inventory item you find is a flashlight, for which you must also find batteries. Even after you do, however, the batteries have limited power, and once you're out, you're out, so it's wise to use the flashlight sparingly. It only really serves to make it easier to explore those darkened nooks and crannies, however, so it will not be game over if you let it run out.
Besides the inventory obstacles there are six other puzzles; two each of three different types. All of them are fairly enjoyable, none being either too tricky or too easy. One type is an electrical wiring task to power the electricity in the basement. First the wires must be found in the same general vicinity, and then placed in the correct connectors on the left and right sides. There is no hint which connector goes with which, but the wire lights up once set up correctly. Once all the wires are placed correctly, then another puzzle screen appears, in which you need to connect pieces of pipe so that the current can flow fluidly from one side to another.
Another type is the classic put-torn-pieces-of-a-letter-back-together puzzle. A room with this kind of puzzle in it will have a "paper holder", and once the pile of torn letter pieces have been found nearby, clicking on the holder will bring up the puzzle. Pieces can be left-clicked to select and again to place, but the same button also rotates the piece. This is awkward, since it's easy to rotate accidentally, so you might need to click again another three times just to get it back to the orientation you wanted. Once a piece is correctly placed, it snaps into place. If it does not, you can still move it elsewhere within the puzzle border, but once all pieces are placed inside, there is no way to switch pieces. If this happens and the puzzle isn't correctly completed, there is a reset button that will start the puzzle over from the beginning. This can be frustrating if only a couple pieces are misplaced at the end. Once the letter is put together correctly, a text box will cover the screen to reveal what it says, which can be helpful since the cursive writing is hard to read at times.
The last type of puzzle is a locked box with its code hidden in a pair of clues found elsewhere, such as in a picture or a cipher. Once you find both and click on the locked box, a puzzle screen comes up. A magnifying glass can then be used to zoom into the picture clues to find small details. Unfortunately, the magnifying glass does not move seamlessly with the mouse, and trying to click on the picture exactly where you want can be vexing. One locked box is opened by deciphering symbols into letters, while the other involves finding the relevant connection between two pictures.
The graphics are easily the best thing about House of Caravan, which is ironic for a game that conceals so much of them in darkness. Each room is filled with crisp detail. Dishes are put away in cabinets, toilet paper is stashed underneath the sink, and bedrooms have clothes nicely folded away in drawers. Unfortunately, the same dresser, closet, and desk appear in multiple places in the house, and the items contained within them are likewise repeated. However, a much better effort has been made to distinguish the rooms from each other: toys litter the floor of a child's room, bookshelves line the walls of the library, and large stuffed dead animals loom in the trophy room. Beautiful portraits and paintings line every wall of the hallways and rooms, and the moon can be seen outside the window above the fog and trees. The only details that hint of the time period are the lamps and old-fashioned children's toys, which seems a wasted opportunity. The only time characters are seen is during the introductory cutscene, which is done through still pictures with slightly cartoonish characters, in contrast to the realistic look of the rest of the game.
The sound in House of Caravan can be heavy-handed at times. The soundtrack is nicely atmospheric, with piano music and an overarching sense of dread laced into the score. The music builds up tension, however, even when none actually exists, creating a false sense of anticipation – and resulting disappointment. When a gramophone is found, the game music overlaps the record being played, which is an immersion-killing distraction. The sound effects are well done, with drawers squeaking open and random bangs going on elsewhere in the house, though why other sounds can be heard when no one else is in the house is anybody's guess. Letters are read aloud in the voices of their respective writers, and the performances are very stiff. Lester's mother sounds much too cheerful in a letter with a bittersweet tone, and the doctor's voice-over is very stilted. Also, I encountered small bursts of static and pops glitching periodically throughout some of the voice-overs.
The game is relatively short, taking less than four hours to complete. The door has been left open for a sequel, but the ending here is satisfactory, with the main mystery resolved. If there is indeed a second game to follow, there is clearly room for improvement over this promising but ultimately unfulfilling debut. While the graphics are impressive and the puzzles can be enjoyable diversions, the lack of depth in the story and characters and an absence of any type of real suspense leave House of Caravan ending up feeling as empty as its titular setting.
Our Verdict:
House of Caravan successfully builds an eerie atmosphere of darkness, but the bare-bones story and lack of character empathy largely squander the opportunity.
Want to share your own thoughts about this game? Share your personal score, or better yet, leave your own review!

review
Other articles you might enjoy