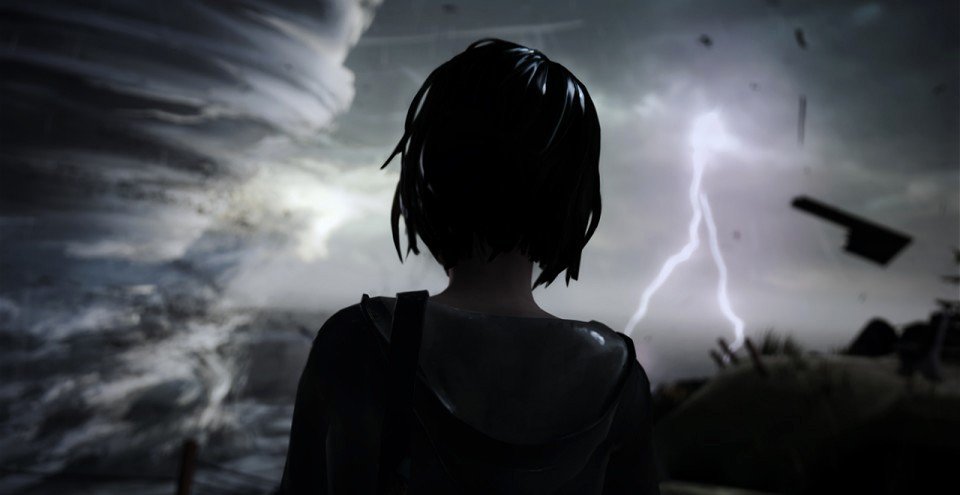 Game information
Adventure Gamers Awards
You might also like these adventure games
Advertisement
Adventure games by DONTNOD Entertainment
BITMAP BOOKS

Episode One - Chrysalis

Young adult novels are one of the fastest growing markets in fiction, and shows like Gossip Girls and movies like The Hunger Games prove that these stories translate well to the screen. They're not just for kids, either—even if a YA story is defined by having a teenage protagonist, many adults love them too. (Myself included!) So where are the YA games? As choice-driven narrative games cross into mainstream territory with titles like The Walking Dead and Game of Thrones, you'd think the huge YA audience would get a little love. But with the exception of Gone Home in 2013, pickings are slim to none for players looking for some juicy teen drama in interactive format.
Enter Life Is Strange, a five-episode series about an insecure teen girl named Max Caulfield, her troubled friend Chloe Price, and the impact the disappearance of a third girl, Rachel Amber, has on both of them. Playing as a female protagonist isn't exactly new, but playing as an awkward teenager in a game that, for most of its first episode, focuses on mending a broken friendship? It's uncharted territory, and this alone made me want to play Life Is Strange before I knew anything else about it.

For starters, this episode kicks off with some truly awful writing. During the first third of the game, Max is trapped in the Dark Room—a photographic torture chamber where other girls before her have been brought to pose against their will (and worse). It's an uncomfortably disturbing setup that loses any sense of nuance once Max's captor opens his mouth. When I first encountered the Dark Room in Episode 4, I worried the story was going in a clichéd direction, especially with regards to the involvement of the apparently mentally unstable Nathan Prescott. Unfortunately, I was right. In a storytelling low point, every loose end involving Rachel, Kate, the Prescott Family, et al is conveniently tied up as the villain spills his guts to Max in a series of lengthy, non-interactive cutscenes. This is a recurring character we've seen in other episodes, but in Polarized he acts and even talks like someone else completely—a one-dimensional, generic villain that cheapens the mystery players have invested months in solving. It's laughably bad, and without so much as a 'Press X to struggle' option, Max just has to sit there and take it.
Once these scenes are out of the way the episode quickly improves, going off in a crazy direction I wasn't expecting. Over the course of the week-long series so far, Max has learned that messing with time can have unexpected and tragic consequences. Episode 5 sends this idea into overdrive, with reality beginning to disintegrate across her repeated attempts to craft a timeline where Chloe is safe and the villain arrested without catching innocent people in the crossfire. The more Max tries, the more she messes up. Her nosebleeds are back, this time for good reason. We get another a glimpse into a promising future that can't exist without a horrible trade-off. Finally Max gets trapped in a surreal nightmare scenario that brings together events and people from previous episodes to raise questions about her character and what her motivations have been all along.
Within these scenes, there isn't much gameplay beyond a little bit of rewinding (nothing we haven't seen before), a little bit of exploring, and one really frustrating stealth sequence. By this point Polarized's forward momentum had me firmly in its grip and I didn't mind the passivity, but people already irked by the series' relative lack of puzzles likely won't be so forgiving.
As you'd hope in a choice-heavy game, the finale makes several nods to decisions you've made, mostly in the form of "Remember that time you did X?" comments from various characters. But no matter whether your Max was a goodie-goodie or a rebel, whether she tried to help everyone or left would-be friends to fend for themselves, the game comes down to one last choice yielding two possible endings. I'm okay with that—for me, the payoff of choice-driven gameplay isn't to see how branchy the story can get, but to personalize the game and lull me into thinking of the main character as an extension of myself. What Max goes through in Episode 5, especially at the end, hit me hard because her choices are my choices. But if you go into the finale hoping for vastly different endings that take all your small choices into consideration, Life Is Strange will let you down.
The action peaks when the tornado teased in the game's first minutes hits Arcadia Bay. Like Episode 4's End of the World Party, the literal end of the world has been impressively depicted by Dontnod's artists and animators, with the town's main drag in shambles and familiar characters fighting for survival. It's climactic on a scale that adventure games rarely figure out how to achieve, and really sets up the game's major final choice—one I didn't see coming, even though I now realize I should have.
Along with never starting a story with a character waking up in bed (see Episode 2), another golden nugget I learned in creative writing class is that a good ending is both a total surprise and totally inevitable. In Life Is Strange's final choice, one of the two options has that quality of surprise + inevitability, so much so that I said "oh no" out loud and put down the controller. I spent several tearful minutes deciding if I could go through with it. When I finally steeled myself and made what seemed to me to be the right choice, I was rewarded by a lengthy, emotional closing sequence. A good ending. As the credits rolled, I was satisfied that Max had learned something about life and sacrifice. Her story—my story, after months of involvement—had meaning. I was simultaneously cursing the developers for putting me through it and thanking them for opening the floodgates on the emotion it provoked.
After experiencing that powerful ending, I was eager to see the flip side of the coin on my second playthrough… and it's terrible. Compared to the "right" ending, this alternate cutscene is short and superficial, totally glossing over the horror of what I'd just decided to do. It doesn't follow from the dialogue and events leading up to it, as if the developers are punishing anyone who makes the "wrong" choice by cheating them out of a satisfying ending. Midway through the series, when some of Max's interior monologue seemed at odds with her situation, I questioned whether so much choice is a worthwhile trade-off for a cohesive story. Looking back on the full experience, I still have doubts. According to the end of game stats, almost half the players are picking what I consider to be the worse ending—maybe the choice isn't as obvious as I thought, or maybe we're all playing twice to see both possibilities. Either way, both outcomes should have been authentic to the story. They both should have felt "right."
Thankfully, however, Life Is Strange is a game that outshines its missteps. The writing isn't always good—especially during sweeping, "something important is happening" events like those Dark Room cutscenes. But then there are all the quiet, tender moments between Max and Chloe, with the perfect balance of dialogue, animation, music, and voice acting to make you feel like you're inside the friendship, sharing it with them. The time-rewind mechanic outwears its welcome but is occasionally brilliant, as in one particular sequence in Polarized set in the Blackwell hallway. The pacing is sometimes sluggish, what with so many detail-filled environments to explore, but on the other hand there are so many detail-filled environments to explore! My favorite aspects of Life Is Strange are all the little things; added up, they create a world I would be happy to spend more time in, just being Max.
I think I'm so willing to overlook the flaws because this game isn't really about what happened to Rachel Amber, or time travel, or a tornado. Yes, those elements are integral to the story, but at its core Life Is Strange is about friendship between two teen girls—a friendship so well portrayed that it's completely believable one would risk ripping apart the fabric of reality to save the other. At points it's awkward. At points it tries too hard. But that's the nature of being a teenager. If you like stories that make you feel and don't mind a puzzle-lite experience, it's well worth enduring Life Is Strange's low points to see Max and Chloe's friendship through to the end.
Our Verdict:
Sometimes awkward but sometimes brilliant, Life Is Strange brings a fresh new perspective to episodic, choice-driven storytelling.
GAME INFO
Life Is Strange is an adventure game by

DONTNOD Entertainment

released in for Android, iPad, iPhone, Mac, PC, PlayStation 3, PlayStation 4, Xbox 360 and Xbox One. It has a Illustrated realism style, presented in Realtime 3D and is played in a Third-Person perspective. You can download Life Is Strange from:
Want to share your own thoughts about this game? Share your personal score, or better yet, leave your own review!