The Dream Machine: Chapter 5
review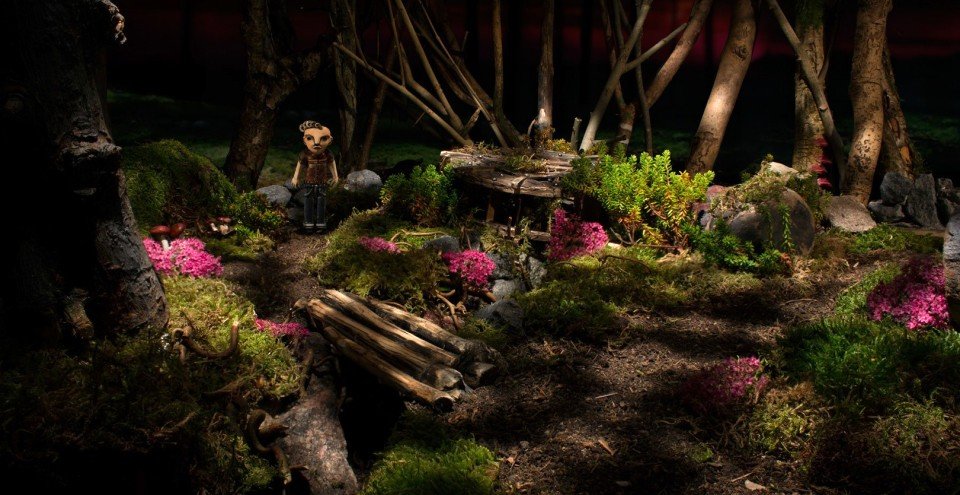 Game information
Adventure Gamers Awards
You might also like these adventure games
Advertisement
Adventure games by The Sleeping Machine
BITMAP BOOKS
It has been a long wait for the fifth episode of The Dream Machine – a little over a year, in fact – but it's clear the indie Swedish folks at The Sleeping Machine (formerly Cockroach, Inc.) have kept themselves busy as Chapter 5 proves to be the most substantial and extravagant instalment to date. This penultimate chapter of this stellar claymation adventure elevates the atmosphere and puzzle design to new heights, ending on a chilling cliffhanger for the series conclusion to come.
Picking up where the last episode concluded, Victor desperately continues to try shutting down his apartment building's dream machine in a bid to save his unconscious wife Alicia. To achieve this, you must once again venture into people's dreams to sever the grasp the machine has on its victims via physical tentacles housed within their subconscious minds. With only two left uncleansed, Victor takes to the top floor to greet, knock out and invade the dreams of the last of his remaining neighbours.
A perpetual shortcoming of the series that remains evident right from the outset is the lack of summary of previous events to ease you into the new episode's story. It becomes increasingly hard to recall what's happened previously in a series that now spans four full years, especially when puzzle solutions and environments carry over between episodes. An obvious early example is the method in which you must incapacitate your neighbours, the clues to which could be a distant memory and an instant roadblock to your progress before you've even begun without an in-game reminder. As much of the building remains fully open to you from your previous adventures, you could be left to aimlessly backtrack through long-forgotten rooms at the start, which hardly makes for a positive first impression.
One of the series' greatest strengths, however, is the freedom and unpredictability afforded by using dreams to tell its story. Reality can be a limiting factor with both narrative and puzzle design, but hopping inside someone's mind frees you from all rules and assumptions about what's possible, and never has this been more evident than in Chapter 5.
The first neighbour's dream is a sparse set of virtual platforms in a chasm of nothingness; only black squares with blue outlines strewn together in a void of darkness. Initially the dream appears to be confined to the inside of a cube, but exploring the edges reveals further areas outside and a series of puzzles that require refracting light and manipulating Victor's size to reach previously unseen locations. The entire dream's puzzle design comes together brilliantly, each obstacle evolving from the same central concept but growing grander and more complex. One such eureka! moment requires combining the ability to manipulate Victor's size with the need to scale an object used in a prior light redirection puzzle, adding a whole new layer of depth to the puzzle-solving options.
The second dream world is a more traditional setting but is more elaborate in theme and execution, taking place in a forest with a mysterious body organ thief instilling terror in the dream's inhabitants. You quickly encounter the dreamer's grandfather lying in a pool of his own blood, apparently missing a lung or a kidney (he isn't sure which). Surprisingly, he and others in similar predicaments have been able to survive what should be fatal disembowelment in order to communicate with you. As you'd expect, you'll need to assist those you encounter to gain their help; a favour for a favour. This means overcoming their initial suspicion of you and joining forces with them in a hunt for the elusive organ thief. You'll have to gain the trust of each inhabitant no matter how unusual – from a reclusive vampire to a legless squirrel – in order to acquire the information and items needed to solve both small isolated puzzles and your overarching goal.
Whilst some of the tasks sound straightforward on paper, like an angry mob requesting you to help an injured woman get back to their group, they quickly become complex when each part of the solution is itself part of another puzzle. A nearby group could help the injured woman, but they refuse to leave their post and a whistle meant to alert them doesn't work at even the shortest of distances. You'll also need to craft a cart, but one of the parts can only be obtained in a trade. The puzzles are frequently intertwined, but the added complexity rarely results in a challenge that is obtuse to the point of frustration. Instead the obstacles are cleverly staggered, allowing plenty of freedom to explore and yet being linear enough to create a coherent flow.
The puzzles become even more interwoven when you gain the ability to traverse between the dreams without leaving the current host. This allows you to transfer items otherwise unique to one dream or the other. The elegance in the puzzle design after this point is exquisite, providing some of the most compelling and engaging puzzles I've encountered in some time. My personal favourite involved taking size manipulation to a whole new level – literally – in order to become a giant able to treat erstwhile immovable objects as mere toys.
The majority of puzzle-solving is handled though inventory management, as you'll need to collect, combine and use the items you discover in some way. There are also a handful of environmental puzzles that require manipulating Victor or your surroundings directly to advance further. It's worth a word of caution, though, that The Dream Machine is very much a throwback to classic adventure games in that guidance is kept to a minimum. That is usually welcome, but it can be a detriment to the overall experience at times here, particularly the lack of hotspot highlighting. Often you'll need to pixel hunt or use trial-and-error with some of the less intuitive inventory items.
This chapter offers between 5-7 hours' worth of content, making it considerably larger than any of its predecessors. Whilst there is a certain amount of backtracking involved, it is never cumbersome and the adventure is typically well-paced between moments of discovery and further exploration. It's impressive given the abundance of content that there are very few assets re-used from earlier environments; any time spent in the familiar apartment block outside the dream space is minimal beyond the start.
The stop-motion presentation once again stands as a highlight, displaying hand-decorated clay and cardboard settings and characters to admire from near and far – at one point you'll see a whole city in a distant shot and another time zoom right into a single portion of a character's contorted face. It's a unique and ultimately beautiful art direction that fits the atmosphere perfectly: eerie, dark and mysterious throughout, with gloomy environments and haunting characters. The faint melodies of gusting winds and static echoing quietly in the background add to the ambient atmosphere, but it's a crying shame that there's still no voice acting to complement the soundscape.
Each of the dreams presented here are fully-realized, and could easily have stood as individual episodes in their own right. But thankfully they don't, because once you acquire the ability to cross between dreams, sharing both your inventory and the ability to manipulate Victor's size, the opportunities increase exponentially. Whilst there are ties to the dream machine's ultimate plan, the larger story arc is infrequently referenced and only plays a small part towards the end. Its eventual build-up and reveal, however, paints a stark picture for the finale to come, concluding in a way that caught me by surprise and promises to take the The Dream Machine's uncanny world-building to an unprecedented level.
The fifth instalment of The Dream Machine is easily the high point of the series to date. Using imaginative dreams as its primary platform, it builds greatly on its predecessors' ability to tell a creative story with very few strings attached to reality, yet still be grounded enough in real-world logic to solve its clever puzzles. The hardest selling point for the series to date has simply been the lengthy development cycles between chapters, but with just one more wait before the ultimate conclusion, I won't hesitate to recommend The Dream Machine to any adventure fan right now, if only to have others share in my excited anticipation for the finale to come.
Our Verdict:
More than a year in the making, The Dream Machine returns with the meatiest chapter so far, bridging the gap between multiple dreams with brilliantly designed puzzles and continuing the series' dark plotting.
GAME INFO
The Dream Machine: Chapter 5 is an adventure game by

The Sleeping Machine

released in 2014 for Mac and PC. It has a Claymation style, presented in 2D or 2.5D and is played in a Third-Person perspective. You can download The Dream Machine: Chapter 5 from:
Want to share your own thoughts about this game? Share your personal score, or better yet, leave your own review!

review
Other articles you might enjoy