Neverending Nightmares
review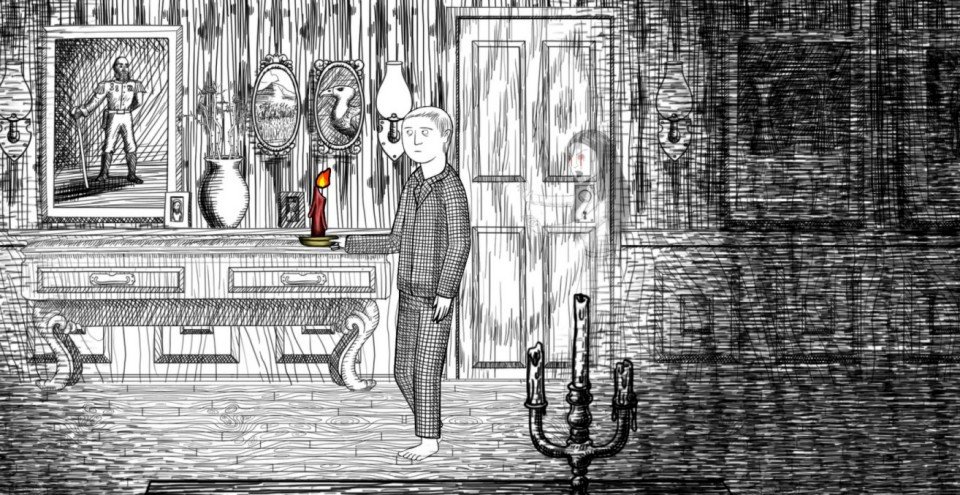 Game information
You might also like these adventure games
Advertisement
Adventure games by Infinitap Games
BITMAP BOOKS
Often in horror games you're faced with having to fight or run away from the evil that wishes to consume you, but what happens when that evil is in your own inescapable mind? Indie developer Matt Gilgenbach has wonderfully captured this horrifying possibility with his beautifully illustrated Neverending Nightmares. With its distinctive art style, it is a creepy, atmospheric game with memorable visuals that will continue to linger with you long after its short playing time. There's an intentional lack of any real gameplay other than exploration, and at times the pacing feels more slow and monotonous than moody and tense, but there is a lot to appreciate about this game, and it's often awe-inspiring in the midst of its bleak, disturbing imagery.
Neverending Nightmares is a very personal project for Gilgenbach. Shortly after the release of his first game, the music-based rhythm shooter Retro/Grade, he admittedly fell into a deep depression. To cope with his own anxieties, depressions, and OCD tendencies, Matt turned to the drastically different genre of psychological horror and set out to make a game that he could relate to. (Though hopefully not quite to the degree depicted here.)
The game begins with the distressing scene of a little girl being stabbed from the player's point of view, followed by the protagonist, Thomas, waking up from a horrible nightmare. From there you wander around a Victorian-style home, lit only by candles and the moonlight outside, to a graveyard where you discover that Gabrielle, your sister, is deceased. Suddenly Thomas wakes up again, as though this was just another terrible dream. This opening sequence establishes the recurring premise of the game: endlessly waking up from your neverending nightmares, only to find that you're still in another that's even worse than the last.
Music is slow and suitably creepy, featuring droning synthesizer pads with discordant plucks of instrument strings that sound as if they are going out of tune. Bells ring a melody that sounds ever-so-slightly distorted enough to feel unnatural. The voice acting is solid, but there are only a few dialogue sequences between Thomas and Gabrielle. Even when there is no music, very dim, filtered white noise surrounds you, always fostering the sense of something lingering near you.
It's clear that Matt Gilgenbach designed this game with a heavy emphasis on mood and exploration over gameplay. Those looking for a demanding test of wits – or even a gentle one – will need to seek it elsewhere. However, for lovers of psychological horror and disturbingly eerie atmosphere, look no further. Though it bogs down at times in its pace, Neverending Nightmares delivers an artfully-crafted, unforgettably creepy experience that successfully manages to capture the surreal ambiguity and uncontrolled terror of nightmares.
Our Verdict:
Neverending Nightmares plays more like an interactive illustrated horror book than a game, but its chilling art and sound design make for a memorably surreal experience.
GAME INFO
Neverending Nightmares is an adventure game by

Infinitap Games

released in 2014 for Mac, PC and Linux. It has a Stylized art style, presented in 2D or 2.5D and is played in a Third-Person perspective. You can download Neverending Nightmares from:
Want to share your own thoughts about this game? Share your personal score, or better yet, leave your own review!