Earl Bobby is Looking for a Loo
review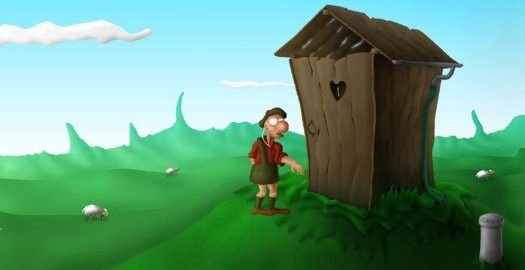 Game information
You might also like these adventure games
Advertisement
Adventure games by Jospin Le Woltaire
BITMAP BOOKS
Having previously searched for his shoes and his balls (of the golfing variety) in a pair of freeware offerings, Earl Bobby now has a more urgent mission in his first commercial outing. Caught short in an area of remote pasture, the Scotsman desperately needs to find somewhere to relieve himself. Whilst his quest to achieve this aim is often quite scatological, Earl Bobby is Looking for a Loo proves to be a compact but satisfying adventure.
The story begins with Earl Bobby and his friend, Baron Mucki, returning to their shared castle after an enormous meal. In a terrible piece of bad timing, the Earl suddenly feels the need to go as they are driving through some fields, far from civilisation. Luck appears to be on Bobby's side, however, when they spot a single privy on top of a hill by the road. Unfortunately, said facility is already occupied by the local shepherd, and he has no intention of moving any time soon. The game is therefore less a matter of looking for a loo as seeking to gain entrance to one. Baron Mucki can't understand why Bobby won't just go behind a tree, but our distinguished hero is willing to go to great puzzle-filled lengths to avoid such ignominious action.
The bright, colourful graphics are an improvement over the previous episodes in the series, with both characters and landscape now given a full cartoon 3D look. The character models have been upgraded with more detailed and expressive faces, and their animations are also well done, whether it's Bobby rubbing his pressured hindquarters or the hostile advance of a protective sheepdog. Various items like the loo are seen both close-up in various angles and from a distance. The overall look is cohesive in all these views, with the level of detail rising the closer you get. At a distance the loo is mostly just a shape, but the interior seen when conversing with the shepherd shows light coming through the gaps in the ill-fitting planks. Technically the game only has three proper locations, but the different perspectives make it seem like a lot more.
Unlike many independent adventures, this game's three characters are fully voiced. The Earl himself has a high Scottish accent, Baron Mucki a deep bass voice, and the shepherd a rougher tone. I was surprised to find that these three very different performances were all produced by the same person, the game's designer Jospin Le Voltaire himself. As well as the quite extensive conversations, all the Earl's observations are spoken aloud, making for quite a bit of recorded dialogue. Whilst not always perfect, it is very much to Le Voltaire's credit that the majority of speech is well done, especially Earl Bobby, whose voice you hear the most. Background effects, such as the irregular bleating of sheep and singing birds, are backed up by Mozart piano pieces, the choices sitting well with the pastoral location. Volume for voices, sound effects and music are all separately adjustable in the options screen, allowing the player to set the mix to their personal preference.
Control is point-and-click, with the cursor changing to a context-sensitive action when pointed at a hotspot. Right-clicking examines while left-clicking interacts. During conversation, after a brief introductory exchange you are presented with a text box. By entering a subject such as "loo" in the box, you instigate conversation on that subject. It is well worth trying a variety of entries as you can engage in dialogue about most of the identified hotspots in the game as well as a handful of other subjects. Quite often this will give you clues about how to proceed and occasionally yield new items. Even when nothing important is revealed, the exchanges are often amusing.
Pressing the space bar allows players to find out what the Scottish really keep under their kilts: their inventory! The on-screen Earl pulls out the front of his kilt and a view looking down into the kilt pops up. Mercifully, only objects acquired appear in this view rather than the more natural kilt contents. Even so, more sensitive players should be aware that the Earl's need and what shepherds allegedly get up to with sheep both come up in conversation regularly. The coarse language and lurid cover of the shepherd's magazine, Sheepboy, make this game unsuitable for children, despite the cartoony presentation.
The dialogue puzzles require paying attention to what's being said in order to pick up further conversation subjects that will advance your quest. Whilst largely avoiding pixel hunts, you will also need a keen eye to spot available items and other important hotspots. Otherwise, intelligent use of inventory is the order of the day for such tasks as getting rid of a sheepdog and opening a pipe connected to the toilet. A certain amount of animal cruelty is necessary to advance, and the final solution for removing the shepherd from his seat fully displays its unpleasant consequences, once more making this game unsuited for the easily offended. The puzzles themselves are all reasonably logical and conversations about the various items in the game will usually steer you in the right direction when stuck. The only exception is a puzzle near the end of the game, where a particular item causing me problems could not be discussed. Even then, another conversation pointed me to a necessary inventory item, so this was not a complete show-stopper.
Overall, Earl Bobby is Looking for a Loo is a nicely crafted game. In switching from completely free offerings to asking a $3 fee at the Earl Bobby website, Jospin Le Voltaire has significantly upped the quality, acknowledging that players demand more from even the cheapest commercial games. It certainly can't and doesn't try to compete with full retail games for length or production values, but this indie adventure looks good and the puzzles present a reasonable, mild challenge without being unfair. The subject matter and other adult content won't appeal to everyone, but for those who are fine with a little toilet humour, there are fun times to be found here. The game clocks in at about an hour of play, and comes with an 18-page PDF of Sheepboy magazine (the spoof shepherd-oriented magazine that appears in-game and partly operates as a game manual) to extend the experience a little longer. With two freeware episodes available as well, Earl Bobby is definitely a game series to look for.
Our Verdict:
Far from being a crap game, Earl Bobby's first commercial adventure will leave players feeling flushed with happiness, though not for very long.
Want to share your own thoughts about this game? Share your personal score, or better yet, leave your own review!

review
Other articles you might enjoy