Mystery Case Files: Dire Grove
review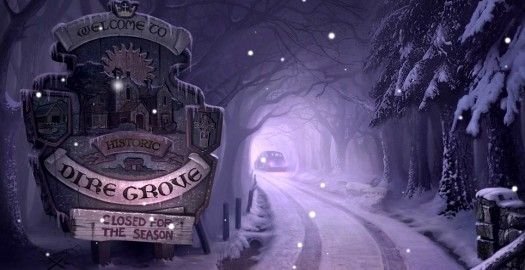 Game information
You might also like these adventure games
Advertisement
Adventure games by Big Fish Games
BITMAP BOOKS
I'm sure there are diehards who have sworn that you-know-what will freeze over before they ever go near a so-called "casual" game. Well, the devil might not be putting on his woollies just yet, but the lesser demons should be feeling the first shiver down their spines with the release of the most chilling Mystery Case Files title yet, Dire Grove. As the temperature drops in the most unexpected places (if not hell, at least northern England in fall), more and more players should find themselves warming to a series that's blazing the trail for a new kind of "lite" adventure. Its hidden object leftovers may never appeal to everyone, and some lingering integration issues hold it back from taking that next step into the upper echelon of classics, but with impressive production values, a surprisingly expansive game world to explore, and an intriguing FMV backdrop to discover, this casual hybrid further establishes Big Fish Games as one of the hottest developers in the genre today.
Anyone familiar with last year's Return to Ravenhearst has already travelled this road, though it leads in a different direction this time. Picking up after the events of that game, here the anonymous, unseen protagonist is forced off the road by what the radio calls the worst snowstorm in centuries. Arriving at the outskirts of the titular rural village, you'll discover an abandoned car and the first of many scattered video tapes with fragmented recordings of a graduate student research trip gone terrifyingly wrong. Undaunted by this ominous sign (and trapped where you are), with people to save and a new mystery to solve, there's no choice but to bundle up and blunder into the ancient, unnaturally frigid legend of Dire Grove.
The live-action video segments are perhaps the main point of emphasis in Dire Grove, and they do indeed offer up an intriguing story you'll want to see through. Filmed via handheld camcorder in a manner similar to Blair Witch Project (minus the nauseating camera jostle), the tale recounts the plight of American Alison Sterling and her three friends, who came to visit the local Celtic ruins believing that a recently-discovered artifact is the key to understanding the truth behind a legend now considered nothing but folklore. There are twenty videos to collect in all, each contributing a piece of the story, and not always sequentially, though you can rewatch them at any time on your handy "crime computer". Thankfully, despite the harrowing nature of the events that befall them, the four 20-somethings do a credible job of acting their roles, largely (if not entirely) avoiding the hammy, over-the-top deliveries that characterize so many FMV titles. Alison's growing panic is palpable, and it's unnerving to see the affable young woman increasingly tormented by something you know won't end well. (Not a spoiler: she's now missing, her film scattered – you do the math.)
Despite its early prominence and some rewarding moments of discovery, however, Dire Grove's storyline soon becomes secondary, serving more as motivation to investigate than anything that actively engages you along the way. The real plot happened before you arrived, and your job is simply to learn it after the fact, with newspapers, notes, and select book excerpts helping fill in any blanks. This format suits its purpose here more than adequately; just don't be fooled into thinking the game is an interactive movie of any kind. There's a movie, all right, but you're just a spectator. In fact, there are no characters to actually interact with at all in your travels, though a few do make a genuinely disturbing appearance at times.
You'll certainly keep busy playing your part, of course, as you explore the areas in and around Dire Grove looking for clues… and a whole lot of other stuff. As with its Mystery Case Files predecessors, this game does feature numerous seek-and-find scenarios, periodically requiring you to locate a list of a dozen random objects from particularly cluttered screens, only one of which is tucked into your inventory for later use. The formula is tried-and-true, and Big Fish hasn't tampered with it here. A rechargeable hint gauge highlights any object you can't find, though this should rarely be necessary. Item placement is entirely fair, the visual design crisp and discernible, and there is no time limit adding pressure. Mind you, these sequences have nothing to do with the adventure at hand, often appearing magically (or annoyingly, re-appearing in the same place for no apparent reason) and providing no explanation for their existence. I'd have preferred at least a passing attempt at justification, but none is ever offered.
Though they still represent only a fraction of the gameplay, the hidden object activities seem to occur more frequently here than they did in Return to Ravenhearst. That may be bad news for puzzle fans, but it's good news for the pacing, as Dire Grove rarely bogs down. There are still plenty of standalone logic puzzles anyway, from tile rotation to code deduction; from ring sliders to pattern connections, plus a significant multi-part riddle sequence to decipher. I was particularly enamoured of an alphabet-sequencing puzzle I'd never encountered before. Better yet, either I'm getting better at puzzles (doubtful) or the difficulty balance here is very good (likely). Only one tripped me up for long, as it's clearly though perhaps too deviously clued, but for those who find any puzzle too difficult, there's an ever-present puzzle skip option right at your fingertips.
While entertaining in their own right, as with the item hunts the one objection to these puzzles is their irrelevance to the storyline. Some at least make narrative sense, like connecting circuits to disrupt a power source or taking a roundabout way to locate a suitcase combination. Several, however, display no regard for circumstance, inserted merely as contrived obstacles just because they can be. Need a door lock? Make it a puzzle! Who needs a cell phone password when you can solve a brain teaser instead? No one in Dire Grove, that's for sure. Casual game fans probably aren't sticklers for context, and it's easy to suspend disbelief for the sake of enjoyment here, but adventures have been criticized for arbitrary challenges for years, and better integrating the gameplay and storyline is the next step in the maturation process for this series.
This is true of the frequent inventory puzzles as well, though in a slightly different way. Many of the items you acquire come from the seek-and-find exercises, but you'll get to find others the old-fashioned way. There are no obtuse item combinations or illogical applications to worry about: crowbars will move heavy objects, saws cut wood, and hammers smash things, so rarely will you find yourself perplexed over what tool is needed for the job. If a solution doesn't immediately present itself, that probably means you just haven't found it yet. Where the reasoning breaks down is in what you can't use instead of what you can. You might think that axe you're lugging around would be useful for breaking into a flimsy locked office door, but apparently not. Something just out of reach, meanwhile, can only be nabbed with an item that's shorter than other things in your possession. Go figure. And that's not mentioning all the really useful things you spot in your hidden object searches, but don't have free access to pillage. (Okay, I guess that is mentioning it.) To be clear, these puzzles do provide plenty of light fun just as they are; it's just that many of them will be solved with a "Yeah, but…" on your lips.
There's little point in finishing such exclamations, however, as the playable protagonist has very little to say in return. A short text remark is offered for all available hotspots, but that's about it for character contribution. In an interesting twist, players are given the choice of three different "attitudes" that display normal, motivational, or snarky comments whenever you use an incorrect object. Unfortunately, all three can be classified under one heading: useless. Responses are merely recycled generic lines that offer no insight at best, and are misleading at worst. You'd think a line like "You can't do that… yet." suggests a later attempt is in order. Good thing I didn't think that, or I'd have probably tried returning to it. Again. And again. (Oh right, I did. At least until I saw the line repeated elsewhere.)
The main character is certainly far chattier and more helpful in the journal. Like its MCF predecessors, Dire Grove features a welcome "case file" that is updated frequently with story details, relevant clues, and even background commentary about the events occurring around you. It's a rich resource, though it's still unclear to me why more of the latter isn't conveyed in the main game. True, as a first-person adventure it's essentially you in the scene, but the illusion is pretty thin when we can read our own reactions in the diary a moment later. There's also a risk of the journal knowing more than you do, noting details you haven't yet discovered, so be sure to have a good look around each time it indicates an update.
The journal is entirely optional in any case, as it's always fairly clear what your objectives are and navigating the game is simplicity itself. A smart cursor shows any interactive hotspots, and left-clicking performs all relevant actions. Hidden object areas glitter noticeably, while any key objects in a scene twinkle a bit more subtly. The latter is perhaps more hand-holding than some would like, but it does help ensure that nothing is overlooked. Exit arrows point you in any directions you can move, and clicking one instantly zips you to the next screen. This is a common control scheme, but far more streamlined than many adventures. There is no camera panning or 90-degree turn at every stop, which could be considered restrictive, but to me is an improvement, all but eliminating the danger of getting disoriented and sparing players the rarely-rewarded busywork of spinning in place. The method of backing up by clicking the downward arrow feels entirely artificial, however, as you're literally moving through the game backwards for huge stretches at a time. I'm pretty sure I'd turn around if that were actually me.
While a certain degree of backtracking is necessary, for the most part Dire Grove does a great job of leading you ever onward in naturally progressive stages. You'll start out exploring the deserted bed & breakfast before moving on to a small hunting lodge and the tiny town itself, plus the many wintry environs in between, from a collapsed covered bridge to a boathouse to a cemetery. That's if you can get past a hungry wolf, downed power lines, and a host of other icy obstacles, that is. The artwork in each screen is another step forward for an already impressive series, displaying plenty of detail and almost postcard-like quality, with just enough animation to bring the world to life. The cold and snow are omnipresent, right down to the menu screens and interface, as spidery ice will creep in at the edges and gusty winds blow falling snow in ever-changing directions. It's all very scenic and yet depicts an unnaturally cruel fate for such an idyllic landscape. Wisely, the game opts for a subdued soundtrack, with periods of solemn orchestral music interrupted by lengthy stretches of ambient-only sounds. This effectively builds an atmosphere of quiet solitude and dread that suits the circumstances nicely.
All in all, it should take most players at least six hours to reach Dire Grove's suitably climactic ending (or is that "climatic" ending in this case?). The end sequence is a little rushed, but the experience leading up to that point is not. Some will even find a certain degree of replayability, with "achievements" to pursue and additional secrets to discover. There are two versions of Dire Grove, and while the core game is identical in both, those who invest in the Collector's Edition get an optional gameplay bonus. A series of "morphing objects" are scattered throughout the game, which subtly change in appearance over time, and a couple of bonus puzzles unrelated to the main storyline will reward the thorough explorer. The deluxe version also includes behind-the-scenes video clips of the production shoot in the Argentinian mountains, along with some artwork and a strategy guide that can be accessed at any time. Given the relative ease of the game itself, the latter certainly isn't necessary for finishing, but it's a potentially helpful resource. These extras do come with a higher price tag than the standard version (not yet released at time of writing), so whether they're worth it to you is something only you can decide.
Whichever version you choose, I can safely suggest that you won't be disappointed in Mystery Case Files: Dire Grove overall. Certainly its hidden object component and streamlined interface will appeal primarily to casual game fans, but there are more than enough traditional elements to satisfy anyone looking for a "lite" adventure diversion. While the gameplay does pose some awkward contrivances, it's easy to overlook them when your attention is fixed firmly on the lovely artwork, solid puzzles, and tantalizing FMV backdrop you'll want to see through to the end. It may still not be enough to thaw the staunchest of reservations, but for anyone tempted to take the plunge into the realm of casual game hybrids, go ahead and jump; it's not nearly as cold as it looks.
---
Note: Big Fish Games in an Adventure Gamers affiliate.
Our Verdict:
Despite a few arbitrary cracks, Dire Grove is another (frozen) solid entry in the growing casual adventure library, and a worthy addition to the Mystery Case Files series.
GAME INFO
Mystery Case Files: Dire Grove is an adventure game by

Big Fish Games

released in 200920102010 for iPad and PC. It has a Illustrated realism style and is played in a First-Person perspective. You can download Mystery Case Files: Dire Grove from:
Want to share your own thoughts about this game? Share your personal score, or better yet, leave your own review!

review
Other articles you might enjoy