Drawn: The Painted Tower
review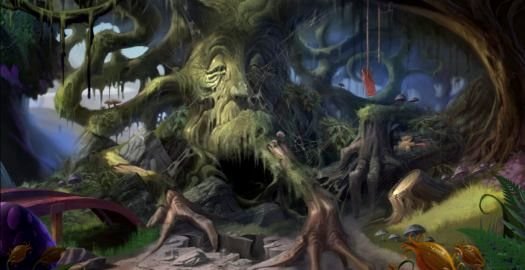 Game information
You might also like these adventure games
Advertisement
Adventure games by Big Fish Games
BITMAP BOOKS
Even a year ago, the line between casual games and adventures was still fairly defined, with only a few tentative steps taken into each other's territories. Then along came the pleasant surprise of Big Fish's Mystery Case Files: Return to Ravenhearst and its convincing blend of conventional puzzles, hidden object sequences, actual plot integration, and the unprecedented (for the casual market at that time) need for free exploration. Since then, several other titles have expanded on this hybridization, whether adding new game mechanics in Women's Murder Club: A Darker Shade of Grey or focusing on a seamless blend of story and puzzles in 3 Cards to Midnight. Now the Big Fish designers have returned with Drawn: The Painted Tower, a beautiful lite adventure that represents yet another step in a welcome direction, and with the exception of a few inconsistencies, a rather successful one at that.
The very first qualities that will catch your attention right from the opening cutscene are the game's awe-inspiring graphics, its powerful musical score and the husky, impassioned voice acting. Compared to both story and gameplay, these facets may seem secondary and superficial, but upon closer look here, these elements actually play a pivotal role in making Drawn the pleasingly imaginative journey that it is.
The developers have referred to Drawn's distinctive art style as "off-kilter and skewed", and indeed the luscious environments seem to stem from a Tim Burton dream, with wonky geometries and exaggerated baroque shapes that wouldn't be out of place in Edward Scissorhands. Every location – from a dimly lit, shabby foyer to a sparkling, colorful theater; from a dark, eerie forest to a tribal hut full of pots and bottles – is a real feast for the eyes, and the hand-painted backgrounds display a quaint, gentle quality that makes them both endearing to look at and fascinating to explore. These environments are lavished with details and enlivened by many little animations, like a fire crackling in the hearth, dust dancing in the faint light of a candle or bees and dragonflies buzzing about. But what is really impressive about the graphics is the inspired, vibrant use of colors: the majority of the game takes place in a dusky, tarnished tower, where the hues of blue and grey make for a gloomy, cheerless experience. Then, suddenly, as soon as the player steps into a painting (more on this later), explosions of bright red and luxuriant green, warm yellow and peaceful azure bring to life a picturesque, jovial world full of enchanted trees, talking scarecrows, quirky magicians and fire-breathing dragons.
The musical orchestration, much like the graphic design, takes advantage of this disparity between the two worlds, as the melancholic flutes and soft, meditative piano notes that accompany players during exploration of the Tower can be swiftly ignited by vivacious violins and epic symphonies when approaching the fairy lands hidden behind the paintings. Reminiscent of the great composer Danny Elfman, you will immediately appreciate the romantic feeling of Drawn's soundtrack, which has the very rare gift of perfectly highlighting the game's atmosphere without ever becoming annoyingly overdone. Add to this the believable sound effects, which make the omnipresent rain an almost tactile experience, and the hushed voice of the narrator, whose somber, meditative tone reminded me of a grandfather telling an old fable, and sitting through the game really feels like reading – or better yet, hearing – a Brothers Grimm fairy tale.
Just like those classic stories, this tale begins in the most time-honored fashion: once upon a time, there was a magical kingdom ruled by a benevolent royal family, whose members were gifted with the power to bring their dreams to life by means of enchanted paintings. The kingdom was thriving and the townsfolk were always merry and warm-hearted. But one day, ruin befell the realm in the form of a dragon and its malevolent master. People watched helplessly as their houses burned and the evil man grabbed the power for himself and overthrew the old king. Desperate, the queen entrusted an old, loyal servant with her newborn daughter, Iris, and told him to run away and protect the child at any cost, because she was their only hope for the future. Through many dangers and miseries, the old butler and Iris fled from the kingdom until they reached a secluded tower by the sea. There they lived in hiding, never leaving their safe haven, with only the company of each other and Iris' dream-friends, like gnomes and griffins, wizards and talking squirrels. But one day they were found, and the nefarious king put a curse on the tower, a curse that transformed the old servant into a statue and imprisoned Iris forever.
This is where you, as a typical AFGNCAAP (for those who weren't around for Zork, this stands for 'Ageless, Faceless, Gender-Neutral, Culturally-Ambiguous Adventure Person'), step in. You are given no explanation about who you are or why you find yourself at the bottom of the tower's stairs, but from the moment you enter the task you're given is very clear: make your way through the many traps and snares to reach the top of the tower, where Iris is held prisoner by the curse. To save the princess, you will have to explore not only the stark steeple, but also the various paintings Iris animated through the years to soothe her loneliness. The wicked curse has warped the tower, sealed its doors and knocked its staircases down, so your only hope to get to Iris is to seek help from the paintings' inhabitants. Many of them will recognize you as a friend and savior, and will aid you as much as they can, like the old Forest Heart who will let you inside his trunk to find Iris' most precious treasure, or the heedless witch doctor who will concoct a precious growth potion for you. Others have been corrupted by the dark spell, like the sly, greedy dragon that is guarding a key to the upper rooms, and betrayed the little princess and sworn loyalty to the evil king, and they will try everything to thwart and capture you.
Regrettably, the backstory recounted in the many letters and journal pages scattered throughout the tower is rather thin and stereotypical, without any surprising twist or original spin. Everything – from the background of the royal family to Iris' own personality; from the exact nature of the princess' peculiar gift to the reason why the evil tyrant is so desperately searching for her – feels rather vague and undetailed. As a result, the sense of urgency the game tries hard to create flounders, and the quest to find Iris, while motivating enough to continue playing, failed to really enthrall me. The game also ends with an abrupt cliffhanger that resolves almost nothing, clearly hinting at a possible sequel. Even with these annoyances, the solid writing and lush, diverse locations help make Drawn's eccentric journey quite enjoyable, and I really liked the segments set in the painted worlds. However, without a strong narrative framework tying them together in between, these moments seem a little disjointed, thus hampering the overall emotional impact of the adventure.
These dream worlds are often populated by quirky, amusing characters, but the interaction with them is minimal, so the gaming experience is a generally solitary one. While this may appeal to fans of Myst-style games, fans of story- and character-driven adventures will surely see this as a missed opportunity, because the flashy inhabitants of the paintings form such an adorable cast that it's really a shame not to be able to know them better. Though not entirely mute, they will merely say a line or two (without voice acting, mind you, since outside of the narrator, the rest is only text), and while these monologues preserve the charming quality of the writing, they are always so brief that there is very little time to enjoy the old-fashioned wording, subtle puns and the fanciful prose.
Speaking of Myst, the two games share more than a few similarities: there is of course the concept of trying to unravel a mystery in a secluded environment that opens towards other worlds, usually by solving puzzles and logic conundrums. Even the nature of these challenges – often based on numbers, symbols, patterns of colors or sounds – is fairly similar. But where Myst dropped the player into its challenges abruptly without any clear direction, Drawn: The Painted Tower chooses a more gentle attitude, taking the player's hand and guiding us through its meanders. It is in this streamlined approach that the adventure most clearly reveals its casual upbringing: a list of objectives is always visible at the bottom of the screen, and a well-implemented hint system is also available to help anyone who finds themselves stuck. Taking the form of Franklin, the petrified butler, this hint system offers multiple clues about every objective, although once you have used Franklin, his portrait becomes dark and it takes a certain amount of time for the next hint to become accessible. This is also true for the logic puzzles, which can be skipped entirely after several minutes, but only after giving the player ample opportunity to solve them without resorting to the automatic solution.
On the other hand, what sets Drawn apart from many casual games is the emphasis put on exploration. Although the tower is quite a confined place, offering no more than six or seven different locations, its many paintings offer quite a large environment to sift through, often spanning multiple screens for any one goal. Previously visited locations can be accessed at any point throughout the game, and navigation is done in a typical slideshow fashion, with movement arrows indicating all possible exits. Like the rest of the gameplay, the point-and-click interface is very user-friendly, featuring a smart cursor and colored sparkles to highlight the particularly important hotspots.
Aside from one puzzle involving a pool of liquid gold and a set of scales, which nicely depends on the player's familiarity with many different paintings, the inventory-related challenges are extremely easy, like finding the right tool to break some ceramic ware, or smashing the right colored stones to obtain a third color. The only possible difficulty comes from locating the right items, since they sometimes appear out of nowhere in past locations, forcing the player into a bit of backtracking. Nothing overly annoying, though, since it is always clear what you are looking for. Perhaps surprisingly, almost completely gone from the developer's last game are the hidden object sequences, and the few that remain are neatly integrated in the storyline and well disguised, like finding broken pieces of a window, some of which are indeed quite 'hidden' among the backgrounds. While none of these tasks will pose much of a challenge, they are a welcome diversion from the logic puzzles, and I often enjoyed the bizarre reasoning required to overcome them. After all, you are voyaging inside the worlds stemmed from the imagination of a little girl, and you really have to understand her dreams and desires to solve the conundrums she filled her paintings with.
On the other hand, the logical brain-teasers can be fairly taxing and rather difficult to overcome. During the game's eight chapters, you will encounter almost every species of puzzle known to adventure-kind: from tough tile puzzles to jigsaws, from numerical locks to color riddles, Drawn's collection of challenges would undoubtedly receive Professor Layton's approval. These challenges are often mentally stimulating and quite clever: for example, the player is required to arrange certain mirrors so that they reflect the sun and/or moonlight in a precise direction for a seed to grow, a goal that is anything but easy to achieve, making the resolution very satisfying. Another sequence involving a valiant knight, a dragon and a damsel in distress stands out as some of the most rewarding puzzling I've done in a while, because it encourages the player to think outside the box and find a brilliant answer to an otherwise seemingly unsolvable situation.
Unfortunately, other puzzles don't fare equally well, either because there aren't enough clues to solve them without resorting to hints or because they feel a bit contrived. For instance, a particular lock featuring bright green LEDs and wheels of numbers feels completely out of a place, like a Star Trek console in a Hans Christian Andersen tale. Another puzzle involves an overgrown spider and its fourteen eyes, where clicking one eye results in the adjacent ones opening or closing (based on their initial position), and the goal is to close all the eyes to make the spider go away. It's a very conventional logic puzzle, but such whimsical tasks detract from the believability of the setting, as I can surely think of at least a dozen other, more plausible ways to get rid of an irksome arachnid than gently tapping its pupils.
All in all, it took me five hours to reach the end of Drawn, and while I generally enjoyed the journey, the adventure lacks a certain bite, partly because of the thin, simplistic plot and partly because of its highly streamlined nature, which at times solves certain situations on the player's behalf, especially those involving potential crossroads. Admittedly, these are quite a common traits among lite adventures, but it's not an inherent weakness of this still-evolving subgenre, and if (as the ending seems to suggest is inevitable) a sequel to Drawn should happen, I'd like to see a little more of the personal freedom this game only teases at. Even with a few caveats, however, it can be a pleasant diversion for fans of puzzle-driven adventures, who will undoubtedly enjoy the many intelligent challenges the title has to offer while basking in its incredible atmosphere and luxuriant production values. If only a little more care had been put into the plot development, Drawn: The Painted Tower would have been a prince among casual adventures. As it is, it's still a very cute, often magical little frog, just not yet completely transformed.
Our Verdict:
As brief and streamlined as you'd expect of a casual game, what Drawn: The Painted Tower lacks in substance, it overcomes with its fascinating atmosphere and splendid production values that make for some nice, gentle adventuring.
GAME INFO
Drawn: The Painted Tower is an adventure game by

Big Fish Games

released in 20092009 for PC. It has a Stylized art style and is played in a First-Person perspective. You can download Drawn: The Painted Tower from:
Want to share your own thoughts about this game? Share your personal score, or better yet, leave your own review!

review
Other articles you might enjoy