Nostradamus: The Last Prophecy
review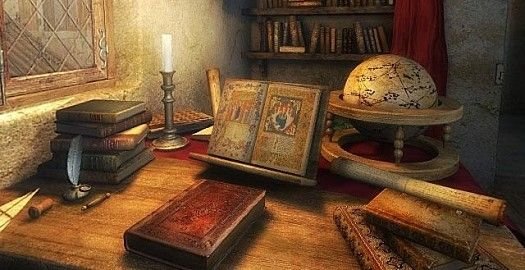 Game information
You might also like these adventure games
Advertisement
Adventure games by Kheops Studio
BITMAP BOOKS
I've always loved looking back into the past and seeing how others lived, which is one of the reasons I've enjoyed games by Kheops and their longtime partners Totem and Mzone studios. Like previous collaborations such as ECHO: Secrets of the Lost Cavern and Secrets of DaVinci: The Forbidden Manuscript, their latest offering, Nostradamus: The Last Prophecy, also takes you into the past. This time it's to 16th century Provence, a French region caught in the middle of a war and beset by the plague. For players, it's also a fascinating world of medicine, astrology and a particularly deadly prophecy, and this first-ever gaming foray into the life and times of Nostradamus results in an intriguing murder mystery.
Nostradamus begins as the former regent, Catherine de Médicis, pays a visit to her old doctor Michel de Nostre-Dame. While Catherine no longer reigns, she still wields incredible power, which makes her a natural target for enemies. Her immediate concern relates to a prophecy that purportedly was written by Nostradamus and details potential tragedies that will befall the royal family. Numerous deaths among those associated with the royal household have already begun and Catherine fears the prophecy is coming true, so she asks for Nostradamus' help to try to stop the prophesied events. Old and frail, Nostradamus tells her he is feeling unwell and will send his son César instead, but knowing his son will not return home any time soon, he chooses to send his daughter Madeleine in his place. Being the 16th century, however, a woman astrologer is not welcome in such circles, so Madeleine must disguise herself as César at times to discover if the unfolding prophecy was really written by Nostradamus, and to find out who is ensuring that it gets fulfilled.
Whether in the role of Madeleine herself or disguised as César, players face a series of tasks that rely heavily on careful observation of surroundings and the writings and books owned by Nostradamus. Like most of Kheops' games, there is a strong reliance on inventory here, though with an interesting twist. Early on in the game, Nostradamus gives you (as Madeleine) a kit containing numerous tools, including the likes of a scalpel, tongs, and mathematical compass that allow you to further examine and manipulate certain items in your inventory, areas in the game world, and even the in-game journal. It took me a while to get used to using this kit, which shows up automatically in your inventory each time you open it. I forgot it was available to me at first, which resulted in getting stuck a few times early on. Once I got in the habit of using it, however, I found it a nice touch that makes investigating and interacting with the environment not only more realistic but also more challenging, as you'll need to choose the correct tool for each purpose (although I did occasionally use trial and error).
A full portrait of your character is also displayed on the inventory page, where you can change clothes to appear as either Madeleine or César. This is important in certain parts of the game, as who you choose to dress as can affect how others react to you and how events transpire. For the initial attiring of both Madeleine and César, the individual items need to be found and placed on the portrait, though subsequent wardrobe changes are streamlined into the use of a single inventory item.
The journal contains all the documents that are collected in the game, along with records of certain events that have transpired, Madeleine's notes about what she needs to accomplish (a good place to go if you aren't sure what you should do next), as well as a log of all conversations. A few puzzles in the game also take place in these journal pages, where you need to use some of the tools in the kit for closer inspection. I have always liked journals in games, as I have become a very lazy note taker, and its integration into some of the puzzles makes this one even more interesting.
The majority of puzzles involve a more traditional use of inventory, making items that are needed for Madeleine's own use or other characters she encounters. There are also environmental puzzles, some of which involve the manipulation of Nostradamus' scientific equipment, as well as logic puzzles involving astrology, where careful observation of Nostradamus' workshop and office are important. There are even a few dialogue sequences that need to be correctly completed to proceed. To the certain chagrin of some, there is a sequence of puzzles at the end of the game that is timed. The time allotment is quite generous but I found myself using quite a bit of time on the first puzzle in the sequence, which made completing the remaining puzzles a bit stressful. Fortunately, all of the puzzles are completely integrated into the storyline, which makes them a lot of fun to solve.
As you investigate, you learn a little more about the mysterious deaths and begin to form suspicions about who is involved. Madeleine must get information from the very people that she suspects, and this involves caution when speaking to others and even some subterfuge. The more she learns, the more danger Madeleine realizes she is in, but throughout the game she often turns to Nostradamus for advice. I found it interesting (and a little odd) how flippant Nostradamus sounded at the beginning of the game when he tells Madeleine it will be fun for her to help Catherine with the prophecy. His tone changes, however, as more deaths occur along the way. Madeleine also encounters one of the murder victims, a monk named Philibert, in visions and dreams. Philibert was doing his own research before he was murdered, and Madeleine's brief visions of him help her follow in his footsteps to understand his involvement in the prophecy. I never quite understood why Madeleine was able to have these visions, but they didn't detract from the believability of the overall story.
The game's dialogue is not what one expects of 16th century France, but it is well written and the accompanying voices are professionally acted in most cases. If there's a problem here it's that some characters, like Jean-Aimé de Chavigny (the former secretary of Nostradamus) and the scribe (a monk traveling with Catherine), have accents that sound British. The synching of the mouth movements and voiceovers is also completely off, which can occasionally be distracting. One pedantic complaint I have concerning the dialogue is the pronunciation of 'Celtic.' It's pronounced using a soft 'c' and not as "Keltic," which is used when talking about the people in Great Britain. Visions of the basketball team and Larry Bird would pop into my head whenever Celtic was pronounced incorrectly.
Exploration is done using the familiar first-person perspective with 360-degree panning as you move node to node. The point-and-click interface is easy to use except for a couple of places where you need to drag the mouse to use an item in the environment. In these instances I wasn't sure what I had to do at first, as mouse dragging is not an intuitive action for me and dragging it didn't immediately result in anything happening. The items you collect, like in other Kheops games, go into a holding area until they are organized individually in the inventory, which has an area in which you can observe and/or manipulate them further before they are used in the game. Nostradamus also has a scoring function and your score increases when you solve puzzles and make important dialogue choices, such as whether or not to be confrontational or amicable. While not really relevant to the larger storyline, this scoring feature, along with the ability to interact with others in various ways, give the game a degree of replayability.
The graphics in Nostradamus are very detailed and really show off the environments, consisting primarily of a town in Provence, Catherine's castle, and the home in which Madeleine lives with her father. Nostradamus' house was especially interesting to me given the equipment in his observatory, his workshop and all of the papers and books that lay around. Nostradamus is mostly remembered for his prophecies, but his role as a doctor also takes center stage in this game. I had a great time experimenting with the various plants and solutions that he used, and I wish I had been able to interact with even more paraphernalia. The town itself is virtually empty, a fact logically explained as a consequence of the plague, but I found myself wanting to explore more of the buildings. The feeling of desolation is broken up only by a few animations, such as birds circling, flames flickering in fireplaces and the smoking fire pit in the town, among others.
The background music, a suspenseful theme of drums, strings and brass that's occasionally accompanied by light chanting, is pleasant to listen to and usually plays throughout the game. It becomes a little repetitive if you explore one location for a long time, but not to the point of feeling obtrusive. The tone of the music becomes darker as the game progresses and the suspense increases, but it's never overwhelming or distracting. At other times the music is absent so you can hear the ambient outdoor sounds like birds and flies or the crackling fire inside the house.
I finished the game in about 12 hours, but as always, play time will depend on how long it takes to solve some of the puzzles. Throughout that time I was both pleased and impressed, as Nostradamus: The Last Prophecy is a solid game with an intriguing story and fun, well-integrated puzzles. For someone like me who loves the past, it was a fascinating escape into another time, offering a rare glimpse of one of history's most notable characters, if only in a secondary role. Even if you're not as intrigued with history as I am, the investigation makes for an entertaining adventure in its own right, and I'll make a prediction myself that most adventure gamers will enjoy the experience.
Our Verdict:
Another enjoyable trip to the past by Kheops, with a fascinating look at Nostradamus and an intriguing murder mystery to investigate.
GAME INFO
Nostradamus: The Last Prophecy is an adventure game by

Kheops Studio

released in 200820072008 for Mac and PC. It has a Illustrated realism style and is played in a First-Person perspective. You can download Nostradamus: The Last Prophecy from:
Want to share your own thoughts about this game? Share your personal score, or better yet, leave your own review!

review
Other articles you might enjoy