Review for Cirque De Zale
Game information
SELECT wt.entry_id as entry_id, we.entry_id as review_id, wt.title, we.field_id_46 as rating, wd.field_id_71 as series FROM exp_channel_titles AS wt, exp_channel_data AS wd LEFT JOIN exp_playa_relationships as rl ON (rl.child_entry_id = wd.entry_id AND rl.parent_field_id = 31) LEFT join exp_channel_data as we ON we.entry_id = rl.parent_entry_id WHERE wt.entry_id NOT IN (SELECT entry_id FROM exp_category_posts WHERE cat_id = 10) AND wd.channel_id = '2' AND wt.status = 'open' AND wt.entry_id = wd.entry_id AND wd.field_id_19 NOT LIKE '%Hidden Object' AND wd.field_id_85 != '0'  AND wd.field_id_19 = ''  ORDER BY rating DESC LIMIT 8
You might also like these adventure games
Advertisement
BITMAP BOOKS
In Cirque De Zale, you play an obnoxious, sarcastic young man named Alexander Zale who works at the circus as an "elephant-feces removal operative." One day, his life takes a turn for the surreal when he is transported to another dimension by a disgruntled magician. Upon arrival, Zale decides he likes the look of this new world (which is a quaint, fantasyesque affair), and decides to set up his very own circus - the Cirque De Zale of the title. In the game, we play as Alexander as he struggles to find and acquire his circus, along with the requisite staff.
The game shares a few similarities with the Monkey Island games, mainly the SCUMM-like interface and the excellent low-resolution graphics, which are reminiscent of the LucasArts greats without ever being derivative. There are also lots of animations, which add an extra touch of flair to an already beautiful game.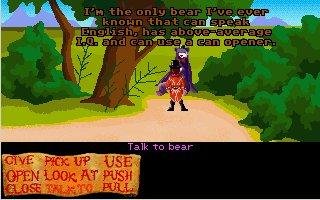 The game's strongest point is definitely its humour, which is sometimes subtle and occasionally laugh-out-loud hilarious. The conversations with the other characters are excellent, with Zale delivering some brilliant sarcastic put-downs, which reminded me of Simon from the Simon the Sorcerer games.
The puzzles are fairly simple, but the game as a whole is so charming that this won't bother anyone. Instead, it just eases the game's flow. The game is of a respectable length, but I was left wanting more because the humour and charm of the game are so enthralling. The game's conclusion leaves a definite opening for a sequel, and Kinoko (the game's author) has stated her intention to create a follow-up some day.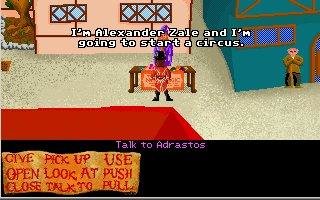 The music and sound effects are also well done, with appropriate tunes for each scene and sound effects when appropriate. The music is especially memorable in two scenes (play the game and listen to the music outside the old lady's cottage, then to the music inside the cottage to understand what I mean).
I would definitely recommend Cirque De Zale to anyone, most of all to adventure fans feeling nostalgic for the early LucasArts games. If you like humourous adventures, I think you'll love this. Saying it's the best amateur game by a 21-year-old female wouldn't be doing it justice--this is one of the best games of the year, period.
Cirque de Zale can be downloaded as freeware from Kinoko's website.