AGON: The Lost Sword of Toledo
review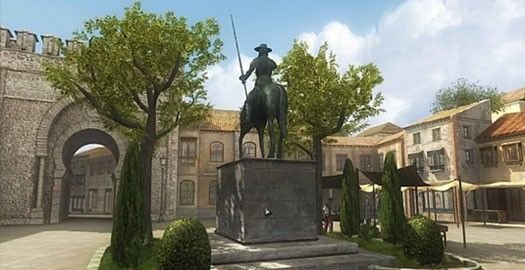 Game information
You might also like these adventure games
Advertisement
Adventure games by Private Moon Studios
BITMAP BOOKS
When last we saw Professor Samuel Hunt, he was in… umm, let's see, he must have been… uhh… oh, on the island of Madagascar, yeah. You'll have to excuse the forgetfulness, as it's been well over three years since the third "episode" of the planned fourteen-part AGON series was released. Needless to say, you can pretty much throw away any notion of a recognizable episodic model at this point, but don't discount the series itself, as indie Hungarian developer Private Moon Studios still has big plans for AGON.
The newest installment is called The Lost Sword of Toledo, and unlike the first three download-only episodes (at least until they were bundled together in The Mysterious Codex), the latest game was designed from the ground up to be a full-length adventure sold as a standalone retail product. Sure enough, the result is a decidely longer and more complex game than its predecessors. But although a large step forward in substance for the series, it includes a few small steps back as a reminder that bigger isn't always better.
The stage for Toledo is set by an introductory narration by Hunt, writing home while aboard a train bound for the quaint Spanish town. Having already found two of twelve accursed board games that together will reveal the secret of the mysterious "AGON", Hunt correctly notes that he's become more of a detective than a cultural historian, and never is that more true than when he reaches his new destination. The professor learns that the man he's gone to see has died recently, leaving his only daughter with no inheritance except for a peculiar music box and a disastrously arranged betrothal. Worse still, her true love is currently rotting away in prison, arrested for stealing a family heirloom but wrongfully accused of the act, or so his supporters believe. And so it's up to the newly-arrived visitor to delve into both mysteries in order to save the day.
If it seems the storyline doesn't have much to do with our protagonist pursuing the next board game, that's because it doesn't, and the disparity is surprising. There's a very loose connection established at some point, but it feels tacked on and incidental by then, offered mainly to justify the title as part of the larger AGON series. This makes Toledo easy for newcomers to pick up and follow, but then they will probably be left wondering what the deal is when the board game does finally make its brief and fairly insignificant appearance. There's a written overview of the series story arc available from the main menu, but it's a shame the game doesn't do a better job of integrating it throughout the current adventure.
Whether searching for a board game or lost sword, however, the premise is still pure AGON. You'll wander node-to-node through a handful of locations, talk to key characters in order to glean clues, solve plenty of challenging puzzles, and do lots of reading. Lots and LOTS of reading. Far too much, in fact, and while most of it doesn't need to be read through in its entirety, it's unlikely you'll know ahead of time what is and isn't relevant, forcing you to plod through it all in order to be sure you aren't missing something important. I'm not one of those who believe that any reading is too much reading, simply that enough is enough, and Toledo relies on this particular convention way too often, making the game feel more like homework than fun at times.
When your nose isn't buried in a dusty old book or long-lost expository letter, you'll get do some adventuring legwork as well, although your travels don't take you very far. The entire game takes place in Toledo, but there's little exploring to do, as locations are limited primarily to a few homes, a couple courtyards, and the odd public building. Each location is self-contained, and you travel between them by map as you exit each one. The actual number of places to visit wasn't as disappointing to me as the lack of… shall we say, an exotic nature. One of the draws of the earlier games was their unusual locations, making you really feel as if you were navigating the Arctic tundra or a lush tropical island. Admittedly, I have no clue what early 20th century Spain looked like, but I'd have imagined something a little more distinctive from the "jewel box of European culture" than the areas available in this game. Instead of admiring the town's architecture and absorbing its cultural flavour, we end up in a lengthy section in Toledo's underground sewers. I could be wrong, but I doubt the aqueducts would be listed as a highlight in most travel brochures. The historic statue in the middle of town square, on the other hand, just might be, making it all the more annoying that you can't even view it from the front, to name just one obvious restriction.
The limited choice of locations doesn't mean that the scenery isn't pleasant to look at, thankfully. The backgrounds are depicted nicely, with all the same artistry and attention to detail that returning players have come to expect from the series, and there are even a few nice touches like reflective surfaces showing Hunt as he moves past. On the other hand, the game's engine is starting to show its age. Whereas three years ago the graphics bordered on jaw-dropping, now the fixed-resolution visuals merely hold their own. A few corners have even been cut for Toledo that didn't exist before. In particular, there are no ambient animations in the new game, displaying strictly static screens apart from interactive characters. As is becoming increasingly common, cinematic cutscenes are frequently replaced by comic-styled artwork that's nicely drawn but a fairly jarring change from the game's in-game presentation. The character models also suffer somewhat, being noticeably simpler than the environments and offering little in the way of expressiveness.
A similar criticism of the supporting characters can be extended to the voice acting. While capably acted for the most part (though with a few glaring exceptions), I didn't hear much in the way of authentic-sounding Spanish accents from the locals. The larger issue with the cast, however, is how little they offer the experience beyond serving as periodic story props. You simply move from one to another, asking everybody about everybody else until they've exhausted their minimal usefulness, at which point they'll refuse to even speak with you again until necessary. Professor Hunt himself is once again performed wonderfully by Peter Meikle, his uppercrust-Brit-with-adventurer's-enthusiasm persona shining through. Surprisingly, however, Hunt commits several ethically debatable acts in the game which seem out of character for him. They're hardly earth-shattering moral outrages, but the discrepancy stands out.
Of course, most players attracted to the AGON series are concerned less with the window dressing and more with the heart of the game, its puzzles, and overall this is a strength of the new installment, though once again not without exception. In keeping with the standard set by the earlier games, there are plenty of head-scratchers (and occasional head-pounders) in Toledo, ranging from the simplest of fetch quests to the most obtuse sort of multi-layered clue deciphering puzzles. Some are quite organic, such as a lengthy sequence of home photography development, while others are clearly contrived for the sake of presenting obstacles, like identifying a recent calendar date through a convoluted process of deduction instead of merely asking the first available townsperson you meet. If your response to such a scenario is "where's the fun in asking?" instead of "where's the logic in not?" then Toledo should serve you just fine.
Speaking of arbitrary restrictions, one particular object combination puzzle strains pretty much all credibility, and the developers wisely opted to prevent the required items from being removed from the location. Normally you can pick up anything that isn't nailed down, but here they automatically disappear from your inventory if you try leaving with them. While this is a helpful assist, the fact that it was deemed necessary strikes me as an admission that no one would have discovered the solution otherwise. It's certainly manageable in its final form, but it's anything but intuitive.
A few other questionable puzzle choices make their presence felt in Toledo. One or two pixel hunts appear (or not appear, as the case may be) out of the blue, but your eyesight won't be the only sense tested, as the game features a potentially challenging music-based puzzle. The good news is that it's a chance to listen to a delightful assortment of local songs, which you'll appreciate since the game's music is equally well done but used sparingly elsewhere in your travels. The bad news is, the puzzle will be very difficult for the tone-impaired, so keep a walkthrough handy if that describes you. The other curiosity is the inclusion of a maze. Previous AGON games have also featured mazes, so it's really no surprise. The question is why Private Moon continues to feel the need to include what is such a generally unpopular puzzle type. As mazes go, it's certainly not the most difficult, but the same maze is used again later, only this time requiring clues to navigate through, and that feels much more like a worthwhile puzzle than the tedious mapping exercise that came before it.
Toledo also includes a couple of physics-based puzzles, but the limitations of its node-based game engine really limit the experience. Instead of moving both player and objects freely, you'll need to inch your way around, placing and retrieving objects in little incremental steps. The game shows you where you can place the objects at any given time, which is good. What it doesn't tell you is that it will inexplicably trap you behind your own easily-surmountable obstacles if not organized just right. It's a valiant attempt at a logical puzzle type, just not really conducive to pulling it off, making the whole thing feel like a clumsy exercise of movement mechanics than a strategic puzzle.
In most other respects, Toledo is thorougly traditional in its interface and point-and-click controls. As in the previous episodes, the first-person view can be swiveled 360-degrees by clicking and holding the mouse button, which is still less elegant and less comfortable than a toggle of some kind, particularly as the right mouse button continues to be neglected almost entirely. The inventory and all relevant menu screens are easily accessible through on-screen icons, and a complete list of all dialogues is available, although a more useful collection of relevant documents is an unfortunate omission in a game with so much required reading. All documents can be read either straight from the page in its original script, or by scrolling the mouse over sections of the page, showing the same text in a more legible font. At least, more legible in theory. The super-imposed subtitle background is translucent, and it can sometimes be harder to make out the print against the original text beneath it. Still, it's an interesting idea, and I don't recall seeing anyone but Private Moon ever use it.
Navigating through Toledo is easy enough, simply clicking directional cursors to transition to the next scene. The environments are fairly small, so finding available paths is rarely a problem. What can be an issue is objects being highlighted only from one particular angle, even if you can see it from others. Smart cursors show hotspots that can be manipulated or examined, but there's very little to interact with apart from the items you need. Conversations are carried out by clicking through all keywords, though sometimes they'll end even if there's really more to say. And while all dialogues are fully subtitled, you cannot skip through them to speed them along.
If you're in a hurry, mind you, then The Lost Sword of Toledo probably isn't for you. The game is quite intent on going at its own leisurely pace, occasionally giving you multiple avenues to explore, but generally keeing a light, linear rein on your progress, leading you ever towards the next puzzle, the next book, and ultimately to the next obscure board game, Alquerque. As the reward for your diligence over the course of 12-15 hours (major puzzle stumpage not included), you'll finally encounter your nearly-forgotten goal in the form of a genuine old game that few will recognize but most will instantly associate with checkers. Once beaten, the game is accessible from the main menu for standalone replay if so desired, but I felt no such inclination. Once was enough. But for players who find once isn't enough just to win, there is a difficulty setting that can be lowered.
If it seems like the criticisms are starting to outweigh the positives, that's mainly because Toledo fails to reach the bar already set by the better episodes in the series, compounded by feeling like it's several years too late. Instead of being a new, improved AGON, the result is more like an older episode that simply took a long time to make and lost some technological ground in the process. And while the extended gameplay and storyline more than doubles the length of any previous installment, the contrived obstacles and over-reliance on reading begin to feel like filler, which is something the shorter, tighter narratives managed to avoid. It's certainly more game, it's just not a better game.
Having said all that, the complaints shouldn't obscure the fact that The Lost Sword of Toledo is still a solid entry that should appeal to AGON fans and puzzle adventure enthusiasts who may have passed over the series to this point. There's a healthy serving of challenging puzzles, a rarely-seen cultural setting to explore, and Professor Hunt remains one of the more likeable (if unlikely) protagonists in the genre today, so it's good to see his adventures haven't come to a premature end. His trip to Spain wasn't quite what it could have been, perhaps, but his next journey is booked for Peking in The Tale of the 4 Dragons, so here's hoping that the series will rise again to greater heights in the east.
Our Verdict:
The first full-length AGON episode is a decent puzzle adventure, but The Lost Sword of Toledo won't be eliciting shouts of "olé!" from anyone but existing fans of the series.
GAME INFO
AGON: The Lost Sword of Toledo is an adventure game by

Private Moon Studios

released in 20082008 for Mac and PC. It has a Illustrated realism style and is played in a First-Person perspective. You can download AGON: The Lost Sword of Toledo from:
Want to share your own thoughts about this game? Share your personal score, or better yet, leave your own review!

review
Other articles you might enjoy