Miazma or the Devil's Stone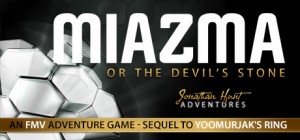 Jonathan Hunt is a journalist from New York. Solving the case of Yoomurjak's ring earned him the reputation of an expert of mysteries in the past. This time he is asked by a nuclear physics institute to throw light upon a disappearance, but the mission turns into a hunt for a peculiar meteorite that fell on earth centuries ago. What is inside the devilish stone? There must be a good reason why certain persons have been trying to get hold of it at all costs.
Stuck in
Miazma or the Devil's Stone
, or looking for the best way to proceed? Click below to view our walkthrough for
Miazma or the Devil's Stone
and wonder no more!
Note, these will contain spoilers.

Posted by My Dune on Jun 9, 2018
Get past the bad voice acting

The game starts te get interesting when you switch to the second character. So give it a chance! The acting and voice acting is teeth grinding, but once you get through the first part of the game it gets better. The game is actually worth playing....
SELECT wt.entry_id as entry_id, we.entry_id as review_id, wt.title, we.field_id_46 as rating, wd.field_id_71 as series FROM exp_channel_titles AS wt, exp_channel_data AS wd LEFT JOIN exp_playa_relationships as rl ON (rl.child_entry_id = wd.entry_id AND rl.parent_field_id = 31) LEFT join exp_channel_data as we ON we.entry_id = rl.parent_entry_id WHERE wt.entry_id NOT IN (SELECT entry_id FROM exp_category_posts WHERE cat_id = 10) AND wd.channel_id = '2' AND wt.status = 'open' AND wt.entry_id = wd.entry_id AND wd.field_id_19 NOT LIKE '%Hidden Object' AND wd.field_id_85 != '0'  AND wd.field_id_17 = 'Third-Person'  AND wd.field_id_23 = 'Live Action, Photographic'  AND wd.field_id_76 = 'Mystery'  AND wd.field_id_75 = 'Full motion video, Slideshow'  AND wd.field_id_22 = 'Point-and-click'  AND wd.field_id_19 = 'Investigative'  ORDER BY rating DESC LIMIT 16