The Tiny Bang Story
review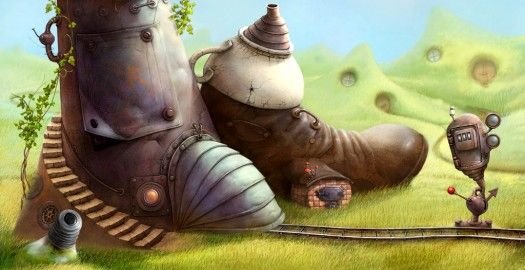 Game information
You might also like these adventure games
Advertisement
Adventure games by Colibri Games
BITMAP BOOKS
At first glance, The Tiny Bang Story is extremely reminiscent of Machinarium, as it's a beautifully presented puzzle-driven quest across a whimsical, part-natural / part-mechanical world. Beneath the surface, unfortunately, Colibri Games' lite adventure lacks the charm and underlying purpose of Amanita's classic, instead replacing them with time-filling tedium. The surreal world and high production values will easily pull you in, and there are many challenging puzzles to overcome on your journey; it's just a shame that you'll have to wade through so many frustrating hidden object collections and barren environments with no clear objectives to find them.
The game begins with a short introduction that shows Tiny Planet, a truly tiny planet, being caught in an asteroid explosion that literally shatters the world into a collection of jigsaw pieces. (At least, I think that's what happened, as for some bizarre reason, it is impossible to view the intro again, even if you begin a new game under a different profile.) As the faceless protagonist, it's your task to retrieve these scattered pieces and put the planet back together. Surprisingly, none of the areas you visit seem at all impacted by the disaster, as it's business as usual in these quiet, peaceful locales. The main goal in each of the five regions is to collect all of the available jigsaw pieces and secure transit to the next area, though you'll frequently need to solve puzzles to access new screens at each stop. Between levels, you'll revisit the main menu screen, where the pieces you've gathered are now littered over the globe and in need of assembly. This is a nice touch aesthetically, and gives the game some level of context, requiring you to rebuild the next portion of the world before you can travel there, though the process has no tangible effect apart from that.
Emphasising the lack of any obvious distress, Tiny Planet is presented with a colourful cartoon charm that makes it a joy to explore. From houses made with boots and glass bottles to elevators in giant trees to a giant kettle-based lighthouse, the world is brimming with unique character. The hand-drawn style, vivid pastel colours and creative blend of nature and common household items is very imaginative, and the effect is aided by animations like a wire-propelled airplane, rotating billboards, and unlocked machines springing to life. The visual appeal is supported by orchestral music tracks that fit perfectly with the serene atmosphere, with soft instruments like guitars and xylophones played at a slow, relaxed pace, providing a soothing backdrop throughout (which, although nice, again defies the supposed urgency of your goal). The tracks tend to loop and repeat quite a lot, but they're so pleasantly understated that they never overwhelm the ambient sounds, from birds chirping to subtle clicks and cranks as you lift objects, open chests and press buttons.
You'll encounter a handful of characters on your journey, from a little smoking gnome to a rather buxom store clerk, but Tiny Planet's remaining inhabitants do nothing but idly await you in their businesses or homes They only communicate via a speech bubble, and all they ever do is loosely hint at one of the current puzzles you must complete. Whilst sounding once again very similar to Machinarium in concept, the characters here are lifeless in comparison, with no obvious sense of personality or concern to give their presence any relevance. They're merely props to offer clues, and not very useful ones at that.
Despite the paper-thin story moving things along, The Tiny Bang Story includes a decent range of puzzles that vary in both style and challenge level. There are twenty full-fledged puzzles in total, which can be replayed at will when the game is completed. Tasks range from simple jigsaws, memory sequences, and colour pattern alignment to tougher tile rotations and tangrams, but there is very little originality here, as the majority of puzzles will be very familiar to adventure fans. There are times when the puzzles are nicely integrated into their surroundings, such as needing to shut off valves in a maze of pipes to halt water flow or assembling the train needed to carry you to the next location, but these moments are often overshadowed by puzzles added simply for puzzling sake, like shooting down a bunch of item-bearing balloons. It's too bad they're presented in such a haphazard manner, because on their own they are engaging enough and generally fun to solve. Notable exceptions are the extremely slow, scrolling minigames spent moving a plane or ship one block per second for what seems like an eternity. A few such activities require a degree of hand-eye coordination, but even those fearful of action-based gameplay will find the challenge level a breeze here.
In fact, the majority of obstacles are simple enough to overcome, with a basic instructional image often available as a guide, but a handful are brutishly difficult. One Venn diagram rotation puzzle tasks you with correctly arranging hemispheres, which is straightforward enough in concept but a large pain when needing to juggle 13 different segments with limited control of the spheres. Another puzzle requires aligning three rotating compasses, which again sounds reasonable enough in theory, but is far more frustrating than it needs to be because of its finicky click-and-drag controls and the absence of any kind of feedback. If you're stuck, there's no way around solving them either, short of brute-forcing your way through a few numbered codes. There is no puzzle skip option available, though there is a built-in rechargeable hint system, as collecting endlessly-respawning bugs fills a gauge that eventually activates a one-time hint. The problem is, these hints are frequently useless, merely pointing you to the next puzzle to be solved, which more often than not is abundantly clear already.
What the hint system does help with is highlighting missing objects. The Tiny Bang Story is not a traditional hidden object game with random lists of stuff to find, but each screen is littered with sets of items you'll need to gather in order to progress, from light bulbs to pipe joints to the actual puzzle pieces that will rebuild the planet. This is where the game bogs down in a hurry. Instead of overcoming obstacles with logic, often your progress is hindered mainly by pixel-hunting exercises that exist only to slow you down. The total number of every item needed is displayed continually on screen, but each location consists of several distinct screens, and there's no way to tell if there are any more concealed items on the current screen. Some objects are obscurely placed, while others are simply small and very difficult to differentiate from the environment, which becomes incredibly frustrating. Even if you like hidden object games, often the demands here are both too difficult and entirely unrewarding.
There's no question that The Tiny Bang Story is a beautiful lite adventure title, but its beauty is mostly skin deep, with some significantly clumsy flaws and a surprisingly dull personality. A few overly challenging puzzles and poor hint system can be ignored, but weak puzzle integration and a non-existent storyline dampen the desire to progress on. There are some entertaining puzzles to enjoy along the way, but since many of them merely replicate what's been done time and time again, these aren't enough to elevate the game above mediocrity. The biggest disappointment, however, is that of the four or five hours of gameplay offered here, the majority of your time will be spent scouring for tiny unseen objects, which stops being fun long before you're done. And in this case, "done" consists of nothing more than dropping you off at the puzzle replay screen – there is no triumphant cinematic, no acknowledgement of success. Perhaps devoted casual game fans will have some tolerance for this type of hollow experience, but ultimately The Tiny Bang Story's pieces just don't add up to a fulfilling adventure in the end.
Our Verdict:
The Tiny Bang Story looks absolutely stunning and shows glimpses of promise, but it's ultimately overshadowed by poor story development and puzzle progression.
GAME INFO
The Tiny Bang Story is an adventure game by

Colibri Games

released in 20112011 for Android, iPad, iPhone, Mac, PC and Switch. It has a Stylized art style, presented in Slideshow and is played in a First-Person perspective. You can download The Tiny Bang Story from:
Want to share your own thoughts about this game? Share your personal score, or better yet, leave your own review!

review
Other articles you might enjoy