Blue Toad Murder Files: The Mysteries of Little Riddle - Episodes 1-3
review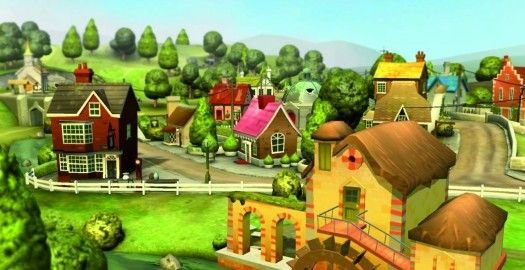 Game information
Advertisement
Adventure games by Relentless Software
BITMAP BOOKS
One of the most popular premises for adventure games is the murder mystery. It makes sense. After all, adventure games are about puzzles, and whodunits offer up an easy way to make puzzling central to the plot. My favorite type of mystery has always been the over-the-top classic variety. You know, the ones where the detective calls everyone into the accusing parlor before dramatically pointing the finger at the guilty party (the butler did it!), somehow timing this perfectly with a flash of lightning from the inevitably present thunderstorm. Apparently I'm not the only one with a fondness for this style, as Relentless Software have released the first three (of six planned) episodes of the Blue Toad Murder Files: The Mysteries of Little Riddle for the PlayStation 3. While the accusing parlors and thunderstorms haven't appeared as of yet, the story's dramatic flair has a lot in common with those tales just the same. Better yet, the episodes are nicely presented and the puzzles fun to solve, though the surprisingly short length of each one may turn people off.
The story begins simply enough in Episode 1: Little Riddle's Deadly Dilemma. You are a member of the Blue Toad Detective Agency, sent to the quaint English village of Little Riddle on holiday by your superior, mysteriously named "Mother". Mere minutes after your arrival, you are talking to the town's mayor when he is gunned down in broad daylight! The town's Chief Inspector wants none of your interference in this mystery, but what fun would that be? You waste no time in interviewing suspects and gathering clues to try piecing together who the killer is, but this is only the tip of the iceberg. After solving the original murder, there's also a burglary to foil in The Mystery of Riddle Manor and an arsonist to catch in The Mystery of the Concealing Flame. Each mystery solved leads to its own culprit, but also leads to more questions and often another crime, with hints that there is a sinister figure masterminding all the crimes throughout the episodes.
At the beginning of each game, you select which of the four Blue Toad members you'd like as your avatar. You can choose between the boyish Dick Dickens, a teenaged Hannah Dakota, Lambert Vandenbosch and his impressive moustache, or the elderly (but still sharp) Marjorie Maple, though your choice is largely cosmetic, since after a brief introduction provided by the narrator, there really isn't anything to differentiate the detectives besides their appearance. However, this series has the added feature of being able to play in a group, and up to four players can select their own character and join in on the puzzling. Once the action begins, it consists basically of a series of cutscenes punctuated with the occasional puzzle. The only real control you have over your character is the occasional choice of where to go next. If you have four suspects to interview, for example, you'll get to select their residences or businesses from a bird's-eye view of the town. But this choice has no real bearing on the story overall, as no matter what order you choose you'll get to all the locations eventually. Once you select a place of interest, you get to sit back, watch the scene, and solve a puzzle loosely related to the situation at hand.
The multiplayer option is definitely the most novel feature, but don't worry if you only have a single controller, as you can easily play together by passing it around between turns. Essentially the game splits up the puzzles and questions between all the players rather than giving them to just one, then ranks who performed the best overall. It's a cute idea, but it doesn't impact the outcome and the story doesn't really take into account which character is doing what. If one character received a letter from Mother in the previous scene, the next character may solve a puzzle involving that letter in the next, with no explanation at all as to how this letter ended up in their hands or why the other detective chose not to decode it herself. Plus, group play means each person ultimately gets to experience less of the game. Play by yourself and you'll get to solve all of the puzzles on your own. Play with three friends and the game will divide them up evenly between players, and since they don't change at all if you play the episode again, keep this in mind if you're someone who values the pleasure of solving everything yourself.
These puzzles vary greatly in style, from math problems to logic puzzles to observational challenges. Each episode tries to offer a little bit of everything. One puzzle has you decoding a note the constable just slipped you, while another has you deducing where a dog buried an item based on clues from a testimonial, and you'll do everything from counting ducks in a pond to putting together literal puzzle pieces. All of them try to connect to the plot in some way, though this is often very loosely done. Usually the person you're trying to get answers from has some sort of problem and won't be able to help you until you've solved their conundrum for them. While some of the puzzles are certainly better than others, they're all genuinely fun. The only problem lies with just how little puzzling there is to be found. Many of them can be solved in less than thirty seconds, and in a game that gives you exactly twelve puzzles per episode, this doesn't add up to many hours of entertainment. Some of the trickier ones take a few minutes (and one particular code-cracking puzzle actually took me fifteen) but the game even acknowledges its minimal challenge in the form of a "par time" goal for each puzzle. This par never goes above four minutes.
It's impossible to miss whether or not you've solved the current puzzle within the targeted timeframe. The game's enthusiastic narrator cheerfully announces whether you have the right to feel smug or if you should be ashamed of yourself. Solve the puzzle quickly enough without any mistakes and you will be awarded with a gold ribbon. Move too slowly or mess anything up, and your reward will be a silver or bronze ribbon, along with some choice insults courtesy of the British upper class-accented narrator. These ribbons are mostly for show, but they do offer an easy way to rank multiplayer investigators at the end of the episode to see who did the best overall.
As in any good mystery, you have to keep your eyes and ears open. Each episode has a few moments where the narrator asks you some questions to see how closely you've been paying attention to detail. These can be anything from the name of a character to something somebody said in conversation to the color of clothing someone was wearing. Most of these quizzes are quite easy, but you'll get the occasional odd curveball as well. Fortunately there's no real downside to getting a question wrong, unless you count more insults from the narrator a penalty. At the end of each episode, you'll have to finger one of four suspects whom you suspect of the crime. If you've been paying close attention to each scene, finding the guilty party isn't too difficult (in one episode it's mind-bogglingly easy) but the necessary clues are somewhat subtle and often aren't obvious at first. The multiplayer function allows each player to make their guess secretly, for those who are competitive about that sort of thing.
What helps make up for the short length of the games are the quality production values. The orchestral music is fantastic and resembles the soundtrack of a movie from the '40s. The narrator may be arrogant and melodramatic, but he's certainly never dull to listen to, even if he can't seem to say the word "murder" without dragging it out as long as he possibly can. It's a good thing he's entertaining because the actor, Tom Dussek, plays the voice of literally every character in the game. Male or female, young or old, you'll hear him come up with a slightly different British accent for all (with one southern American twang thrown in for good measure). While the exaggerated characters allow Dussek to disguise his voice more easily, it's still quite noticeable, and the game makes no secret of him playing all the voices, telling you so at the end of an informational intro scene. Fortunately, as obvious as it is, he does a good job in giving each figure a discernable personality in the limited amount of screen time they usually get. The only characters Dussek doesn't voice are the detectives themselves, but this is because they have no voices. When they have something to say, the narrator simply explains what they're talking about while their lips silently move. It's an understandable choice, as recording four different versions of the same scenes to fit all the detectives would be a lot of work for a budget title, but it does make the protagonists feel somewhat lacking in individual identity.
With no voices of their own, the only personality the detectives can display is through their facial expressions. In this, the results are a little more mixed. Blue Toad's visual style is simple but fun, with a 3D cartoony feel to everything (even murder). There are a lot of characters, many of them recurring throughout episodes, from the lanky doctor to the spectacled vicar to the portly and uncooperative inspector, but while the variety is good, they really aren't expressive enough to be convincing. Don't get me wrong, they certainly have an array of expressions, but especially in the case of the silent protagonists, their emotions often appear muted. Other than this weakness the animation is excellent, however, setting the light, whimsical tone almost immediately. The town of Little Riddle itself fits the stereotypical pastoral English village quite nicely, and you'll even get to see it both day and night depending on when your investigations take place in the story.
If the Blue Toad Murder Files offered just a little more substance in each episode, I would feel a lot more comfortable giving it a hearty recommendation. It's very light, but with plenty of fun and (intentionally) overly dramatic characters and plots. The puzzles may be too simple for some, but they're all quite enjoyable and offer a lot of variety. The multiplayer is a neat addition as well, though the social benefit does comes at the cost of personal involvement. Unfortunately, at about an hour per episode, there's just too little game to justify a single-episode purchase, and it's even a stretch to warrant its cheaper price for the first three episodes bundled together. Still, there are so few adventures available for the PS3, console lovers of light puzzling and outrageous British accents should definitely consider a purchase, especially if it's something you want to share with friends. Just be sure to enter the game with a thick skin; that narrator really doesn't hold back.
Our Verdict:
The first three Blue Toad Murder Files are fun, quality episodic whodunits for up to four people, but they're so short they can't fully satisfy even one.
Want to share your own thoughts about this game? Share your personal score, or better yet, leave your own review!

review
Other articles you might enjoy