Nancy Drew: The White Wolf of Icicle Creek (Wii port)
review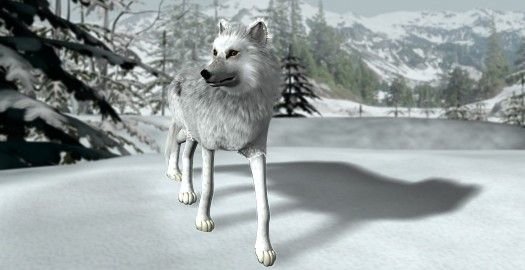 Game information
You might also like these adventure games
Advertisement
Adventure games by HeR Interactive
BITMAP BOOKS
While Her Interactive's longrunning Nancy Drew series has been largely limited to the PC so far, it seemed inevitable that the family-friendly mysteries would eventually find their way to the family-friendly Wii. That moment finally arrived with the recent release of The White Wolf of Icicle Creek on Nintendo's home console, so I set aside my mouse and took a break from the freezing Canadian winter, grabbing my Wii remote to join Nancy on her trip to… well, the freezing Canadian winter. (Some things never change.)
The Wii version of White Wolf is virtually a straight port of the 16th Nancy Drew adventure, with just a few changes to better suit the new system and the almost-obligatory motion control activities shoehorned in for good measure. The differences warrant no real attention from those who have already played the game on PC, but for anyone who has yet to check it out, the choice of platform will depend largely on what aspects are important to you.
The story plays out exactly the same, with Nancy working undercover as the maid and cook at a cozy lodge in the Rockies. Less cozy are all the dangerous incidents afflicting guests and staff alike, along with the ominous presence of a lone white wolf. The future of the lodge is in jeopardy over these troubles, and of course only Nancy is able to get to the bottom of it. There's very little interaction with the other five supporting characters, leaving Nancy to spend most of her time on her own, rummaging through rooms and exploring the wintry landscapes as a detective when not on staff duty.
Of course, this duty is a fairly important part of the game, and you'll spend segments of each day cleaning messes and preparing meals. White Wolf uses a pseudo-real-time clock, and you can easily spend up to a week getting through the investigation, so the chores are neither rare nor random. Cleaning is a rather pointless and joyless point-and-click affair that serves no gameplay or story purpose besides giving Nancy full access to the lodge. Cooking is a much more involved activity, and has been significantly overhauled between versions. Instead of simply selecting ingredients, on the Wii you'll need to physically grate cheese, slice vegetables, flip omelets, and more. It's a gimmick, no doubt, but that's part of the Wii's charm when it works. Unfortunately, here it doesn't, as the motion controls are often hopelessly unresponsive. Since several steps are finely-timed and your efforts are critiqued for each meal, expect to finish your adventure as the worst cook to ever lay hands on simulated food. Not that this makes any practical difference, but it's still annoying to be punished for the game's own failures.
Thankfully, other motion controls perform better throughout the game. Throwing snowballs works perfectly with a simple wrist flick, though you'll need to repeat the exercise far more often than you'd like before all is said and done. Another puzzle sees Nancy crossing treacherous ice floes, and rather than the straightforward pathfinding puzzle of the PC original, the Wii port turns it into a balancing exercise that handles well and feels more organic to the scenario. Most other activities, like ice fishing and top-down snowmobile racing, are simply Wii variations of their point-and-click counterparts, and control just as well if not a bit better.
The same holds true for the game's basic navigation. White Wolf's slideshow format is easily reproduced for the Wii, minus the occasional panning the PC games allow. In addition to the standard smart cursor, the remote even offers the advantage of a rumble feature when scrolling (whoops, almost said "mousing") over hotspots. And if that's not enough, you can also turn on a "twinkle" feature in the options to reveal the interactive objects automatically, though there are so few items to interact with that this isn't much of a benefit. Perhaps the most notable improvement is an ability to skip the fully-voiced dialogue and movement cinematics with a button press. It may not sound like much, but because of the game's insistence on repeatedly showing the same tedious outdoor walking animations between locations, you'll come to welcome the ability to bypass them.
The Wii port's biggest failing, unfortunately, is in the overall technical quality. Even on PC, Nancy Drew games are graphically underwhelming, but on a bigger TV screen, White Wolf is diminished even further. The kicker, however, is in the endless "load" screens needed just to move to the next node, close-up, or even line of dialogue. Given the mostly static nature of the backgrounds (a blessing since the framerate plummets any time there's any ambient animation), it's hard to understand why the process bogs down so easily. The wait times are never long by any means, just long enough to be a constant irritant. And with no map for instant travel, there's no way to minimize the problem.
Ultimately, it's this issue that will probably determine which version to get if you're debating one or the other. Well, that and price, as the Wii version retails for $10 more. The merits of the game itself haven't changed from our original PC review, but it's always fun to kick back on the couch in front of the television with a new game, and now you can do that with The White Wolf of Icicle Creek. A few motion control missteps aside, the conversion from mouse to remote is perfectly acceptable, with a few small enhancements as a bonus. The tradeoff is in the visual and technical areas, as the older computer version both looks better and runs more smoothly and efficiently than the new console port. Neither is ideal in comparison to the other, but it's nice to finally have a choice.
Our Verdict:
Nancy Drew is bigger than ever, but not necessarily better, as the Wii port of White Wolf of Icicle Creek presents the exact same game with minor advantages and disadvantages over its PC predecessor.
GAME INFO
Nancy Drew: The White Wolf of Icicle Creek is an adventure game by

HeR Interactive

released in 20072008 for PC and Wii. It has a Illustrated realism style and is played in a First-Person perspective. You can download Nancy Drew: The White Wolf of Icicle Creek from:
Want to share your own thoughts about this game? Share your personal score, or better yet, leave your own review!

review
Other articles you might enjoy