Game information
You might also like these adventure games
Advertisement
BITMAP BOOKS
Apprentice II: The Knight's Move is the sequel to last year's Adventure Gamers Underground Award (Best Sound/Music) and AGS Awards 2003 (Best Room Art, Best Character Art, Best Animation and Best Music) -winning Apprentice.
The game once again puts you in the shoes of Pib, the titular wizard's apprentice. A despotic local knight, Lord Ironcrow, has passed a bill requiring all local non-professional men of age to enlist in the army. Due to bureaucratic laziness on his master's part, Pib is technically unemployed - his status as apprentice counts for nothing. Because of this, Pib must complete three trials for his master to prove to the Wizards' Academy that he has what it takes to become a full-fledged "magic worker," thus making him exempt from conscription.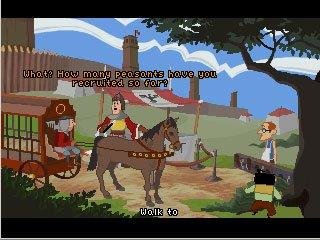 The interface is that of a magic wand, which glows red when it's over an active hotspot. The object's name also appears in a status line near the bottom of the screen. Right-clicking then will select your required verb, and left-clicking will execute it. When the wand isn't over an active hotspot, it reverts to a default walk mode. This GUI works very well, since it's easy to find the relevant items in any location, and no time is wasted clicking on any- and every- thing on the screen. The inventory pops up when you move your mouse to the middle-bottom of the screen, and objects are interacted with in the same way as other hotspots. Moving the mouse to the top of the screen brings a small menu with save/load and quit options. This system works well because it leaves the entire screen free of clutter, unless you're accessing your inventory or system menu.
Dialogues are well-written, with a good amount of banter and additional information that doesn't directly affect your quest. The characters are frequently amusing, such as a highly camp shapeshifting bird, and drunken slob of a tramp. Even the evil antagonist Lord Ironcrow isn't free of the occasional funny moment, as seen in one cut-scene that shows him trying on a variety of wigs. The game is mostly lighthearted in tone, with lots of funny hotspot interactions and some hilarious dialogues.
Puzzles are mostly straightforward, with no great effort required. Despite this, there are enough of them to keep you busy for some time. Although the plot doesn't really progress much during the game - Pib's quest is essentially the entirety of the game - there is a twist at the end that paves the way for Herculean Effort's planned sequel, Checkmate!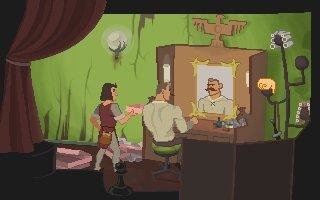 The graphics are of a high quality, with beautiful, detailed backgrounds and characters. Pib suffers from a slight pixelation effect when he approaches the foreground of the screen, but all the other, more static characters look clear and crisp. All the characters are well animated, with talking animations and appropriate idle animations all accounted for. These idle animations help to make the area of Willowbean seem more alive, with characters carrying on about their business, not just hanging around waiting for Pib to interact with them. Background objects are also animated where necessary - a windmill turns in the distance, and rain falls where there's bad weather.
Music and sound is where Apprentice II truly excels. Every area and cut-scene has an appropriate tune playing to set the mood. Especially well done is the game's intro, where two different tunes play as it jumps back from one location to the other, one ominous and foreboding, the other peaceful, all perfectly timed. Also worth noting is the eminently hummable tune that plays in the docks location, very reminiscent of Disneyland's Pirates of the Carribean. Sound is also well done, with various effects playing where required, again the game's intro gives a great example of this.
Apprentice II is an excellent sequel to an excellent first game, that builds in every way on its predecessor - it's wider in scope and scale, with more characters, locations and puzzles. It will leave you wanting to play the sequel, to find out what happens to Pib, and to see if the evil Ironcrow will get his comeuppance. Given the pedigree of the first two games, the sequel, due next year, is unlikely to disappoint.
Apprentice II: The Knight's Move can be downloaded from Herculean Effort's site.
Want to share your own thoughts about this game? Share your personal score, or better yet, leave your own review!

review
Other articles you might enjoy