Please support Adventure Gamers on Patreon!
announcement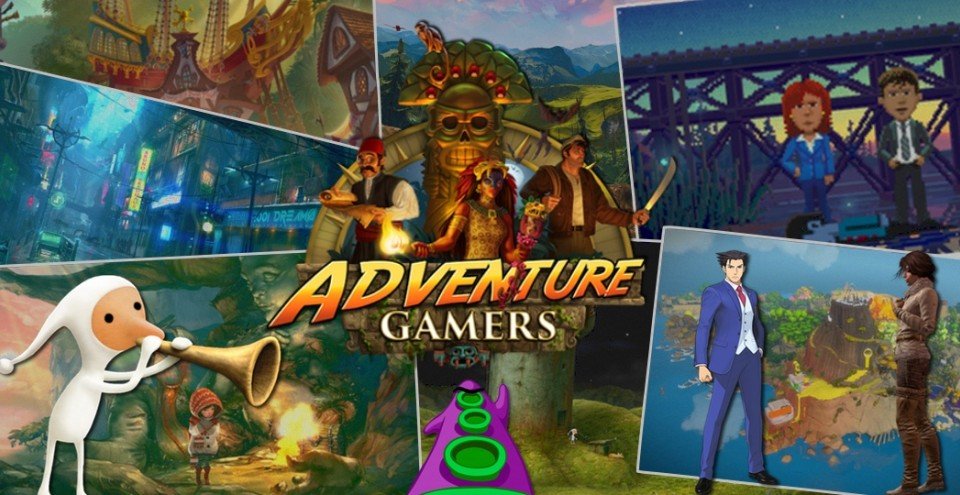 Adventure Gamers started as a humble fan site in 1998, but it has since grown into one of the premier online magazines of its kind and the largest English-language website devoted to the adventure genre, with an audience of over 100,000 unique visitors every month. Having lasted 20 years already, we're now looking forward to what lies ahead, but if we're to evolve, innovate, and continue to thrive in these challenging times for online magazines, we're going to need your help. We don't plan to reinvent the wheel, merely improve where we can and expand in exciting new ways, whether it's providing extensive coverage in new formats like video, increasing the efficiency with which we can cover new game releases, or even exploring whether we can turn this into an actual physical magazine.
There are lots of ways we know we can be better, but upgrading costs money we simply don't have. Our website design is quite outdated, as is our forum software, and we're looking to provide options for readers to support us in our efforts to make Adventure Gamers a home for passionate genre fans that is going to be around for decades to come. Being privately funded unfortunately means that we are currently running at a loss each month, which limits our abilities in what we can deliver. Having an actual budget to work with will not only help us maintain daily operations but to keep forging ahead, allowing us to redesign the site, purchase proper video equipment for (regular) interviews, look into a mobile app, create a physical Aggies statuette, visit more industry events and much more. It's our dream to one day be able to work on Adventure Gamers full-time, instead of it being a side-project right now, largely driven by a team of passionate volunteers.
For these reasons, Adventure Gamers has decided to launch a Patreon crowdfunding page to encourage community support. Along with giving you the satisfaction of knowing that your pledge is making an important difference to the welfare of the site, we'll provide a number of tangible benefits for making a monthly commitment, including exclusive behind-the-scenes access and even (at higher tiers) some great loot(!), which we're sure will make your AG experience even more rewarding.

What is Patreon?
Unlike other familiar fundraising alternatives, Patreon is designed to be an ongoing, subscription-based model (payable either through credit card or PayPal) that benefits both the recipient – that's us – and the patron – that's you. One-time donations are wonderful and welcome (and we'll get to that option shortly), but a monthly commitment offers the assurance of cost certainty, and we wouldn't need to keep coming back asking for more when those single donations run out (Wikipedia users know what we mean).
But hey, why keep explaining when we can let Patreon do it in style:
Patreon may not have the name recognition of Kickstarter, but it's a legitimate fund-sharing vehicle with a proven track record, so you can rest easy in the knowledge that your information is confidential, your donations secure.
We have various reward tiers to choose from, but ultimately the real "reward" here is ensuring that Adventure Gamers carries on delivering all the same great (and even better!) coverage you've come to expect. Without that community support, something's gotta give. You don't want that; we don't want that. So let's do something about it.
Should your financial circumstances change, you are free to cancel your subscription at any time, no strings attached.

Is there an alternative to Patreon?
There is! Glad you asked.
For those who would prefer to make a one-time offering, we have set up a PayPal option through which you can contribute any amount, at any time. There are benefits to monthly subscriptions, which is why we'd prefer Patreon if possible, but we are no less grateful for single contributions. Every little (or not-so-little) bit helps!
Outside of Patreon there is no formal mechanism for ensuring PayPal donors receive the same rewards as monthly patrons, but we will be glad to extend the same offer to backers who donate the equivalent of one year's subscription for any given reward tier. (You'll just need to let us know who you are at the time of your contribution.)

I can't afford to donate. Is there any other way I can help?
Another great question! (Leave it to adventure gamers to work all the different angles to a problem.) And again, the answer is yes! There are two ways in particular:
1) Everybody hates ads. We get it. That's why an ad-free experience on AG is one of our first Patreon rewards. But they're a necessary evil for online magazines like Adventure Gamers. So if using an ad blocker, do please consider adding our site as an exception. We strive to make our ads as unobtrusive as possible, as we want to minimize anyone's inconvenience. (And if you see any that are particularly objectionable, do please tell us!)
2) Adventure Gamers has several affiliate relationships with online retailers, which means we get a (very) small percentage of each game sale originating from the site. We add new purchase links as soon as they become available, so when buying games from our partner stores, you're supporting us by using the links provided on AG. With just a couple extra mouse-clicks, you're helping us out! Better yet, just bookmark our general affiliate links to GOG.com and Humble Bundle and we'll get a commission from every game included in your subsequent order. It's win-win for everyone!

Why support Adventure Gamers?
Hopefully, this is the one question that doesn't need to be asked, because the answer is simple: Adventure games tell us stories, present us with puzzles to solve, and give us new worlds to explore that we could otherwise only imagine. As a specialist site we've been spreading the word about these immersive experiences for a long time, and we want to keep sharing our passion not only with like-minded gamers, but also introduce others who aren't aware of adventure games to this genre we all hold so dear. We can't do this without you anymore, so please consider partnering with us.

We don't like asking for money, and we wish we could go on being completely self-sufficient, but the time has come to admit that we can't. Hopefully our reputation for honesty and integrity speaks for itself, but rest assured that every dollar donated will be channeled into the operation and advancement of the site, a goal that benefits everyone.

We truly believe that a healthy Adventure Gamers contributes to a healthy adventure genre. The success of any niche market is dependent on a dedicated grassroots community keeping the faith. We've been doing just that for nearly two decades now, and during that time the genre has emerged from its oft-proclaimed "death" throes to where it is today: flourishing at an unprecedented level of independent development. With your help, we can continue to lead the way in providing ongoing coverage of this genre resurgence, but from this point on there's only one way that can happen: together.

announcement
Other articles you might enjoy