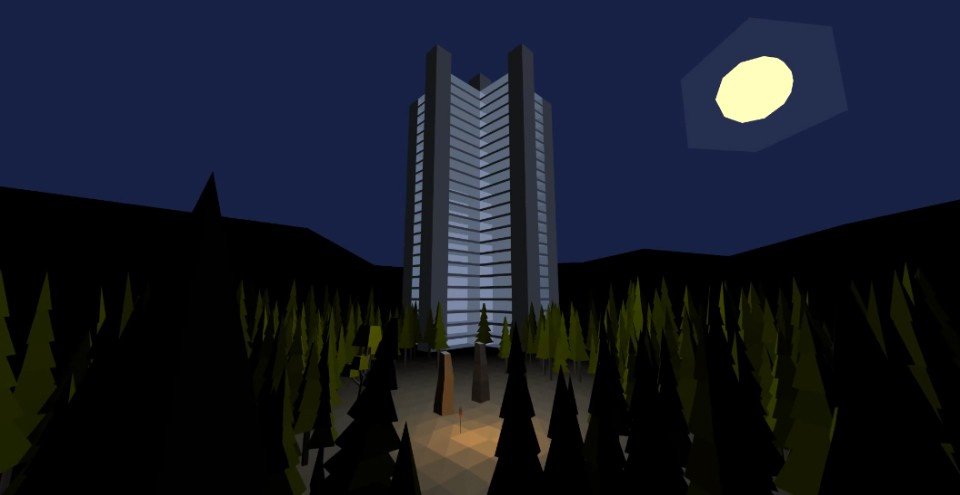 Game information
Advertisement
Adventure games by Among Pixels
BITMAP BOOKS
A faceless corporate entity, secret experiments involving unwitting participants, and a feeling of dread in its deserted hallways and offices… I like the ideas at work in Rituals. Unfortunately, these same ideas have been explored more effectively in other, better games already. In fact, in many ways playing this indie adventure feels like participating in an early-development game test: graphics look like a work in progress, movement is quite restricted, and level locations are jarringly disconnected from each other and feel stitched haphazardly together. The plot also feels like large chunks haven't been fleshed out, and raises more questions than it can successfully answer during its one-hour runtime. It does offer a few flashes of classic point-and-click goodness, but you'll have to look past a fair number of shortcomings to find them.
In Rituals, you find yourself arriving at the office building in which you work one evening. A note at your desk reminds you to please shut off the light before you leave the room. As you exit your office and emerge into a darkened hallway leading to a reception area of sorts, you start to realize that you are the only person in the building. Exploring nearby rooms and hallways, you'll come across notes and letters left by others, referencing some secret experiment the company has been involved with, a towering machine that lets humans "talk" to the planet (it's all left rather vague). Eventually, you'll make your way out into the lobby, where an elevator is waiting to take you to the ground floor. On the way down, though, the car starts to shake and rattle before plummeting down into the abyss.
This opening section serves as a tutorial of sorts, getting you used to the game's controls. You'll use your mouse to interact with objects and pick up items by pointing and clicking on them. Interactive items highlight when you hover the cursor over them, but the environments are so no-frills that it is generally very easy to spot items you need. Many times, if an item stands out from its surroundings because it has a different color or characteristic, it can be interacted with. Collected items go into the inventory bar at the top of the screen, from which they can then be used on the environment.
Rituals is a panoramic first-person adventure, with transitional movement between nodes. Arrows at the bottom of the screen (you may have to pan your field of vision down to see them) point in any available directions you can travel, usually forward, back, left, or right. The camera then glides along its invisible rail to the next indicated stop. Although it seems like this might be very limiting, it wasn't really a hindrance to me at all; you retain the ability to turn your view very nearly 360 degrees in all directions at each location, and the game follows a fairly linear track anyway (hallways, paths, catwalks, tunnels, etc.). Very rarely – maybe once or twice during the whole game – did I find myself wanting to continue in a direction I couldn't go. For the most part, the game lets you go to any area of interest, and the remainder of the environment is so uninteresting you won't even want to explore it.
Once you exit the malfunctioning elevator, you'll find yourself in an unlikely place: a clearing, somewhere in the middle of a nighttime forest. Eschewing, for a moment, the implausibility of the open elevator carriage behind you in the middle of the woods, you follow the path to a Grecian-style temple peculiarly built close by. It is here that you begin to connect the few dots the plot actually offers you. The game explores the relationship between Man and Nature, and what happens when Man oversteps his boundaries and becomes a threat to his world. Gaia, Mother Earth, is fighting back to some extent, though this doesn't really translate in any tangible way here; stuff happens and you just know it's Gaia's influence over Man.
The inventory puzzles in Rituals – what few there are – are generally themed around nature as well. Plant a seed here, choose the right kind of flower there; it can all be tied back to the same general theme. Unfortunately, the puzzles, much like the narrative, lack oomph to really drive the point home. You plant the seed because you have items in your inventory that suggest that is what you have to do, but the why of it is completely omitted. After finding a secret observation area early in the game, I genuinely wondered who I was and what odd experiments were being performed. What was so special about me that required hidden video cameras and tables to chart and track my every move? By the end of the game just a short while later, such questions had already been discarded, because these aspects of the story are never brought up again at any point.
I'm a little torn over Rituals' graphical presentation. On the one hand, the graphics are very basic, consisting entirely of colored polygons put together to make various shapes. Think of the early N64 days, but less vibrant in color. On the other hand, there's never any doubt what you're looking at, and the minimalist presentation and muted colors even have a kind of attractiveness to them. Much like the control scheme, the rudimentary graphics don't actually detract from the overall experience. They do make certain locations appear a bit too cartoonish and flat, but in a world of empty hallways and deserted spaces where you're (almost) the only living being, this sterile, industrial look works charmingly well – at least for the sections that actually play out indoors. I'm afraid the outdoor half of the game is reduced to some very simplistic representations of nature.
If you think the visuals are minimalist, the sound design makes you grateful for every little morsel of audio you get. For one, there's no music during the game, only ambient noises of rain, hollow echoes of empty air-conditioned hallways, and the most annoying elevator chime ever digitally represented. There's absolutely no voice acting of any kind, not even grunts or groans as your main character climbs up ladders or falls down chutes.
It's clear there's a seed of something good here – this game has stuck in my mind longer than it ever took to play. But overall, Rituals is notable for what it almost brings to the table: an interesting concept for a plot (so far as it's developed), a traditional point-and-click execution that doesn't offer near enough to point at or click on, and a minimalist presentation that (barely) works as is but certainly could have benefitted from some further attention. At a one-hour runtime, it is – and I can't stress this enough – bare-bones in every aspect, and feels more like a prologue to something bigger than a standalone experience.
Our Verdict:
It raises some interesting questions, but short of whiling away an hour in a doctor's waiting room somewhere, I see little reason to recommend Rituals for any actual fun.
What our readers think of Rituals
Want to share your own thoughts about this game? Share your personal score, or better yet, leave your own review!