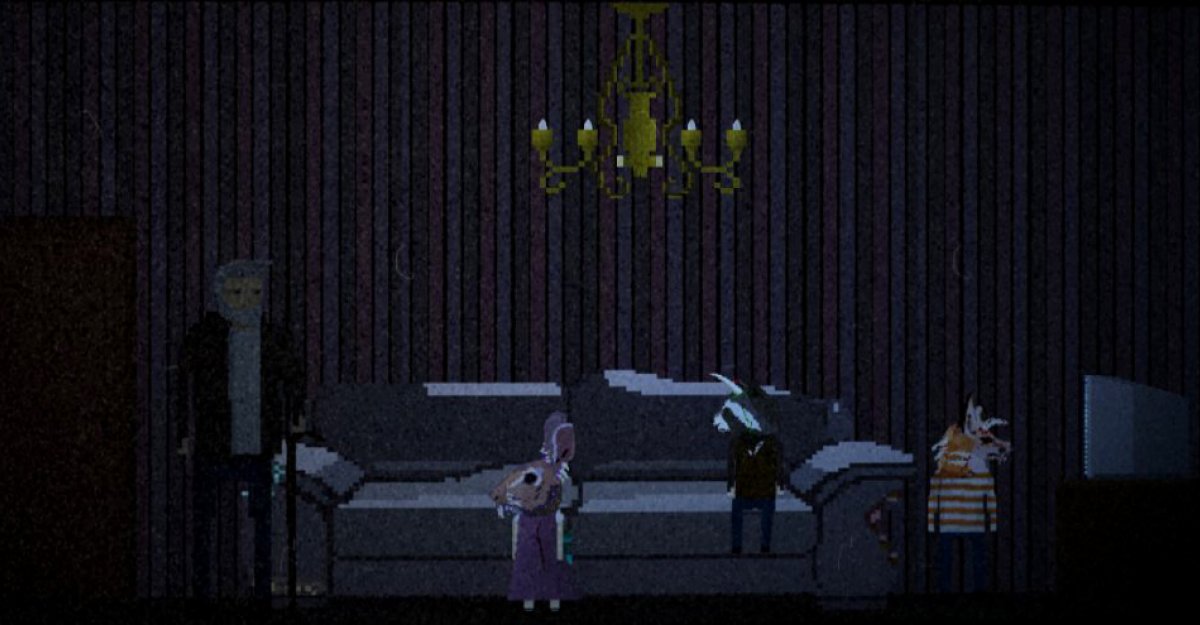 Game information
You might also like these adventure games
Advertisement
Adventure games by Frymore
BITMAP BOOKS
"All this...feels like a dream."
This line comes about a third of the way through Firewood, delivered by one of the two player characters, and it's an apt description of the game itself. The retro-styled side-scroller feels in almost every respect like a nightmare rendered playable, though that proves more of a mixed blessing than the developers might have intended. It's undoubtedly surreal and disturbing, with genuine scares and an atmosphere of palpable dread in which player agency emphasizes the protagonists' powerlessness, but as in dreams there's little explanation provided for what's occurring, and you will find yourself performing numerous illogical actions without understanding why they're necessary. The result, while sometimes memorable, is a decidedly uneven experience.
Firewood opens with a well-dressed man alone in a cemetery expressing his remorse at a particular grave, the stark black-and-white presentation emphasizing his melancholy mindset. The game then transitions to a colorful outdoor scene wherein an elderly man is chopping wood outside a log cabin. Driven inside by the cold and sudden rain, no sooner has he lit a fire in his fireplace than he is plunged into darkness. When it clears a moment later, he finds his house has been rendered a chaotic wreck with furniture strewn everywhere and the lights no longer working. What's more, there seem to be additions to the place—bars on the windows, a dark hole in the bathroom wall leading deeper inside—that he's never seen before. He has to find out what's going on, and quickly.
From here the game begins to switch back and forth between these two characters, the younger man from the graveyard (whose scenes remain in black and white) and the old man from the cabin (in color), neither of whom is ever named. The changes happen automatically without player input, and in most cases it was unclear to me what triggered them; several times it happened after I'd made clear progress, but often I'd leave one room for another and suddenly find myself back with the other character, seemingly without having done anything significant.
For the most part the two stories play out separately, save for some shared imagery and a few vague implications of deeper connections. The younger man's storyline sees him trying to balance married life with his career as part of a shadowy organization called only "them," which appears to control the world. Recently his wife has begun questioning whether his job is ethical, which serves to make him feel both afraid and resentful. It's easy to see why he doesn't want to get on "their" bad side: his coworkers lurk silently in the darkened hallways outside his apartment as if waiting for him to slip up, and though they're neatly dressed in dark suits they appear to have the heads of Rottweilers. Meanwhile, the older man continues to investigate his transformed house, which has somehow become a spooky old hotel; as he investigates he's followed by three children in animal masks who peer out of the darkness offering obscure hints and urging him to "remember" something.
With both narratives running alongside one another, it's reasonable to expect that they might eventually intersect, or that the connection between them would become more apparent over time. Unfortunately this never really happens; while snatches of dialogue seem to hint at a possible interpretation, the conclusion (barely) implied feels totally disconnected from what Firewood actually presents. The imagery employed throughout the game is simply too abstract for its own good if we're meant to infer a cohesive story behind the glimpses we're shown.
Where the characters are concerned, there's hardly anything beneath the surface. The two protagonists are never fleshed out beyond their immediate goals and circumstances, and even those remain largely obtuse. The younger man's role working for "them" is never elaborated upon, nor is the nature of the "resistance" his wife mentions. Even less is revealed about the man in the cabin/hotel, whose advanced age, apparent disability (he walks with a cane) and predilection for alcohol are the only concrete details the game reveals about him. You'll investigate the changes in his cabin less because he expresses any curiosity about them and more because the game clearly wants him to go do something, and moving from room to room while interacting with hotspots is the only option presented. There are other characters encountered—the young man's wife and coworkers, the put-upon concierge in his apartment building, the masked children—but exchanges with them are all purely functional without revealing their personalities.
Firewood sets very few concrete goals to work toward, instead seeming to operate on a philosophy of "keep moving until we stop you." The puzzles revolve mostly around finding the keys to locked doors, though you won't know that until you've found them. There are also numerous pieces of scenery that are clearly incomplete—an empty pedestal, a recordless gramophone, and a piano with missing keys to name just a few—and you're simply expected to look for what's missing. In most instances, replacing the appropriate object will cause a hidden safe or drawer to open and reveal a key you can use to progress further. You'll find a few combination locks strewn about as well, which require you to first unscramble and then input a series of digits that are prominently displayed in adjacent rooms. (These locks don't always appear in obvious places; bafflingly, one is attached to what looks like a clothes dryer). All of these obstacles, it should be noted, are found in the old man's segments; in the young man's you'll simply walk from place to place and talk to the people you find there, who'll direct you further.
Keyboard controls are simple, and instructions appear at the top of the screen the first time a new action is required. The A and D keys move you left and right, respectively; there's no navigating in any other direction here. When you come alongside a hotspot, an exclamation point appears to alert you that you can interact with it or possibly pick it up. Opening your inventory summons a cursor to let you click your items for descriptions, but there's no dragging needed as you can only use your possessions when standing by their corresponding hotspots. Early on you'll pick up an inexhaustible lighter, which functions as a light source and will be necessary to see in the hotel's darker rooms.
Visually the game employs a grainy noise filter over effectively retro pixel art, more detailed than in such blocky-and-proud titles as The Last Door and The Darkside Detective but still leaving a lot to the imagination. The backgrounds are given greater detail than the highly stylized characters, whose stick-like legs when walking bend at severe angles while their arms hang limp, and when standing still their top halves bounce rhythmically as if to simulate breathing. It's a less-is-more approach, and for the most part it works, especially in the scarier moments: the strange children who follow the old man appear out of nowhere in a bright flash and disappear so quickly that you might not at first be sure of what you saw, and the minimalist art style lends a menacingly uncanny cast to their animal faces.
Presenting the two storylines in different styles—black and white vs. color—makes for an interesting contrast, though little is made of it in the game itself. Also, many background objects are recycled from room to room in each, including bookshelves, couches and garbage piles, which leads to a feeling of drab sameness after a while. While it's logical that even an otherworldly hotel would have identical furnishings among rooms, it's certainly less than visually interesting to observe them time and again.
Sound throughout is sparse but effective, albeit with a notable absence of voice acting. The music consists mostly of short piano pieces, with a low bass rumble accompanying the more ominous segments and a sharp shrill sting playing when something creepy materializes. Ambient noise is used well; the lonesome tapping of the old man's cane as he walks down dark hallways helps to punctuate his isolation, and the clacking typewriter sound that accompanies dialogue text echoes creepily in the silence.
While the English translation is serviceable, its quirks will be hard to ignore for fluent speakers. These range from phrasing that's just slightly "off"—a character saying "Do you feel it? Feeling of change?"—to some rather unfortunate word substitutions, as when someone proclaims "There's a hole on top of this colon" rather than the column they're indicating. There is also a reference to the Biblical book of "11 Samuel," when "II Samuel" was presumably meant.
Firewood should take most people around two hours to complete. It achieves some genuine scariness in that incredibly short time, so the two-person Turkish development team should be commended for pulling that off with limited resources. Still, for all its stylistic flair there's very little substance at its center, and the two halves of its overly-abstract storyline remain frustratingly separate in a way that will likely leave players scratching their heads. Memorable more for its creative horrors than for its plot or puzzle design, Firewood will likely leave traditional adventure fans unsatisfied but might please die-hard fans of the macabre just enough to make the experience worthwhile.
Our Verdict:
Firewood is effective in its creepiness, but it's hobbled by a confusingly disjointed story, overly simple puzzles and a brutally short playtime.
What our readers think of Firewood
Want to share your own thoughts about this game? Share your personal score, or better yet, leave your own review!

review
Other articles you might enjoy