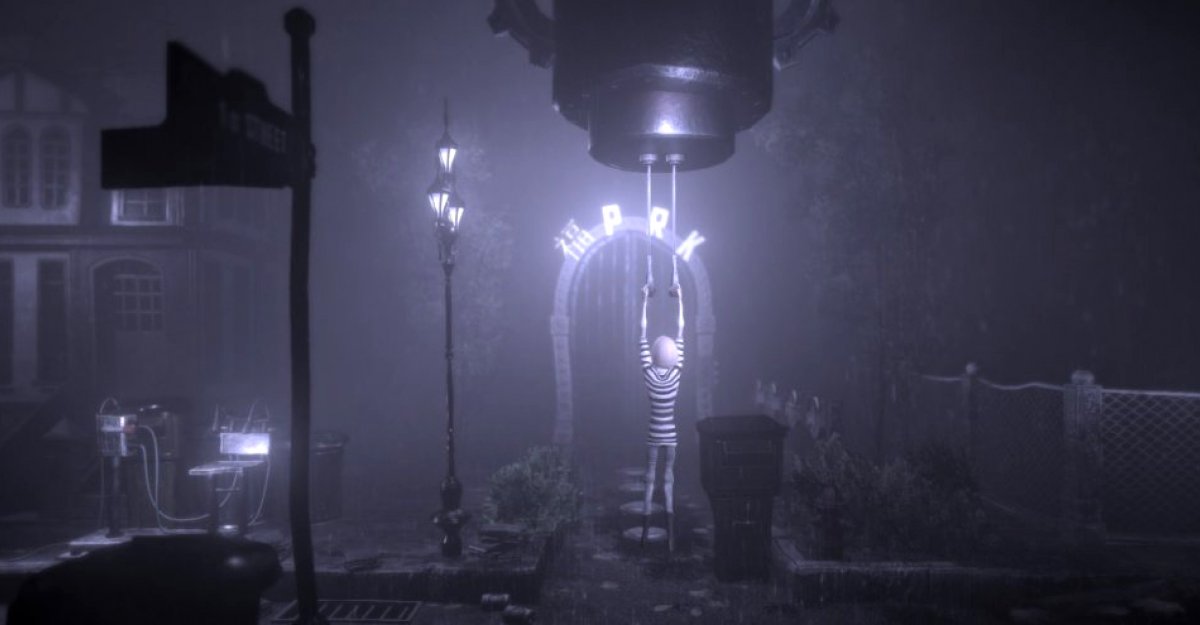 Game information
You might also like these adventure games
Advertisement
Adventure games by Unfold Game Studio
BITMAP BOOKS
Note: Since time of writing, two free DLC levels have been released, The Tower and the Crypt, offering new settings, puzzles, mechanics, and a solid 1-2 hours of additional gameplay. This reviews covers only the base game.

---

Unfold Game Studios' DARQ is probably the most nightmarish adventure game I've ever played. By that I don't mean the scariest, but rather the one that most feels like a real nightmare, from its surreal presentation to ever-changing environments to largely nonsensical story – and yes, a few chilling moments of horror. There's a degree of lucidity to my dreams that lets me relish them as I sleep; even the bad ones don't end with a sudden lurch and a case of the cold sweats, but rather a sense of wonder and appreciation of the absurdities my subconscious mind has conjured up. That's exactly how I felt while playing this game. The only thing this experience has that my own nighttime imaginings do not is one heck of a landscape-altering gimmick and a variety of puzzles that are reasonably diverting and yet begin to wear out their welcome despite the brief 2-3 hour runtime.
Reminiscent of other puzzle-platformers like Limbo and INSIDE, DARQ is a thoroughly enigmatic adventure that starts with no preamble or introduction of any kind. You simply take control of a lanky, bald, almost uncomfortably skeletal young man in his dilapidated house, with nothing to do but crawl into bed and sleep. Cue the first dream, as the protagonist undergoes an out-of-body experience with the backdrop twisting into a whole new environment around him. From here the goal is simply to get to the "end" of the nightmare and trigger a return back to the house, only to repeat the sequence all over again another six times in whole different settings with new challenges.
To call this a "side-scroller" is both accurate and misleading, as you can only walk along a horizontal plane but the main gameplay conceit is the ability to rotate the landscape in 90-degree increments. At first this is purely in a clockwise or counter-clockwise direction, such that you'll find yourself walking along what moments earlier were walls or ceilings or impassable pits. As you progress, this power becomes more three-dimensional, allowing you to twist the scene – or even just part of a room – side-to-side and front-to-back, although only ever at predetermined places. It's a great trick that is as simple conceptually as it is difficult practically to wrap your brain around in the moment.
Many of the puzzles are based around navigating confined but spatially-labyrinthine 3D environments to accomplish your objectives. A lever you need may be visible on the ceiling or across an impassable gap, but it's not immediately clear how to even reach it, or perhaps get it to reach you. Complicating matters are a few traditional logic brainteasers like a slider and a two-sided magnet maze that offer no instructions whatsoever. More prominent are a number of rotating tile puzzles to form electrical connections, which start out simply but later become interwoven with the scene-shifting ability to dramatically increase their complexity. Some obstacles even require quick timing to engage part of a puzzle on one level and finish on another, such as keeping a fuse lit as it winds its way around you in all three dimensions, being forced to start over if the connection is broken.
There are items to collect as well, including disembodied arms and legs that seem to have a mind of their own. Some inventory objects have obvious uses and some less so, but the self-contained areas and automatic hotspot highlights combine to keep the possibilities manageable. A bit of stealth is necessary on occasion too, as you attempt to evade a shambling zombie-like creature and women in bathing suits with lampshades for heads. (If you think that sounds bizarre, wait'll you get a load of the creature in a wheelchair with a tuba for a head.) With conveniently-placed cubbyholes to hide in, however, these sequences are generally more a matter of patience than skill, though at times a deft hand is needed to sneak more quietly than usual – a task much easier to accomplish with a gamepad than the keyboard. There is a tense chase scene as well, but even this is less about quick reflexes than strategically assessing the environment to use it to your advantage, which will surely involve a few deaths and checkpoint-restarts to achieve.
It's safe to say that the action really takes place all in your mind, but depending on the dream you'll find yourself in a subway tunnel, an old theater, a hospital, a residential neighbourhood, and even aboard a moving train – all of them thoroughly run-down and decrepit. As for the whos, whats, and whys, that's entirely for you to decide. DARQ never once makes an attempt to rationalize itself, which in context works just fine: it's a dream, weird stuff happens. Even the ending is utterly open to interpretation, although if I'm right, the developers might need some serious psychotherapy. Or I do, for thinking of it. Or both.
DARQ's greatest asset is its clever rotation element, as it never gets old seeing the environment abruptly shift to a completely new perspective with the click of a button. Close on its heels is the game's atmospheric visual design, which has a touch of Burton-esque quality. The bizarre character models and hazy black-and-white aesthetic aren't overly detailed, but they're realistic enough to create a sense of familiarity and just distorted enough to be eerie as hell. Animation is limited but slick, the pattering rain somehow managing to cast an even gloomier pall on proceedings outdoors. Music is rare, except for particularly dramatic moments, but that's entirely suitable: whose dreams are fully scored? The relative silence, apart from a few ambient effects, is much creepier. New gameplay mechanics are doled out dream by dream, so there's always something fresh to keep you on your toes. The more complex puzzles were perplexing enough to make me pause to think things through, while avoiding frustration by feeling like the solution was almost within my grasp, even if it took some experimentation and even failure to finally reach it.
Maybe it's simply a matter of wanting more of a good thing, but as fun as it is to spin the scenery around, I was rather surprised at how little the game ends up utilizing it. By dictating precisely where you can and can't effect change, more than a little gameplay ends up feeling like a standard side-scroller in between. The stealth scenes felt awkwardly shoehorned in to me, and even though they were presented in increasingly novel ways, I groaned a little inside whenever I encountered a new "pipes" variation to complete broken circuits instead of something a little more original. I also wondered why the dreary aesthetic itself didn't change during the abbreviated wakeful periods, though a lone event perhaps offered a hint why that might be the case (or not). I'm fairly accepting of the whole abstract-story idea in general, but those looking for even a little narrative coherence won't find that here, and even I found myself wishing for something, anything to help me make sense of it all. At some point leaving players in the dark (darq?) isn't art, it's just a cop-out.
DARQ is probably just the right length for its limited toolset and lack of tangible plot, as the game's brooding atmosphere and central gameplay gimmick are able to carry the experience. With its bewildering premise and delightfully evolving rotation mechanic at its core, you may not know whether you're coming or going – in more ways than one – but don't think too hard about what it all means; save that for the increasingly mind-bending puzzles along the way. For those who enjoy the Playdead-style of side-scrolling adventures, don't sleep on this welcome little addition that shares many similarities with its contemporaries and yet is able to stand apart with a distinctive personality all its own.
Our Verdict:
DARQ's rich atmosphere and clever central gameplay mechanic should overshadow any misgivings about its short length and narrative abstraction.
GAME INFO
DARQ is an adventure game by

Unfold Game Studio

released in 2019 for PC, PlayStation 4, PlayStation 5, Switch, Xbox One, Xbox Series X and Xbox Series S. It has a Stylized art style, presented in Realtime 3D and is played in a Third-Person perspective. You can download DARQ from:
What our readers think of DARQ



By My Dune on Aug 18, 2019
So short, but good
A very nice small puzzle game. Now also available with a DLC, 'The Tower'. A few more of these and you'll get a very nice complete game.

Read the review »

review
Other articles you might enjoy