Gamescom round-up: Daedalic Entertainment
archived preview
Chaos on Deponia
Astrid Beulink
At Daedalic's gamescom booth I was greeted by a life-sized Edna & Harvey, who took me to Jan Müller-Michaelis (or "Poki") for some information on Deponia 2. Having just finished playing Deponia, which ended with a cliffhanger, I couldn't wait to see how the adventures of Rufus and Goal would continue. The game will be released in English in early November, and what we saw (and heard, as Jan will be the one singing the between-chapter songs again) at gamescom was certainly reason to look forward to the second game in the planned trilogy.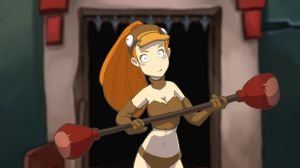 At the beginning of Chaos on Deponia, some time has passed since the last game, and flashbacks will bring players up to speed with what has happened in between. As we join Rufus, still on the trash planet of Deponia, it seems he is a reformed man and no longer the chaotic, selfish adventurer, ego-centric womanizer and brilliant inventor he used to be. At least, that is what shopkeeper-cum-brain surgeon Doc is telling his grandmother, at whose house Rufus and he have made a small stop on their way to the Floating Blackmarket. She has heard stories about Rufus, and is worried she shouldn't have let him into her home. While Doc tries to convince her Rufus is now really calm and helpful, we can see Rufus collecting stuff around the house, all but tearing down the place. Clearly he hasn't really changed at all, and is still planning to escape to the skybound Elysium at any cost.
After this scene, the story shifts to a much bigger location, the large Blackmarket, and in fact the whole game will be a lot bigger and less linear than part one. We'll meet a few familiar acquaintances from the first game, and of course a lot of new people like a blind chemist and a couple of thugs with one-eyed balaclavas. Without spoiling too much, we will get to see more of Goal – the lovely Elysian woman a smitten Rufus accidentally knocked down to Deponia in the original game – who soon finds herself back on the planet's surface once again, for reasons not entirely unpredictable with Rufus around.  Her damaged brain implant will continue to spell trouble for the inhabitants of the trash planet, this time in a literal split-personality kind of way that greatly impacts puzzle solutions and her relationship with Rufus as well.
The cartoon artwork is done in the same charming style as Deponia, and if the puzzle difficulty and humour in both the dialogues and scenarios I was shown are any standard to go by, Chaos will be at least as much fun as its predecessor. With a surprisingly short time to wait for the sequel, it looks like Daedalic's junk-filled adventure is ready to deliver another hidden treasure.
1954: Alcatraz
Leho Lahtvee
The name Gene Mocsy may ring some adventure fans' bells as one of the guys behind A Vampyre Story and Ghost Pirates of Vooju Island. His own point-and-click adventure project 1954: Alcatraz recently got backed by Daedalic Entertainment, and the German publisher kindly set up a presentation of the game at gamescom. Gene was there as well, and though he has a tendency to give everything away in his enthusiasm to talk about his titles, I'll try to keep this article spoiler-free.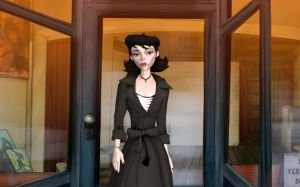 The game has two controllable characters, a handyman named Joe and his wife, small-time con artist Christine. They are switchable most of the time and will need to cooperate to succeed. Joe is planning his escape from the Alcatraz prison island (incarcerated because of a robbery) and Christine is trying to find the loot her husband stashed. Christine may have more freedom of movement in mainland San Francisco (whose locations includes a Bohemian neighborhood and Chinatown, among others) than Joe in his prison blocks, but she has problems of her own. She has to deal with a police detective and life-threatening gangsters who are looking for the loot as well, and she has to decide whether her marriage to Joe is worth all the trouble or she should seek a new life with one of her admirers.
While chasing the treasure and escaping from prison are adventurous enough, these are not the only themes in 1954: Alcatraz. Mocsy has added strong social aspects to the story. There are a lot of relationship and marriage sub-plots, not only between the main characters, but also involving other characters on both sides of the law. Choices players make while dealing with these branches will influence the outcome of the game, which has two possible endings. In a sequence I saw at the beginning of the game, Joe had to choose if he should he should tell the truth, lie or say something in between to Christine when she came to see him on the only visiting day of the month. The answer determines Christine's stance toward Joe, and leaving angry obviously isn't good for the relationship. Having bars plus a mile and a half of sea between them makes communication hard. "That is part of the challenge and the suspense", adds Mocsy. He also hints, "There may be some characters that can travel between Alcatraz and San Francisco to smuggle things between them."
The game has around 90 locations, roughly divided half and half between the city and island, and the story progresses non-linearly. Some acquired objects can be used in multiple places, but there is always an alternate solution if one path is blocked by an item already used. You can die, but it's not a big issue, as a rewind effect kicks in, taking you back right before the fateful event. There is also a hotspot finder to help you locate any undiscovered items.
When asked about genre, Gene said it's a mix of dark comedy and noir thriller, his inspirations including the Coen brothers' movies, The Maltese Falcon and a lot of prison-themed movies and TV shows. Mocsy says that a lot of the backgrounds are inspired by photographs he took on location, but the game's attractive hand drawn artwork is fairly cartoony, so it will be interesting to see how that approach suits the more serious situations.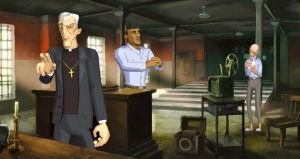 The real atmosphere is generated by the period-music, a mix of '50s-style jazz and a classical symphonic score from Pedro Macedo Camacho. Camacho also collaborated with Mocsy on Ghost Pirates of Vooju Island and A Vampyre Story. The world of 1954: Alcatraz is populated by over 20 characters, including prison guards and personnel, cops, gangsters, San Francisco Bohemians and artists, even a cool priest. The prison is filled with guys who can amuse you, help you or disturb you. Among them is the legendary Alcatraz resident Birdman, seen pictured in the first released screenshot.
The game has been in development for three years already, and is now nearing completion.  While the end of the year is an optimistic estimation, the first quarter of 2013 is a more realistic release target. 1954: Alcatraz will come out first in English and German on PC, but other platforms are a possibility if the game proves to be popular. Considering what I've seen of it so far, there is no obvious reason why it shouldn't be.
The Rabbit's Apprentice
Leho Lahtvee
Matthias Kempke not only put himself on the map with his What Makes You Tick? indie series, it impressed Daedalic Entertainment enough to hire him for his biggest project yet, a point-and-click adventure called The Rabbit's Apprentice. In contrast to Gene Mocsy, Matthias was relatively coy about his game, showing only a few in-game scenes, and only one of them with dialogue. It was in German, but Kempke's summary of the on-screen action was enough to convey its lightly humorous nature.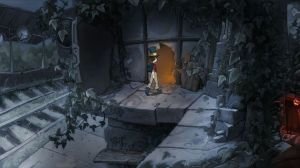 The atmospheric fantasy story follows a boy named Jerry Hazelnut, whose dream is to become a magician. Two days before the end of his summer holidays he is persuaded by a big white anthropomorphic rabbit named the Marquis de Hoto (a brilliant magician in his own estimation)  to enter the "hole" which leads to Mousewood, the training ground for magicians. But returning to his own world will not be so simple. Although time in Mousewood passes faster than in Jerry's own world – there are even day and night cycles – Jerry must figure out a way back before he's late for dinner with mom. While looking for an exit, he may also learn why he was really lured into Mousewood by de Hoto in the first place. Perhaps he will even save Mousewood from evil, along with a little help from his new friends – some human, some talking animals.
Inspired by the likes of Alice in Wonderland and other fantasy tales, as well as Disney and Hayao Miyazaki cartoons, there are many different aspects to the story, and just as many dimensions for its audience. Children and adults will walk away from the game with different experiences. While for kids it might simply be a nice fairy tale, grown-ups are meant to see some social critique and parallels with today's headlines. The deeper, more serious themes won't overwhelm the humor, however, as about 40-50% of the script is intended to be amusing.
Game mechanics are simple: only one mouse button is needed to do most actions, and an inventory-wheel can be brought up via on-screen button or keyboard. Hotspots can be displayed when Jerry looks through a magic coin, a very helpful item in inventory. The demo version hadn't built this feature in yet, but Kempke said that interactive spots will have a floating dust around them, suitable for a magical world. There will of course be magic spells to use too, which Jerry have to learn, but what those are and how to use them were kept secret for now.
The visual style is somewhat reminiscent of What Makes You Tick?. All characters and backgrounds are hand-drawn and cute, colorful and cartoony, successfully maintaining the fairy tale illusion, and parallax scrolling is used nicely. The locations I saw briefly, like Jerry's home front yard, Mousewood's town center, a forest, and a snowy Japan-like setting, are all beautiful, but a lot of places are still being kept under wraps at this point.
The Rabbit's Apprentice is well into development for PC and Mac, with an estimated 15 hours of gameplay expected once completed.  The game will be fully voiced, but the gamescom demo version was only in German, which is understandable, as the German release is scheduled for November, while the English version will be launched at some point in 2013.