Emily the Strange: Strangerous
review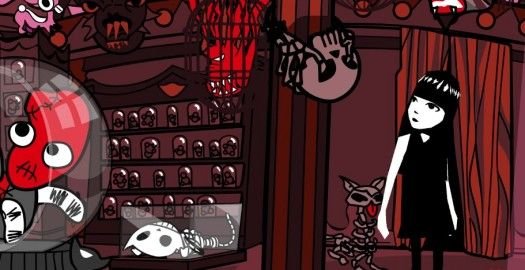 Game information
You might also like these adventure games
Advertisement
Adventure games by dtp entertainment
BITMAP BOOKS
I first became acquainted with Emily the Strange in a funky clothing store adjacent to my college campus in the mid-1990s. A moody teenager with dark hair, dark clothes, and a dark expression, Emily's claim to fame back then was a series of stickers and baby-doll tee shirts sporting slogans like "Bad meaning good," "I want you to leave me alone," and "Emily doesn't get mad, she gets even." Fifteen years later, the cynical character's unlikely empire has expanded to include comic books, an upcoming feature film, and now a Nintendo DS game, Emily the Strange: Strangerous. The combination of a license I love and a genre I love seemed like a match made in heaven, but sadly this puzzle game ended up feeling strangely familiar.
As Strangerous begins, Emily wakes from a nightmare (her favorite kind of dream) to find that her four black cats—Mystery, Sabbath, Miles, and Nee Chee—have been kidnapped (err, catnapped). The first half of the game is spent searching for them, starting in Emily's strange bedroom and around her strange house, then branching out to other strange locations that include a carnival, a twisted garden, a school attended by cat people, and a ghost pirate ship. Once she's found her feline friends, her focus shifts to their cloyingly cheerful abductor, who is threatening to paint Emily's gothic-styled world pink. It's a fairly basic storyline that mainly exists as a framework for Emily to explore the world and stumble upon the Professor Layton-style standalone puzzles that make up the bulk of Strangerous's gameplay.
The interface is stylus-driven: you tap the floor to make Emily walk, objects to look at them, and other characters to speak to them. Only a few objects can be interacted with on any given screen and there are no hotspot identifiers, so you're stuck tapping anything that seems interesting and, occasionally, getting a response. The +Control pad doesn't work for navigation, but you can use the A button to clear dialogue lines in place of a screen tap. The top screen displays statistics such as the number of cat treats and Oddettes you're carrying (more on these below), your point count and location, and your current objective.
The touch screen shows Emily in her environment and contains icons for accessing the inventory, Emily's scrapbook, and the four cats (grayed out until you rescue them). In the scrapbook you'll find additional elements such as a diary (a write-up of what's happened so far), achievement stickers that are awarded when you reach various parts of the game, and a tutorial. None of this information is necessary for progressing through the story, and I actually forgot about the scrapbook for most of the game. You can also save your game at any time via the scrapbook. There's only one save slot, so each save overwrites your previous data.
My experience with Emily the Strange is mostly limited to her clothing appearances, so I can't say if the game's locations and storyline jive with her more recent comic book outings, but the art style is certainly authentic. The protagonist and her cats look just as they should and many of the game's locations are depicted in Emily's trademark colors of black, red, and gray. The limited color palette does make for somewhat drab backgrounds, but they're well drawn in a cartoon art style that's consistent with the Emily the Strange universe. Although background elements have smooth outlines, Emily herself is noticeably jagged around the edges. This distracted me, especially compared to her much smoother appearance in the game's handful of rendered cinematics.
The environments are sprinkled with bizarre props that can easily be categorized as "strange," including hulking gothic furniture, bug-eyed monsters, giant mushrooms, a talking spider, and plenty of skulls and cobwebs. Unfortunately there's not much to interact with, so the effect is more like flipping through a comic than exploring a world. The music changes with each location, which helps to provide a feeling of immersion; I found it appropriately dark and bizarre, and even somewhat catchy. There's no voice acting, which is probably for the best—Emily would never sound like she does in my head.
The game's 60+ puzzles range from unbelievably easy to all-out stumpers, with most falling somewhere in between. These self-contained puzzles have their own interface, with instructions appearing on the top screen and the puzzle itself on the touch screen. Among the challenges, you'll identify patterns, solve sliders, piece together torn-up pictures, manipulate shapes, trace lines with the stylus, and work through math problems. Some of these are so easy they don't even seem like puzzles, while a few are almost unfairly difficult. The line-tracing puzzles in particular require precision that's very tricky to achieve with the stylus, so even though the solutions to these are not hard to figure out, they're hard to get right. A handful of others suffer from confusing instructions, and when I gave up on one and consulted a walkthrough, the answer appeared to be flat-out wrong.
Two hints are available for most puzzles (some only have one), with each hint costing you a cat treat. Many puzzles are easily solved without any hints, but on the occasions that I used them, the hints tended to state the obvious and weren't particularly helpful. For example, one puzzle involves deciphering a poem that hints at the location of buried treasure, and four potential treasure spots are marked with stars on a map. The sole hint: "It's one of the stars." This is clear from the picture; I was looking for help narrowing down which star. (Since there were only four options, I ended up solving the puzzle with trial and error.)
Like in Professor Layton, points are awarded when you correctly answer a puzzle. Each puzzle starts at 20 points and gradually drops to 15 as you submit wrong answers, but the score seems not to drop below this no matter how many wrong answers you submit. It doesn't really matter anyway, since your points have no noticeable influence on the game. Strangerous does make some attempts to integrate puzzles into the unfolding story, but for the most part they're random and have little to do with the plot—or with Emily the Strange, for that matter. A lot of the puzzles feel distinctly familiar, having been regurgitated from Professor Layton, Puzzle Agent, The 7th Guest, and other such games. (There's even a Tower of Hanoi puzzle in here!) Because of this, and because many of the puzzles are very easy, they may be better appreciated by younger players who haven't played a game like this before than by experienced puzzle gamers.
One of the first puzzles you'll encounter is also one of the most frustrating, a random "connect the dots" exercise that must be completed every time you want to use Emily's computer, which is required several times to advance the story. It's frustrating because you're supposed to connect the dots to form a predetermined picture, but there's no reference in the game for what that picture could be. As it turns out, the different solutions are printed in the game manual, but the game doesn't suggest looking there and I didn't think to look myself.
Besides the standalone puzzles, a bit of gameplay is integrated into the environments, such as a maze you must navigate to find Emily's biology class and very limited use of items. These activities are more adventure-like than what you'll find in most of these types of games, but it's not particularly complex or thought provoking. For example, if you have Emily's slingshot in your inventory and you tap an object that requires its use, she takes it out and uses it automatically. You never actually open your inventory, select an item, and decide how to use it. At a few points you do need to find and collect certain items or to talk to other characters, but these activities are also quite straightforward and won't seem like anything special to an experienced adventure gamer.
Strangerous has a handful of minigames that can be played at the carnival, one of the first locations that becomes available. These generally involve interacting with moving targets. In one, you must tap with the stylus at the precise moment the target passes over a certain spot on the screen. In another, you "shoot" the equivalent of clay pigeons as they scroll by. These activities are simple and the only reason to replay them is to stock up on the prizes: cat treats and Oddettes (potato chip-like things that fuel Emily's computer). You can return to the carnival to replay the minigames at almost any point, but due to the world's sprawling landscape, you often have to travel across multiple screens to get there. I had to come back twice near the end of the game to stockpile cat treats. Once there, I was able to win what I needed within a few minutes, so it's more an annoyance than a huge imposition. The game manual suggests that puzzles and minigames can be replayed via Emily's scrapbook, but I only saw the puzzles listed there, not the minigames.
As each cat is rescued, its special ability becomes available for Emily's use. Her cats are integral to the license, frequently lurking in Emily artwork and sometimes appearing with slogans of their own, so I like the idea of them playing an active role in the game, but I'm not crazy about the execution. Each time you use a cat's ability, you use up a cat treat, but in many cases using the cats turns out to be pointless. For example, Mystery is supposed to provide hints when you're not sure where to go next, but at least half the times I tried this I got "I can't help you here" (at the expense of a treat, of course).
The other cats' abilities—seeing hidden items, accessing high-up items, or sensing traces that others can't—are too similar. An item could be "hidden" in the sense that only Sabbath or Nee Chee can see it, or "hidden" up high where only Miles can reach it, and the game gives little to no indication which type of "hidden" item you're looking for. This becomes especially frustrating near the end when you're hunting for several puzzles scattered across the world, and the game provides no clues for where you should look or which cat you should use. More than 20 rooms times three cats comes out to numerous possibilities, so prepare yourself for lots of trial and error—and lots of wasted cat treats.
Strangerous is a linear game with little optional gameplay. From what I could tell, all of the puzzles are required to progress, so once you encounter one there's not much else you can do until you've solved it. As more of the world opens up, navigation becomes cumbersome and a bit confusing. The various locations are linked in unintuitive ways such as jumping out a window or diving into a well, which means you might wander a bit before you remember how to get where you're trying to go. A quick travel map would have been extremely helpful.
The game took me about six hours to complete, and it would have been less if not for all the backtracking in the second half. This is short for a DS offering, especially compared to its inspiration, Professor Layton. There is reportedly some DSi-specific content hidden behind a locked door in Emily's room, including a minigame in which you piece together "zonsters" (the Strange equivalent of Frankenstein's monster), but as a standard DS user, these extras were off-limits to me.
I was drawn to Strangerous because of my affection for the license—fifteen years later, I still cherish my Emily the Strange tee shirts—so it's a bit disappointing that this is nothing more than a short and fairly simplistic Professor Layton reskin. Sure, it looks the part, and the storyline has plenty of bizarre elements, but the writing just doesn't have the same sting as those caustic slogans. The cynical attitude I love Emily for is barely present here and the gameplay doesn't offer anything new. Bigger fans will probably get a kick out of visiting Emily's world, particularly those who haven't played games like this before. For the rest of us, there are better puzzle games out there to choose from.
Our Verdict:
Emily's biggest fans and puzzle game newbies may enjoy this "strange" adventure, but it doesn't offer much novelty for anyone else.
Want to share your own thoughts about this game? Share your personal score, or better yet, leave your own review!

review
Other articles you might enjoy