Sam & Max: Season Two
archived preview
Wheeeeeee! Is that Max being knocked out of the way by Sam? Could be. It's more likely the sound of Sam & Max fans after hearing that Season Two of the crime-fighting duo's episodic series had been officially announced. It seems like Season One only just finished, and indeed the boxed version is only now arriving on store shelves in many parts of the world. But there's no rest for the wacky, so Telltale is right back on track with the next round of adventures for the freelance police. I recently had the chance to visit Telltale's new office in San Rafael, California, and play a beta build of the as-yet-unnamed first episode.
The obvious question as Season Two approaches is what differences have been incorporated this time around. There are numerous similarities to the first season, as one would expect, but there are some changes that will be welcomed by existing fans, plus some features that should appeal to gamers new to the series.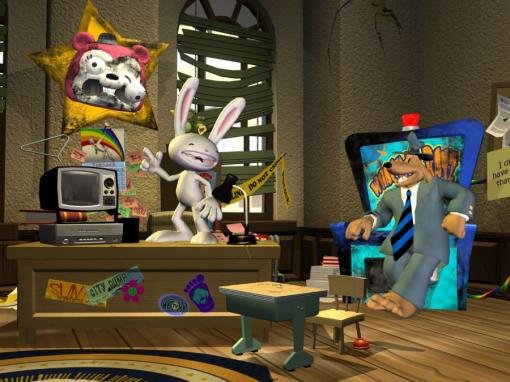 Right off the bat, the main menu now contains the chance to go through a game tutorial. On the technical front, one new option, asked for repeatedly by fans, will allow the player to pick from any resolution their computer supports—including widescreen resolutions. Another common request by Season One players was the ability to pick the level of hints you could get from Max. Telltale had already begun experimenting at the end of last season's episodes, but some improvements have been made since then. Now there are five different settings, ranging from no hints to maximum hints. When you are stuck for a certain period of time, Max will blurt out a hint instead of having to click on him. These hints will get more detailed the longer you are stuck, and how explicit they are will depend on what level you pick (with Max giving you none if you choose the lowest level). You can also change the hint setting in the middle of the game, which I did pretty early on when I got stuck.
Controlling the game will still be a point-and-click affair, though there are modifications in this area as well. Telltale has added the ability to drag the cursor to move around instead of continually clicking to make Sam move. And for those who felt that his loping pace was a little too slow, another new navigation feature is the option to make Sam run with double-clicking. This is where the click-and-drag feature should come in handy, as otherwise Sam will simply run a couple of steps and then stop, requiring another double-click to start him again.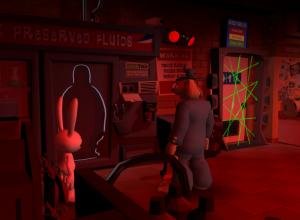 While Telltale is keeping details of the storyline largely under wraps for now, their approach to the story will be slightly different this time. In Season One, they wanted to make six episodes that had an overarching storyline but could stand on their own if someone chose to play just one or two. With the realization that the majority of gamers bought the entire season, however, Telltale has decided to make the underlying storyline of the second season more prominent. Each episode will still be a complete, standalone experience, similar to a television show, except there will be a stronger common narrative strand running throughout them.
The version I played did not contain any of the animations, so the opening scene was missing but described via captions. The game starts off in a familiar location, Sam & Max's office. There's been a bit of redecorating, as the office is filled with mementos from Season One. The neighborhood has changed, too, in a very radical way in some places after the introduction. Bosco's Inconvenience is back, but has also undergone a transformation, which makes it all the more fun to explore again. Along with the neighborhood looking different, Stinky's Diner, which had been closed all of last season, is now open and filled with many intriguing and funny artifacts. Of course a totally unique new location is also present in this first episode. I won't say where at this point, but Max might be wishing for a jacket in this one.
Naturally, one thing that really stood out to me was the humor. I often found myself laughing out loud and for a long time as I played. As Season One progressed, the humor got a little edgier, and in this first episode, I thought it was edgier still, with a bit stronger language and references to some dark subject matter (which was even the basis for one puzzle). So for those who felt the first season was a little too tame in its humor, at least in the beginning, rest assured that no similar complaints are likely to greet the new series.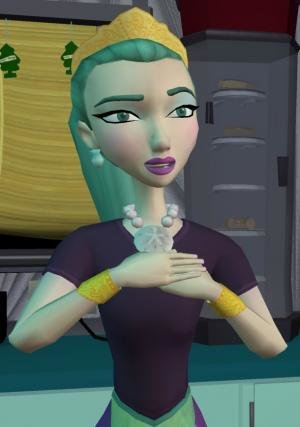 Many characters from Season One return in this episode. The Soda Poppers have a very minor role and are used mainly for funny exchanges while others such as Abe, Sybil, Bosco and the COPS are used for a puzzle or two and are often seen outside of their usual locations, which is a nice change. One of my favorite characters from Season One, Jimmy Two Teeth, figures prominently in quite a few puzzles, so I was happy to see him again. Some new characters make their appearance as well. Flint Paper, who appeared in the Sam & Max comics and made a cameo in the beginning of Sam & Max Hit the Road, makes a similar cameo in this episode. Although I didn't get to see him personally due to the unfinished state of the game when I played it, players will be able to interact with Flint in the first episode, and I was told by the designers that he will play an even larger role later this season. Meanwhile, now that Stinky's diner is open, someone needs to run the place. Stinky is the namesake and granddaughter of the original owner and she will be a source of frustration for Sam & Max and the diner's other occupants. The other new characters (and villain) make their appearance in the chilly new location, and will be left for players to discover on their own.
Not being a connoisseur of graphics, I didn't notice any significant differences from Season One, but the locations are as every bit as colorful and detailed as last season. The flies buzzing around at Stinky's are a nice touch. The music, which was such an important part of Season One, unfortunately was not in the build I played, but will once again be provided by Jared Emerson-Johnson.
The lack of puzzle difficulty was a common observation in Season One, as Telltale wanted the game to be as accessible to newcomers as to adventure genre veterans. The challenge did increase in the latter half of the season, and the new season should pick up at roughly the same difficulty as the last one left off, with the increased hint options helping to accommodate different experience levels. In the new episode, there are puzzles that revolve around dialogue, inventory puzzles (there is no inventory combining in this episode) and some that require logic to discern patterns. Overall, they are clued very well and didn't seem too easy or too difficult. There was a puzzle or two that I solved by using trial and error, but they are not major challenges in the game.
There are also two mini-games in this episode. The driving mini-game, found in a few episodes last season, has returned, but this time keyboard controls have been added which make controlling the car much easier. While it only needs to be played once to progress in the game, it can be replayed for fun and depending on how you do, you can even get decals to put on the DeSoto. Getting these isn't necessary to move along in the game, however. The other mini-game is a boxing match that frustrated me initially, as it seemed to require good reflexes in order to finish it. As I was button mashing, Brendan Ferguson walked over (having heard me swear under my breath) and peered over my shoulder to talk me through it and see how it could be improved to prevent such frustration. As it turns out, while it does involve some "action", it is actually a puzzle that I was proud of myself for finishing once I figured it out.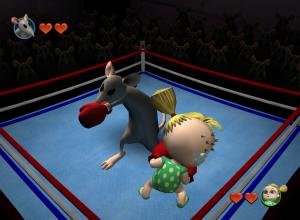 The episodes, which will be referred to numerically this season as 201, 202, etc., will follow roughly the same schedule as last season, so we should once again see a slightly longer gap between episodes 1 and 2, followed by a monthly release between episodes after that. Also as before, the episodes will debut exclusively on GameTap, but non-subscribers can rejoice, as this time the downloadable version will be available the very next day. Specific details about the new season will be revealed later this month.
With the first episode well into its development, Season Two will soon be coming at you faster than a bullet out of Max's Luger. In the meantime, the new cinematic trailer at the official website should help tide fans over, and stay tuned for plenty more coverage of the misadventures of Sam & Max.