Overclocked
archived preview
With a name like House of Tales, it's a pretty safe bet that any new game coming from the German developer will have a strong narrative focus. With each and every new title, including some impressive but sadly overlooked original mobile phone games, House of Tales has shown an increasing ability to engage players in complex, mature storylines that don't shy away from controversy.
Little did we know that the studio's last release, The Moment of Silence, would lead into many months of silence about their next adventure. Even after the new project was first announced, there seemed to be a veil of secrecy about what was teasingly described as a present-day thriller about the psychological dimensions of violence. At long last, however, that veil has lifted, at least off a tiny corner of what already looks like one of THE games to watch in the coming year.
The game is Overclocked, and we were fortunate enough to get a glimpse of a self-contained playable section of the game at this year's E3. Before diving into the demo itself, though, a little background is in order.
Overclocked is what House of Tales' Creative Director Martin Ganteföhr has described as a "journey into character". At various points, players will assume the roles of six different characters. The central figure is an ex-Army doctor named Dave McNamara, who left behind his military involvement in war simulation projects to freelance as a forensics psychiatrist. As a lingering, violent thunderstorm rages over New York City, McNamara is called into a mental ward to examine five young people picked up across the city, all carrying guns but completely disoriented and suffering from traumatic memory loss. McNamara's job, over the course of seven days, is to probe the minds and memories of these five characters using hypnosis and various other psychological techniques in order to discover who they are and what has happened to them. Making matters more difficult is the inner turmoil that plagues McNamara himself, which may just have some alarming parallels with the patients now under his care.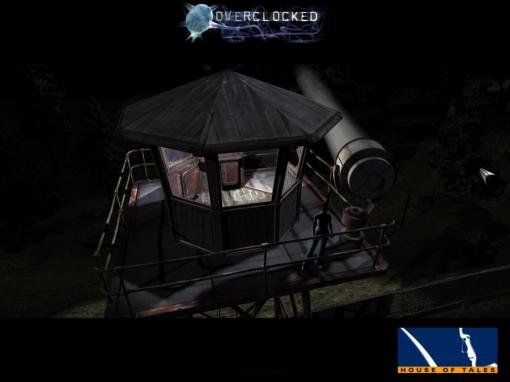 The game uses an intriguing narrative technique to unravel a mystery that blends fictional elements with rather disturbing real-world scenarios. While McNamara's story moves chronologically forward, the patients' stories are revealed chronologically backwards, from the most recent memories to the oldest. These memories are not merely exposed, however, but experienced. During therapy, the player is shifted into the role of the patient to play out a particular emerging memory, while McNamara provides off-screen guidance. When more clues are needed to go deeper into the patient's psyche, the memory will fade, and players will once again resume the role of the doctor. Those further clues to proceed will come from the other patients, as the stories of all five prove to be crucially intertwined. As a fragment of one person's memory returns, it offers insight that can be used to unlock new recollections in another.
Our E3 demonstration showed us a portion of one woman's memory, whose name even she can't yet remember. Stranded atop a shoreline military watchtower, the woman's only hope of rescue is to signal a ship slowly moving through the night off in the distance. There's a giant floodlight on the tower, but this being an adventure, of course it doesn't work. Fortunately, there's a power switch and control panel nearby, but this still being an adventure, those don't work, either. With a little ingenuity, however, solving this complicated yet natural layering of puzzles finally yields a working, movable light. When rescue at last seems at hand, the light is tragically… well, I won't spoil everything for you, even in a small demo. Suffice to say that the young woman's troubles have clearly just begun, and the tension had me hooked already, wanting to know more.
Overclocked was actually the very first game we saw at the show, and remarkably, it set a visual standard that not a single game afterwards was able to best (though many were excellent in their own right). Certainly the limited environment wasn't much to base an opinion on, and it's hard to pinpoint why exactly the graphics were so impressive. But there was a crispness, polish, and realism that made the game feel so vivid and alive. Overclocked uses a radically overhauled version of the Moment of Silence engine, and the new game is truly leaps and bounds ahead of its predecessor. Its 2D pre-rendered settings are generously animated, and the game uses real-time particle effects, dynamic lighting, shadows and shader effects, along with a liberal use of cinematic camera movement. If the technical terms mean nothing, you only need to know one thing: it works, and if you didn't know any better, you'd think the environments were in real 3D.

Special real-time camera effects help convey the surrealistic transition from playable memories to the present day story.
The character modeling has also been given a makeover, through improved facial technology and both male and female motion capture, which distinguishes the more subtle gender nuances. Not everything was fully animated in our demonstration, but the movements were certainly natural and believable. I'd comment on the game's sound, but anyone who claims to hear anything at E3 is totally lying. To round out the picture, all the traditional adventure standbys are present and slickly accounted for: point and click interface, third-person perspective, intuitive inventory, and much-improved (over MoS) pathfinding. Learning from the past, House of Tales is clearly honing its craft with its third PC adventure, and the experience is definitely starting to show. And while we saw only a tiny fraction of the complete game, Overclocked will reportedly feature 45 different locations and approximately 5,000 lines of dialogue (translation: a heckuva lot) over the course of its projected 20 hours of gameplay.
With its intricate narrative structure and ethically challenging themes of violence and war, all conveyed through an interactive study in character, Overclocked is shaping up to be not only one of the genre's most unique upcoming titles, but one of its most ambitious. It's a complex undertaking, and House of Tales will have its hands full pulling it all together cohesively. But if first impressions count for anything, the game is well on its way to fulfilling its abundant potential. There's still a long way to go before the target release date of April 2007, but the clock is ticking.
Referenced Adventure Games
archived preview
Other articles you might enjoy