The Last Time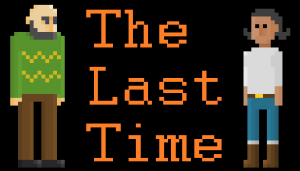 Jack Glover was a police officer whose live hadn't been particularly eventful until one day something went terribly wrong and he suffered an emotional trauma. Forty years later, Jack is languishing in a care home, living out his remaining years in solitude. Suddenly, a phone call from someone connected with his past starts a chain of events which forces Jack back into the real world, where he must overcome the challenges that come with age; physical frailty, ignorance of modern technology, and, most importantly, his difficulty connecting with people.
Stuck in
The Last Time
, or looking for the best way to proceed? Click below to view our walkthrough for
The Last Time
and wonder no more!
Note, these will contain spoilers.

Posted by jacal01 on Sep 6, 2018
Inspired effort

Tight little existential theater within the confines of a short dialog driven story. Minimalist retro game works well given its theme. Well worth the time, however short....
SELECT wt.entry_id as entry_id, we.entry_id as review_id, wt.title, we.field_id_46 as rating, wd.field_id_71 as series FROM exp_channel_titles AS wt, exp_channel_data AS wd LEFT JOIN exp_playa_relationships as rl ON (rl.child_entry_id = wd.entry_id AND rl.parent_field_id = 31) LEFT join exp_channel_data as we ON we.entry_id = rl.parent_entry_id WHERE wt.entry_id NOT IN (SELECT entry_id FROM exp_category_posts WHERE cat_id = 10) AND wd.channel_id = '2' AND wt.status = 'open' AND wt.entry_id = wd.entry_id AND wd.field_id_19 NOT LIKE '%Hidden Object' AND wd.field_id_85 != '0'  AND wd.field_id_17 = 'Third-Person'  AND wd.field_id_23 = 'Stylized art'  AND wd.field_id_76 = 'Drama'  AND wd.field_id_75 = '2D or 2.5D'  AND wd.field_id_22 = 'Point-and-click'  AND wd.field_id_19 = ''  ORDER BY rating DESC LIMIT 16
You might also like these adventure games