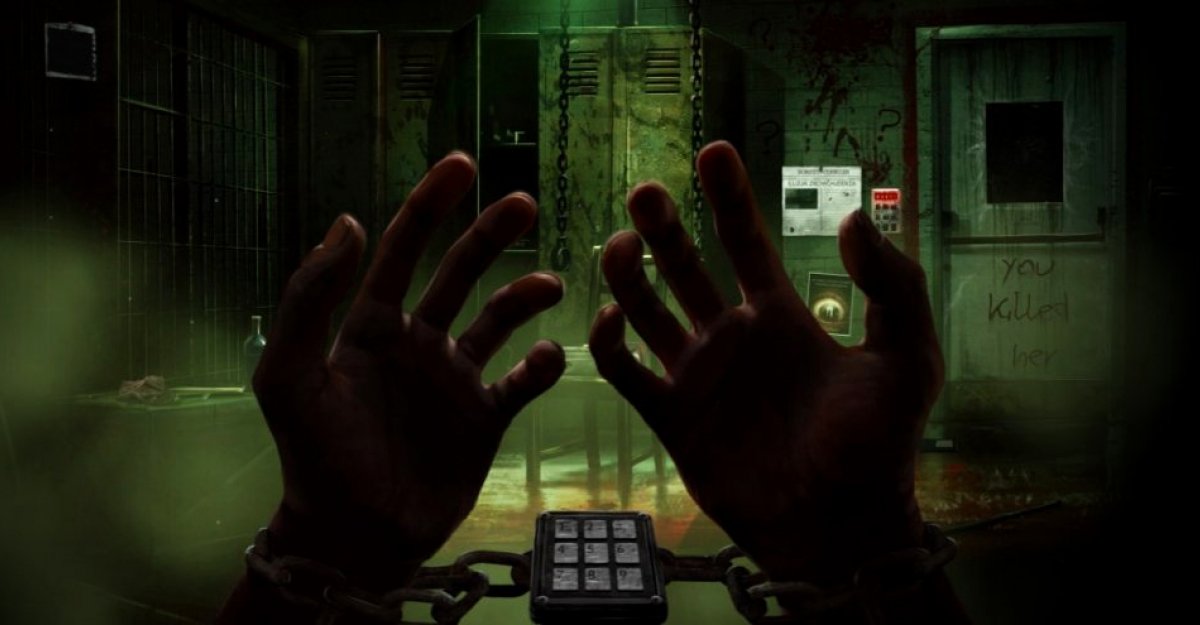 Game information
You might also like these adventure games
Advertisement
Adventure games by AIREM
BITMAP BOOKS
One of the chief appeals of escape-the-room games is the thrill of a constantly-changing amalgamation of puzzles and roadblocks to overcome, each new room bringing with it entertaining new challenges to suss out and a number of different ways to stretch your gray matter. Imagine my disappointment, then, when after getting through the first handful of rooms in AIREM's Play With Me, it became clear that the game's challenges would not only fail to be entertaining, but would also dreadfully lack in variety. Even some randomized elements and ultimately shallow fourth-wall-breaking doesn't create enough of a draw for me to recommend giving into this game's titular siren song appeal.
Play With Me presents the story of Robert Hawk, a journalist who has been abducted along with his wife by a madman known only as Illusion following a perilous car crash. When Robert comes to, he finds himself alone in a warehouse, forced to solve puzzles and move from room to industrial-themed room in order to save his wife and make his escape. Little by little, the rooms he visits – a homicide crime scene, an operating theater – clumsily hint at some deeper connection between himself and Illusion, something that has caused the madman to hold a grudge against him.
Other characters occasionally tie into the story, generally appearing via cell phone conversations, but the narrative never really makes any leaps toward a satisfying conclusion or surprising revelations, and when the killer is finally revealed, it sadly just falls flat. One of the causes for the blasé story is the fact that Illusion's identity isn't set in stone, but rather changes depending on your actions to that point. I imagine it's quite difficult to craft an involving story if one of your chief variables turns out to essentially be a non-factor. Instead of providing replayability, this design choice just takes away a lot of bite the narrative could have had.
The bigger issue that lies at the heart of Play With Me's troubles is its inability to generate ongoing excitement to see what conundrums you'll have to solve next. The object, as it is with any escape room, is to find a way to unlock the door leading to the next location, which in this case almost always means discovering the numerical code to enter into the door's keypad to unlock it. But cracking these codes just doesn't often feel like an entertaining process. For one thing, the nature of these puzzles reduces most rooms down to number hunts, forcing you to desperately look for snatches of numeric code hidden behind moveable objects, scrawled on notes, or painted on walls in blacklight-sensitive ink. The latter necessitates far too many tedious environmental searches, scouring for messages and clues by equipping a UV light and running the cursor across all surfaces. Nothing against this as an occasional puzzle element, but when it becomes one of the main conceits, more variety is sorely needed.
Finding snippets of numbers is only half the battle; the next step – putting the right sections together in the correct order – requires far too much trial and error, particularly since clues can be too cryptic in their own right. Things get complicated further by the inclusion of secondary puzzles in a number of rooms, in the form of locked computer terminals and cell phone screens that also require number sequences to be input in order to open. Some of these puzzles are entirely optional, though it isn't always clear what's vital for progression and what isn't, and those who want to solve as many puzzles as possible have the added guesswork hassle of not only finding number sequences and putting them in order, but also choosing which of multiple locks and keypads to try them on.
With so much focus on assembling numerical codes, it's tempting to forget about the handful of other challenges presented, with mixed results. While some of these additional puzzles are a tad more on the traditional adventure game side, things don't exactly start out well when the very first room begins in almost pitch-black darkness, with a glow-paint message directing you to search for something you can't see – in other words, use the mouse pointer to scan the black areas of the screen until a popup tooltip reveals an unseen object of interest. This cop-out tactic even makes a repeat performance or two later down the line. The chief purpose of the inventory is often tied to the matches and other objects needed to light up the darkened surroundings.
Should the current obstacle become too much, clicking an on-screen help indicator will move your cursor to the next area of interest without actually explaining why it's important, while another optional help button will go so far as to reveal entire keycode solutions. These features, however, are only available if playing the game in Assist mode, and can be turned off entirely if one so wishes.
There are also a handful of fairly simple skill-based sections requiring you to keep a light trained on a certain object, such as an evil puppet that will get up and attack you the moment it's shrouded in darkness. In gameplay terms, this involves things like shaking a flashlight back and forth as it threatens to extinguish, or tracking quick-moving objects as they dart about the screen. None of it is particularly enjoyable, and these scenarios may even require a few tries due to bad luck or slow response time in a game otherwise meant to test your wits.
An on-screen headache meter that must be kept at bay by injecting yourself with syringes found lying about the warehouse is yet another example of throwing as many theoretical ingredients into the pot and hoping they will make a tasty gaming stew. Instead, the true core of what Play With Me should have been pretty soon begins to get buried in excess.
Failing one of the "action" segments by letting something that goes bump in the night come a bit too close for comfort means having to restart that particular room. It is also possible to go into the game's menu and choose to voluntarily restart the current room if its puzzles prove too difficult. That's because certain gameplay elements, including item locations and puzzle solutions, are randomized, and a restart could lead to a set-up simpler than the current one. However, I encountered a couple of occasions when it seemed as if the number sequences I was able to find were simply not the ones needed to open the escape route, leading me to believe there may be a few bugs within the randomized solution system.
At certain moments, a phone call from Illusion will start a timed sequence, usually of the "find and enter a code fast enough to save another character" variety. These moments have an influence on the actual ending of the game, as there are a number of possible outcomes depending on which people survive. However, the narrative is far too weak to make saving any particular character feel remotely imperative, and the game continues on in any case, regardless of whom you save. Worse yet, the puzzles, already highly repetitive, aren't helped by suddenly having an arbitrary time limit imposed on them. At 2-4 hours of playtime for experienced adventurers, Play With Me is a rather short game, but neither its multiple endings nor the promise of remixed puzzle solutions do anything likely to coax players back for a second stint.
The game won't win any awards when it comes to pushing the graphical envelope either. It plays out in a slideshow-style format, with each room viewable only from a single, locked-in perspective. Since every screen effectively consists of two-dimensional assets layered on top of each other and, in some cases, moving across each other, comparisons to a browser-based Flash game are inevitable. But the animations given to the occasional scurrying spider or other environmental detail, as well as the thematic art direction and suspenseful lighting of one grimy, dirty warehouse room after another, keep the visual presentation from feeling too underwhelming.
When it comes to voice-over, however, it's a different story altogether. The small cast of main players here is fully voiced, but the execution leaves a lot to be desired. It is plainly evident the script was written and performed by non-native English speakers, and nowhere is this more apparent than in the dialog. Erroneous syntax, poor word choice, unnatural inflections, awkward pauses, and outright incorrect deliveries rear their ugly heads from start to finish. A bit of credit should be given the developers for eventually replacing the role of Robert with a native English speaker, as an earlier version featured the same kind of stilted voice acting for him as well. In place of traditional music, the game is filled with creepy sound effects – distant footsteps, creaking floorboards, and ambiance galore – which works just fine given its heavy emphasis on creating an eerie mood.
It's not that the ideas behind Play With Me are far off the mark. An escape-the-room game inspired by the industrial horror of a Saw movie is a good fit. It's just that the puzzles that have been implemented in each room are too lacking in diversity, turning the experience into a slog before it even has a chance to hit its stride. Some slapdash vocal performances, occasionally unclear signposting, and a randomized-puzzle engine that seems to be slightly unreliable at times drive the final nails home in this game's coffin and bury it in mediocrity.
Our Verdict:
As a Saw-inspired escape room adventure, Play With Me is a concept that works well on paper, but too many design choices inevitably stack up to an unsatisfying slog through one keycode puzzle after another.
What our readers think of Play With Me
Want to share your own thoughts about this game? Share your personal score, or better yet, leave your own review!

review
Other articles you might enjoy