The Orgastic 4
archived preview
Remember Bad Brain Entertainment? If the name sounds familiar to some of you, there's a good reason for it. Originally launched in 2004, then-CEO Wolfgang Kierdorf started the company's story by acquiring IPs like A Vampyre Story and The Whispered World and teasing a possible return of Sam & Max. But things didn't quite turn out as planned. Having up to six different adventure games in production at the same time, it turned out the studio was involved in more projects than they were able to handle. As a result, the first incarnation of Bad Brain ran out of money without releasing any of their titles, and shut its doors in 2006.
"Signing A Vampyre Story was a door opener. However, the game was never meant to define Bad Brain Entertainment, as it was developed by Bill Tiller and his team, not by us," Kierdorf explained in the company of Christian Lampert (new CEO) and his wife Nadja Lampert (QA and creative feedback). The former CEO and now lead designer didn't hide his disappointment about how things ended in 2006. Now the time has come, though, to look forward and focus on just a single in-house production, The Orgastic 4.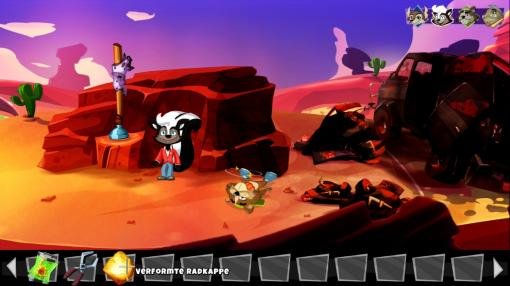 Bad Brain's Wolfgang Kierdorf (middle) flanked by CEO Christian Lamprecht and Nadja Lamprecht at gamescom

For those old enough to remember Mr. T in his heyday, Kierdorf posed this hypothetical as he introduced me to The Orgastic 4: "What if The A-Team would have been a rated-R cartoon show that used animals as protagonists instead of humans?" He went on to add: "I guess our game could be described as a mixture of The A-Team, Leisure Suit Larry, and Maniac Mansion. Something that people would enjoy who grew up with all these classics, and – just like you and me – turned into adults in the meantime."
The playable characters are Colonel Honey (a fox), Major Hansome (a skunk), First Lt. BJ (a fish), and Captain Beaver (you can probably guess this one on your own). After encountering some serious trouble with the US army, the four-headed crew is "asked" to be part of a top secret military project. Since a prison term is the only other option available, the team has no other choice but to agree. Soon they find themselves in an adventure involving smarty pants aliens and many other bizarre characters. Fortunately, it turns out that the Orgastic 4 get a chance to do what they do best: causing chaos and destruction.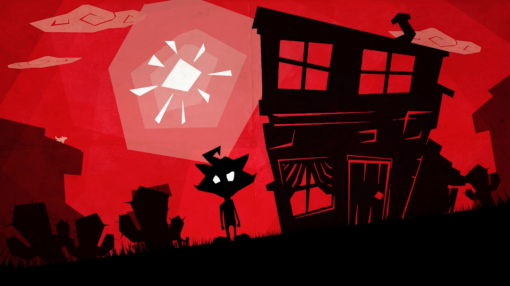 Production is still in its early stages, but I was able to check out a playable prologue at gamescom. According to the developers – and reinforced by what I saw personally – The Orgastic 4 contains lots of pop culture references that seem to focus on the '80s and '90s. In many ways, I had the feeling of travelling back in time to the golden age of adventure games. The beautiful hand-drawn backgrounds particularly reminded me of Day of the Tentacle, as did the mummy on roller blades appearing in the prologue. I also spotted a Guybrush Threepwood reference in one of the multiple-choice dialogues.
The strong retro feel of The Orgastic 4 is underlined by its classical 2D point-and-click gameplay. Whenever the mouse cursor is on a hotspot and you click on it, a small menu opens that contains four icons representing "look", "take", "talk to", and "use". While there was no automatic way of displaying hotspots, Bad Brain is already thinking of how to implement such a feature, although only reluctantly. "I'm not too happy about this element, but, after all, the game is meant to be enjoyed by the players, not just by ourselves," Wolfgang told me before adding: "We are considering ways of limiting that feature, though. Like, for example, only giving players access to that feature every ten minutes or so."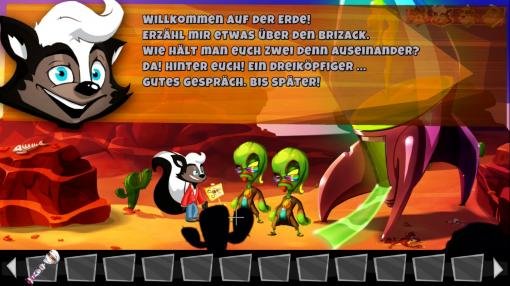 Inventory items are displayed in twelve small boxes at the bottom of the screen. If you need to access more items, you can just scroll through the inventory by clicking on directional arrows. The puzzles in the prologue weren't final, so it's too early to judge their quality. What I can definitively state is that the demo contained lots of objects to pick up and combine with other inventory or use in the game environment. In one scene I observed, two aliens needed to be distracted. To accomplish that, a certain object had to be created by first finding and combining several others.
Besides overcoming inventory obstacles on your own, you'll need help from your other three team members at times. The playable character can be switched in a small menu at the upper right of the screen. The gamescom demo contained German text, but according to Bad Brain, an English version is planned for sure. Even though I was told that the script is complete, the story contains an overarching narrative which ideally is going to be continued in two sequels.
Funding for the game isn't resolved yet, and Bad Brain had several publisher meetings at the fair. But according to its lead designer, "whether we do it with a publisher or not depends on how much creative freedom we'd have." If an agreement can't be found, the company is going to look for alternate ways of funding. In any case, Wolfgang Kierdorf is very determined about the future of The Orgastic 4. "We'll finish the game no matter what, [even] if it takes us ten years!"
Hopefully adventure fans won't have to wait for another ten years, as The Orgastic 4 is already old-school adventuring, attempting to send you back to the genre's halcyon days. There's no doubt that the retro visuals left a very good impression on me, while it's much too early to assess the quality of the gameplay, characters or story. It is safe to say, though, that the explicit humor – which includes drug references and sexual language – is not going to be for everyone. The Orgastic 4 still has a long way to go, but we're eager to see more of the loopy animal A-Team in the coming months.
Referenced Adventure Games
archived preview
Other articles you might enjoy