An FMV Christmas 2014: Season's Greetings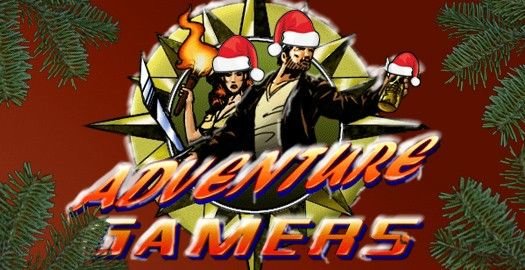 What do you give the adventure gamer that already has everything that isn't nailed down?
We considered offering two front teeth for all, but decided that would be too messy and probably very unsanitary. A white Christmas is too impractical, outside of a group field trip to the North Pole. (The Arctic is still white, right? Just checking.) We could give you games, but surely all the cool kids have already played the brilliant Christmas Quest series. (Though it's never too late to make it an annual holiday tradition.)
But if it's the thought that counts, what better gift could we offer than proof that all your favourite adventure game developers are thinking of you? And so, once again we are pleased to present a compilation of season's greetings from (most of) the genre's top names. In the spirit of Dickens, you'll find legends from the past, present, and future included – and fortunately none of them are ghosts. So sit back, enjoy, and let these personal messages charm the humbug right out of you.
Whatever the occasion you celebrate (or even if you don't), we here at Adventure Gamers would also like to extend our very best wishes to all of our readers for a happy and healthy holiday season.
---

Video Table of Contents
– Cyan Worlds (Myst creators, Obduction)
– Katie Hallahan, Phoenix Online (Gabriel Knight: 20th Anniversary Edition, Moebius)
– Josh Mandel (Sierra/Legend Entertainment classics, Asylum)
– KING Art (The Book of Unwritten Tales 2)
– Adrian Carr (Tesla Effect: A Tex Murphy Adventure)
– Chris Jones and Big Finish Games (Tesla Effect: A Tex Murphy Adventure)
– Dave Grossman (Pretty much every LucasArts adventure game you love!)
– The Odd Gentlemen (King's Quest reboot)
– Jay Ziebarth, Zeebarf Games (The Ballads of Reemus 2)
– Nexus Games (Randal's Monday)
– Rumpus Animation (The Adventures of Bertram Fiddle)
– Kan Gao, Freebird Games (A Bird Story)
– Double Fine Productions (Broken Age)
– Daedalic Entertainment (The Devil's Men, Fire, Silence: The Whispered World 2)
– Alasdair Beckett-King (Nelly Cootalot: The Fowl Fleet)
– Bill Tiller, Gene Mocsy, Jeremiah Grant, Venture Moon (Duke Grabowski, Mighty Swashbuckler!)
– Fictiorama Studios (Dead Synchronicity: Tomorrow Comes Today)
– Dan Connors, Telltale Games (Game of Thrones, Tales from the Borderlands)
– StoryBeasts (Simon the Sorcerer: Between Worlds)
– Steve Gaynor, Fullbright (Gone Home, Tacoma)
– The Chinese Room (Amnesia: A Machine for Pigs, Everybody's Gone to the Rapture)
– Francisco Gonzalez, Grundislav Games (A Golden Wake)
– Andrew Plotkin, Zarf (Hadean Lands)
– Ron Gilbert and Gary Winnick (Thimbleweed Park)
– Charles Cecil, Revolution Software (Broken Sword 5)
– Jan Kavan, CBE Software, and Barunka Kavan (J.U.L.I.A. Among the Stars)

feature
Other articles you might enjoy