An FMV Christmas 2012: Season's Greetings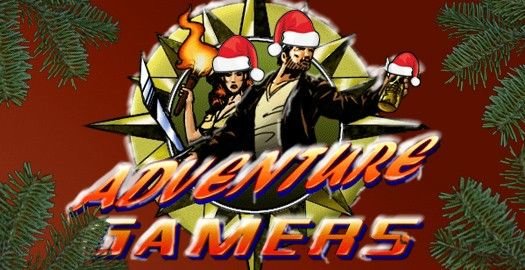 Chances are you've made plenty of Christmas wish lists that included the names Double Fine, Jane Jensen, Tex Murphy, Amanita Design, Jonathan Boakes, Revolution, and more. But that was for their games. Wouldn't it be cool if this Christmas, you could hear directly from all your favourite developers and adventure personalities themselves?
We think so!
Continuing a fine tradition begun by our German colleagues at Adventure-Treff in years' past, Adventure Gamers is pleased to present you with a collection of holiday greetings from many familiar names and faces from adventure games past, present, and future. So don't be a Scrooge! Sit back, click, and enjoy.
And if that's not enough holiday cheer to tide you over, be sure to check out Adventure Gamers' own free Christmas Quest adventure trilogy!
Christmas Quest: The Best Adventure Game Ever!
Christmas Quest 2: The Yuletide Flows In
Christmas Quest 3: Santa's Little Help Desk
Who says nobody ever gets you what you REALLY want?

---

Video Table of Contents
0:05 – Tim Schafer, Double Fine Productions (Double Fine Adventure)

0:25 – Rem Michalski, Harvester Games (The Cat Lady)

0:45 – Her Interactive (Nancy Drew series)

0:50 – Kan Gao, Freebird Games (To the Moon)

1:37 – César Bittar, Phoenix Online Studio (Cognition: An Erica Reed Thriller)

3:43 – Matt Clark, Shadow Tor Studios (Bracken Tor: The Time of Tooth and Claw)

4:36 – Michael Holzapfel and Oliver Specht, Tinnitus Games (Reperfection)

5:02 – Josh Mandel (Leisure Suit Larry: Reloaded, Fester Mudd: Curse of the Gold)

6:34 – Al Lowe (Leisure Suit Larry)

6:55 – Heads of Javier and Carlos Cabrera (CYPHER: Cyberpunk Text Adventure)

9:27 – Jonathan Boakes, Darkling Room (The Last Crown: Haunting of Hallowed Isle)

10:58 – Bill Tiller (A Vampyre Story, Ghost Pirates of Vooju Island)

12:20 – Lorelei Shannon (Phantasmagoria: A Puzzle of Flesh)

13:04 – Deck13 (Haunted)

13:17 – Ragnar Tørnquist, Red Thread Games (Dreamfall Chapters)

14:40 – Tex Murphy, Big Finish Games (Project Fedora)

15:38 – Adrian Carr, Big Finish Games (Project Fedora)

16:39 – Gabriele Papalini, Mad Orange (Face Noir)

19:36 – Berian Williams, Rebecca McCarthy, Mark Lovegrove (Adventure X)

20:05 – Dean Erickson (Gabriel Knight: The Beast Within)

20:16 – Theodor Waern, Mathias Johansson and Henrik Englund, Skygoblin (The Journey Down)

22:42 – Agustín Cordes, Senscape (Asylum)

24:41 – Pendulo Studios (Yesterday, Hollywood Monsters)

25:29 – Dave Gilbert, Wadjet Eye Games (Gemini Rue, Primordia, Blackwell series)

26:10 – Vince Twelve, xii games (Resonance)

27:37 – NOT Steve Ince (Captain Morgane and the Golden Turtle, Caroline's Secret)

28:19 – Charles Cecil, Revolution (Broken Sword: The Serpent's Curse)

30:05 – Rob Landeros, Trilobyte Games (The 7th Guest, Tender Loving Care)

33:10 – Marco Rosenberg, KING Art (The Critter Chronicles, The Raven)

33:49 – Lori and Corey Cole (Hero-U: Rogue to Redemption)

35:11 – Jane Jensen, Pinkerton Road Studios (Moebius, Mystery Game X)

36:04 – Raleigh Holmes (Cognition: An Erica Reed Thriller)

36:22 – Steve and Jessica Hoogendyk, Geeta Games (Lilly Looking Through)

37:14 – Dave Grossman, Telltale Games (The Walking Dead, Fables)

39:27 – Amanita Design (Botanicula)

feature
Other articles you might enjoy