Dark Alleys: Penumbra Motel
review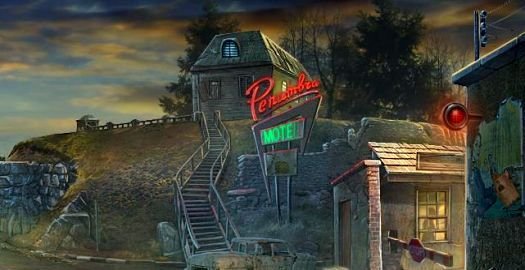 Game information
You might also like these adventure games
Advertisement
Adventure games by ERS Game Studios
BITMAP BOOKS
Your car swallows up the black asphalt of Route 66, with only the yellow dashed lane dividers breaking up the monotony. You've agreed to give a ride to your friend's daughter, Monica, to visit her ailing grandmother. A neon sign for the Penumbra Motel flashes in the darkness. A short snack break quickly turns into a desperate break from reality when a strange man appears out of nowhere, snatching Monica into the darkness. In ERS Game Studio's Dark Alleys: Penumbra Motel, you'll take a detour into a world filled with ghosts, painful memories, and some very bad voice dubbing. Don't let that stop you from checking in, however. Without any typical hidden object searches added as filler, this lite adventure is something of a hidden gem itself, filled with an abundance of grim eye candy, scene interactivity, and a variety of puzzles that will make you want to stay.
Anyone who's seen the movie Psycho knows to be wary of lonely motels lurking off unused highways. However, here you don't have a choice, as Monica is kidnapped at the gas station where you've stopped. Making matters worse, the area around you is suddenly hit by a windstorm that doesn't just do damage, it seems to have spun the world back many decades. As you investigate the immediate surroundings, a story of madness slowly begins to reveal itself. Newspaper clippings unveil a series of gruesome murders that occurred at the Penumbra Motel in the 1950s. The entire Penum family – father, mother, daughter, and boyfriend – was killed, and the youngest son went missing. Only by unlocking the past secrets of the motel can you hope to eventually save Monica.
The rural locale provided a rich background for the designers, with first-person scenery full of period detail and activity. Old-time TV antennas tilt crazily atop the gas station and a dark fedora hangs from a coat hook inside. A creepy old man hanging out in a shack sits on an old car seat perched precariously atop two old tires. The ambient animations are plentiful and layer a dreadful feel onto the action. Large black crows peck hungrily at flesh on bones that you hope don't belong to humans. Dark storm clouds lit from beneath with a sickly yellow glow scud fast in the sky, lending a surreal sense of unreality. When lightning breaks, the scene flashes briefly and the light reflects off windows. You'll also be met by a plethora of animations when you interact with the environment. Unhook a macabre puppet tied to a ceiling fan and you'll watch it fall and smack its head so hard that its eyes pop out. The colors are grim and dark to suit the creepy mood of the game, with jolts of neon hues like the hot pink cursive "Penumbra" sitting atop the greenish teal blinking letters of "Motel."
Dark Alleys uses full-motion video to round out its artistic vision, but it isn't always the best fit with the hand-drawn backgrounds. At its least effective, video characters skip across a scene not looking like they fit but rather as if they're floating just on top of it. At its best, the sudden use of video pops out at unexpected moments: a woman's visage suddenly appearing in the water of an old bathtub sent chills down my spine. Some actors do a sufficient job of adding a level of eeriness to the atmosphere. The old man you meet sits on his junkyard chair with his dirty long white beard spilling over his belly, rubbing his hands as he stares into the distance. However, other actors aren't as successful. A professor of journalism points to punctuate his sentences, pushes up his glasses, and indulges in some overacting. Tommy, a young man who got caught up in the murder madness, does little more than purse his lips and squint intensely.
Another factor marring the FMV use is the fact that the actors were clearly speaking a different language, and the English dubbing is jarring at times. Other than this lip sync awkwardness, however, the rest of the soundscape is packed full of wonderful ambient effects. Against the boom of crackling thunder, a sharp hiss and rattle of a tail adds to the sudden movement of a hidden snake, while the snapping sound of TV static serves as the background for the mewling of a lost kitty. The music, like in many other ERS games, is rather repetitive, filled with sultry horns and deep basses, reminiscent of film noir scores. Thankfully, the soundtrack isn't overwhelming and often leaves you alone with the spooky ambient creakings and moans to be found in an abandoned motel.
You'll also encounter film reels throughout the game, which appear to have WWII footage that the eldest Penum son, Jack, brought back with him from the war. As you collect these in your travels, you'll see snippets of bizarre images not relating to the war interspersed throughout the various reels. These hint at something more sinister that hitched a ride back with Jack that he wasn't aware of. The use of real war snippets in black and white adds a clever ominous touch to the story. And these film reels don't just add to the ambiance, they're all needed to solve one of the game's main riddles.
In addition to the motel, you'll get to explore a wide variety of scenes as you search for Monica, from the run down old gas station hanging out all by its lonesome on Route 66 to a lakeside yard filled with broken (though mysteriously still working) TVs, and beat up abandoned buses. The motel itself consists of the main administrative building with a variety of rooms. You'll also get to explore a barn substituting as a movie viewing room. You'll even get to visit the dilapidated Penum mansion and its immediate environs. With such a wide variety of areas to visit and inventory puzzles that stretch across several scenes requiring some amount of backtracking, a quick travel map would not have been out of place.
As you investigate, you're given a list of goals that you can hover the cursor over to tell you what your next goals are, which is very helpful in keeping you on track, as you'll have multiple goals going at any one time. When you encounter an area of interest, you're able to click to zoom in, allowing you to search for necessary objects. Annoyingly, however, you'll still be able to zoom in even after you've exhausted all items to be found there. The game's hint system is not much help in this instance. Click on the hint button, and the view zooms in on an area where an action is available. If there are no actions possible on the current screen, you'll merely get a note that tells you there is nothing left to do in that area. You also get the ability to skip puzzles. However, even on the easiest of three difficulty levels, you'll wait almost four minutes for the button to fill. And don't click out of one of these puzzles before the skip option has filled – the meter will start over from the beginning when you reenter the scene.
While traditional inventory puzzles that have you looking for keys to open locked rooms or tools to help you dig through debris abound, you'll also have to play through a variety of logic puzzles. Some puzzles, like collecting Jack's old war medals or arranging his father's fishing trophies, are woven nicely into the story, but others aren't integrated nearly as well, like a series of locking puzzles where you'll need to swap colored jewels to enter into major rooms of the motel. These puzzles are fairly simple and only add to the number of jewels to increase the complexity of each succeeding puzzle. Unfortunately, their reason for existing is pretty flimsy, which really took me out of the fifties feel of the game. Other puzzles are also quite easy, such as a straightforward task that has you arranging different shaped keys into their appropriate spots. However, the designers have added a nice touch to these challenges by including animations. Put together a torn canvas and watch a needle and thread sew each piece together as you place them.
The narrative puzzle of the Penumbra Motel murders includes a war-shattered veteran, muttering old men, a mysterious motel tenant, and even a vicious ghost dog. Jack may have returned from the war with his physical wounds healed, but he came back with a mysterious medal as well as some psychic trauma, and the current occupant appears to have spent all his time in his rented room making clocks and hiding secrets.Unfortunately, as with so many mysteries with promising openings and intriguing possibilities, the ending devolves into generic tropes like the desire to live forever, dominate the world, obtain power, what have you. Though the storyline does resolve in a satisfactory way after four-plus hours of play time, the Collector's Edition of Dark Alleys provides a logical method for bringing you back for another half hour of bonus play. Just when you thought you'd escaped the clutches of the macabre motel, you discover that something evil has hitched a ride with Monica, and you'll need to return to find a way to save her. As you search for the source of Monica's sickness, you'll visit just three more new scenes: a boatyard entrance, the boatyard itself, and a pier, while revisiting a few old ones. Unsurprisingly, this abbreviated bonus chapter doesn't attain the same depth of story as the main narrative.
Whichever version you play, you'll find the designers' usual strong attention to detail in full evidence here. Everywhere you look, you'll find something interesting to catch your eye, but without any of the hidden object searches that have characterized so many previous ERS games. With the story's clichéd ending, this motel conveys a certain sense of sameness, but if you're up for a tangled murder mystery with beautiful visuals and thrilling animations, then Dark Alleys: Penumbra Motel has a great check-in deal for you.
Our Verdict:
The Penumbra Motel may not be four-star quality in terms of originality, but it's full of engaging artwork, strange characters, and fun puzzles worth visiting to enjoy.
Want to share your own thoughts about this game? Share your personal score, or better yet, leave your own review!

review
Other articles you might enjoy