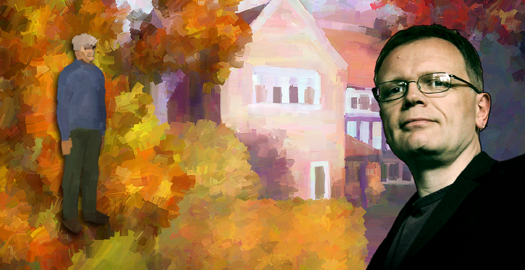 Best known for his work on the Broken Sword series, Steve Ince is a man of many talents who has worked on several other titles since leaving Revolution in 2004, from the So Blonde adventure series (including Captain Morgane and the Golden Turtle, now eligible for voting on Steam Greenlight) to the casual Special Enquiry Detail games to the hit RPG The Witcher. He's also authored a book on writing for games, designed his own web comics and games, and most recently lent a hand to the current Broken Sword 5. Somewhere in between, we caught up with Steve to ask about his various projects past and present, along with his plans for the future.
---
Ingmar Böke: Hi Steve, thanks a lot for taking some time for us. I'm sure most of our readers know who you are, but in case anyone has been living under a rock for the past decade, please introduce yourself.

Steve Ince: I'm Steve Ince, a freelance writer and game designer. I've worked in the games industry for 19 years, most of which has been spent on adventures in one form or another. As well as working as a writer and designer, I've also worked on art and animation and was Producer for part of my time at Revolution Software. Among the titles I've worked on are Beneath a Steel Sky, Broken Sword, In Cold Blood, So Blonde and Captain Morgane.

Ingmar: Let's look back at those earliest days. How did you get involved with Revolution back in the day, and what had you done before that?
Steve Ince
Steve: I was doing a fill-in job on a comic strip for my local paper and looking for a career that involved something more creative. Someone I knew told me that Revolution was looking for an artist and I got an interview. After a second meeting, this time with Dave Gibbons, I was given the job. Before then I'd worked in bingo hall management and had a job in a metal refinery, both of which were pretty mind-numbing at times, so being given a chance by Revolution was fantastic.
Ingmar: Your first game at Revolution proved to be an enduring sci-fi classic, Beneath a Steel Sky. What memories come to mind about that game, and what was your actual role in developing it?
Steve: One of the funniest things, looking back, was how primitive the computers were back then compared to what we use these days. When I joined Revolution I was given an old 286 computer when everyone else was on a 386. I was also the sixth person on the team at that time and as the network was only a five-person network I had to hand my completed work on a floppy disk to one of the other guys to put on the network. I did some background touch-up work, conversion to 32-colour for the Amiga, some sprite animations and a few of the background paintings.

Ingmar: After that you worked on what many consider to be one of the best adventure games of all time: Broken Sword. Please tell us about your time spent on that game.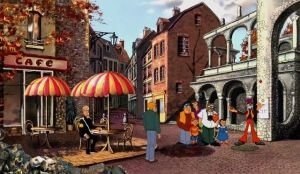 Broken Sword: The Shadow of the Templars

Steve: I actually started working on some location sketches when I first worked at Revolution and did this alongside my work on BASS. This was when we were looking at Broken Sword being produced at the same resolution – 320x240 pixels. As the game progressed and it became clear that the whole project was becoming much larger than originally anticipated, I was moved into a Producer role to help manage the development process.
I loved working on Broken Sword because it not only brought me into contact with a lot of talented people – internally and externally – but also enabled me to learn so much about adventure game development.

Ingmar: After the success of that game, it didn't take long before we saw the sequel.
Steve: Although it came out a year after BS1, the design of The Smoking Mirror was begun while we were still in the latter stages of BS1. And because we were using the same basic engine for the sequel, we were up and running with development almost as soon as the first one was completed. Again, I was Producer.
Ingmar: When Broken Sword 3 was released, not only did the game take some major steps in a new direction, your own position changed quite considerably.
Steve: The best thing about this game was being so involved in the writing and design, which was a natural extension of the work I'd done on In Cold Blood and El Dorado. Being able to work alongside Charles on the design and Neil Richards on the story and dialogue was a huge boost to my personal development. The use of the Voynich Manuscript as a kind of trigger to the story came about simply because I was researching ways that we might have a tentative link to the first game. The nature of online searches and following links meant that I suddenly found this mysterious document that still has people baffled today. This was exactly the kind of thing that we needed for a Broken Sword game.

Ingmar: Personally, I think Broken Sword 3 was a brilliant game, especially in terms of storytelling, but a lot of reviewers and fans criticised the new direction the series took. When you look back at the game, do you feel like people were being unfair to you, Charles and the others? How do you feel about the direction you took a couple of years later?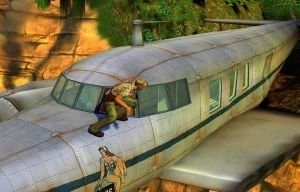 Broken Sword: The Sleeping Dragon

Steve: Thank you. I sometimes think that certain players could have been a little more open-minded about the approach we took, but I can't really criticise people for having their own tastes and making their own choices. Moving to 3D was something we had to do at the time because no publisher was entertaining the idea of publishing a 2D game. The GBA version of BS1 showed us that direct control would work well, and so we approached the project with the idea that we could take the heart of Broken Sword and make some tweaks and additions to keep the franchise fresh. I'm proud of being a part of the team that made the game. Not only do I feel that we made a good 3D adventure, it won an award or two and gained other award nominations, so we can't complain at that.
Ingmar: We were all thrilled when Charles Cecil showed us the Kickstarter video for Broken Sword 5 at gamescom. What can you tell us about the story of the new game?
Steve: I'm always wary of talking about story in too much detail in case it spoils things for potential players. Although it doesn't involve Templars, it really has gone back to the flavour of BS1. The story is full of intrigue, historical reference and danger for our heroes. As you will have seen from the Kickstarter video, the visuals have been brought up to date without losing anything of the original magic.
Ingmar: What was your role on The Serpent's Curse? Even though you were involved early on, you left the production after a while.
Steve: I was involved right at the beginning and even came up with the original premise for the story. Although, as is the nature of these things, little of the original premise has remained without a lot of change, development and improvement through various story discussions and meetings over many months. I also created most of the high level design – working with Charles, of course – before handing it onto the design/implementation team to develop the puzzle details. Later I went back to the project to do a few days of work on the colouring. Charles asked me if I had some spare time to do the work and it fit with a gap in my schedule, which made for a pleasant change.
Ingmar: What happens when Steve Ince and Charles Cecil are in the same room to discuss creative ideas? Give us an idea of how the two of you work together in that creative "battle".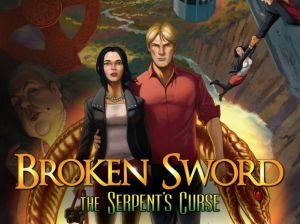 Broken Sword: The Serpent's Curse
Steve: I would never describe working with Charles as a battle. I always find it to be very invigorating because we fire off each other's ideas and sometimes we have to rein ourselves in so we don't go too crazy. We always start with a very high level story of maybe a couple of paragraphs or a page and brainstorm notes and ideas based on that – the themes we'd like to cover, the type of investigation it should be, cool ideas for locations, etc. It's a very iterative process that involves working up more and more detail at each stage.
Ingmar: Broken Sword is still one of the biggest adventure game IPs. Did you expect such an overwhelming result on Kickstarter (nearly double the target goal) or were you surprised that the franchise still has so many loyal fans?
Steve: It's always gratifying to know that there are loyal fans who care about something so much they are willing to spend their hard-earned cash to support a new project in the series. I was pretty sure it would reach its target but was surprised by the final total.
Ingmar: Not to be overlooked, tell us a little about the other Revolution projects you were involved in throughout the years.

Steve: In Cold Blood was the first Revolution game on which I did any writing and design and it was truly liberating to do so. In many respects I think it's an underrated game, but I can also see why some players became frustrated with it. Everyone did a great job – programmers, artists, animators, implementers, etc. I still think it's one of the best looking games made for the first PlayStation.
We did Gold and Glory: The Road to El Dorado almost at the same time as ICB, which spread me very thin as I did a large part of the writing and design on this game. Although it might be seen as one of the weakest Revolution games, for the age group we were aiming for and the budget and schedule we were given I think that we created a fun adventure that complemented the film.

Ingmar: 2004 was clearly the worst year in the history of Revolution. How did you feel about being let go, along with many other team members at the time?

Steve: I felt like the world had been pulled from beneath me. We were all very shocked but as the oldest employee I did worry that my age might be problematical in finding another job. I'd only ever worked in the games industry at Revolution and had done so for eleven years, so it was a huge wrench to leave.

Ingmar: Your next step was to strike out on your own. You're still a freelancer and have been hired for a lot of projects since then. Looking back, are you happy with the step you took and your experiences as a freelancer?

Steve: At the time I would have been perfectly happy to have worked for Revolution for many more years. However, from my position now I'm pleased that I work freelance. There have been a few times when the work hasn't come in as regularly as I'd have liked, but for the most part my schedule has been full. Turning freelance has given me more creative variety and freedom than if I'd stayed as an employee at Revolution. Without the move I would never have had the opportunity to create game stories and characters from the ground up in the way I have with So Blonde, Captain Morgane, Rhianna Ford and Special Enquiry Detail.

Ingmar: Can you give us an overview of the projects you've worked on as a freelancer? Most people, for example, probably don't know that you were involved in a huge game like The Witcher.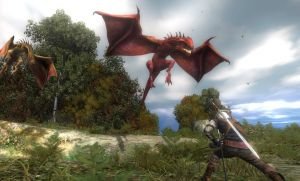 The Witcher
Steve: It was a great opportunity to work on The Witcher, even though my involvement was only at the level of script editor. I was originally approached to have a greater role but I couldn't fit it into my schedule at the time because of So Blonde work. I was also involved with the script editing of The Witcher 2. The first title I was involved with after turning freelance was Wanted: A Wild Western Adventure, which was a great opportunity at a good time. It was a fun game that was a pleasure to script edit and give a little life to the translated lines.
I've since worked on a number of full games, slotted in other script editing jobs, created my own game, Mr. Smoozles Goes Nutso, and wrote a book on Writing for Video Games. I've contributed to a number of casual games, writing and designing four that have been published to date. I did some work on the director's cut of Broken Sword and a little on the remastered version of BS2. I've just been signed up by an agent at the SMART Talent agency.

Ingmar: Charles Cecil would have liked to involve you in Broken Sword 4. However, you were busy with So Blonde at the time. What are your memories from the creation of that game?
Steve: I was contacted by Wizarbox, who had a number of character drawings and a couple of location backgrounds created for an idea they wanted to do. They had a story premise, too, but needed someone to take that and build it into a fully-fleshed story and design.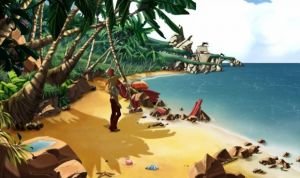 So Blonde
I must say that even though I speak no French at all, we hit it off immediately and their vision for the game sat perfectly with the kind of thing I like to do and so it was easy to get into full swing and start throwing ideas around. I have a huge amount of respect for everyone involved with Wizarbox and a great deal of gratitude for the way they gave me such a great opportunity. One time when I went to Paris to meet up with them I booked a hotel online and only when I arrived did I find that the hotel was in the middle of the street where all the sex shops and strip joints were situated. It made for an interesting walk back on an evening.
Through Wizarbox I got to know Stefano Collavini, and he's been drawing one of my comic strips for a few years now.

Ingmar: Looking back after the fact, what went well and what could have worked better?

Steve: I love the look and feel of the game and the variety of characters we created for the game worked well. I love the actor performances – the voices were superb.
There are always small things that I might have done a little differently, but if we had the chance to change one thing it would be the navigation around the island. Walking everywhere proved to be a bit of a slow down when the player was hunting for objects for puzzles.

Ingmar: Same question when it comes to your latest adventure game, Captain Morgane: What went well and what could have worked better?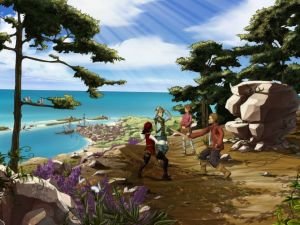 Captain Morgane and the Golden Turtle
Steve: It's always a pleasure working with Wizarbox, particularly Jérôme who is Wizarbox's lead designer and my main point of contact. He told me the kind of structure they were looking for – visiting different islands, for instance – and I developed the story, design and dialogue from there. Looking back, I wish I'd made the first ten minutes a little more dynamic. It would also have been good if the dialogue/animation system had been implemented better. The clunkiness affected the flow of the conversations quite a bit. And although there was a little bit of a hiccup with the English voices, in the end they came out well with many of the So Blonde cast returning. I love the voices; they make my words sound so good.
Ingmar: Will this be the last game in the So Blonde universe or you think that the world still leaves room for more?

Steve: I'd love to do more if I'm asked. There's a huge scope for a number of games and I'd love to explore the relationships between the characters over the years that lead to the event that holds the island in time.

Ingmar: Let's move on to your work as a casual game designer now. What recent and upcoming casual games have you been involved in?

Steve: The most recently released game I wrote and designed was Special Enquiry Detail: Engaged to Kill, which was a sequel to Special Enquiry Detail: The Hand That Feeds. Both of them have been getting some good reviews and players have enjoyed them, which is always a good sign. The first SED game reached No.1 in the app chart in the UK when it was released for the iPhone and iPad. Although the games have their origins in the Hidden Object field, they've evolved to include more adventure elements, puzzles and mini-games and the HO gameplay has been reduced somewhat. They're more like a casual adventure in many ways.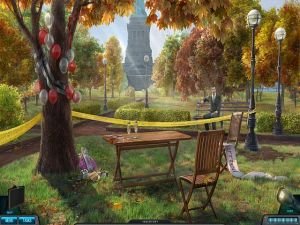 Special Enquiry Detail: Engaged to Kill
I also created two other games – Rhianna Ford and the Da Vinci Letter, which was a more pure HOG, and Alice in Wonderland, a re-imagining of the story where a woman named Rachel must rescue an Alice trapped within Wonderland and free other children also trapped there. I'm currently working on a new casual adventure/HO game. The new game has now been written and designed and is in the process of being implemented by the development studio. I'm not sure when it will be ready for release. I'm hoping to work on more in the future.

Ingmar: As a specialist for casual games, I would like to present you with a statement from Aaron Conners (3 Cards series) from an interview last year:
At the time, it seemed like a great opportunity for us to bring better stories to the casual game market. As it turned out, that market is still not (and may never be) ready for complex stories and challenging gameplay. Most casual games are just pretty, mindless time-killers... and that's what those players want. Some casual gamers LOVED the 3 Cards games and wondered why there weren't more games like them available, but many other casual gamers HATED the games. It's pretty hilarious if you read the user reviews on a site like Big Fish. People literally either love or hate the games – no one is in-between. Personally, I'm done with casual games. It was a frustrating and disappointing experience. Not only was the audience not ready for our types of games, they expect a ton of quality for a low price so you can't sell the games for very much money, and the distributors (like Big Fish and Gamehouse) take the lion's share of the revenue, so you have to have a HUGE hit to be profitable.
I hear a lot about casual games finding a bigger audience for adventure games, but Aaron's words paint a completely different picture. What do you think when you read the statement from Aaron, and what is your opinion on this discussion?
Steve: What I read into his statement is that he thought he could bring some kind of enlightenment to the casual masses with his superior storytelling in games. It's clear that he looks down on casual games and the people who play them and this is not a good stance to have when trying to make games for that audience. Casual games are different and so is much of the audience that plays them. This doesn't mean that they don't deserve every bit of respect I have. They are often people who have found their way into game playing from dabbling with match-3 and HOGs and experimenting with the games that expand the arena. In many ways the casual player is a purer game player because obsessions with technical advances, polygon counts and frame rates are practically never a consideration.
I like the idea of casual games, that they're reaching an audience that have different tastes and considerations. I like playing casual games, too, which puts me in a good position to write and design them. The beauty of casual games is that they're evolving fairly rapidly and because so many of them are relatively short it's easy to keep up with that evolution as a writer and designer. After just a few years of writing them, I've evolved my approach in keeping with these changes. I'm now creating the kind of story that would sit well in a more traditional adventure and the audience is responding positively to that.
It's easy to be dismissive of casual games when you're standing on the outside looking in, but from where I am they're a lot of fun to write for.
Ingmar: Back in 2008 I did an interview with you in which you made the following statement: "If Heavy Rain does turn out to be an adventure title (though with some action, judging by the footage I've seen) then future adventures will be judged by this, particularly in the eyes of reviewers, and may cause small budget developers to have to think differently." What comes to your mind when you hear that statement four years later?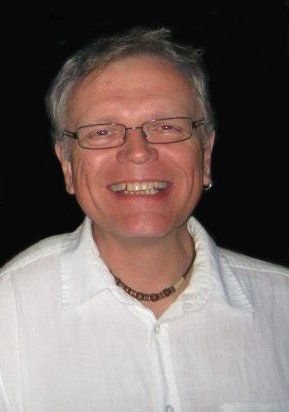 Steve: Both Heavy Rain and LA Noire (Noir spelled wrongly) have been interesting and valuable experiments, but we're not seeing a huge investment in this kind of game or gameplay. So clearly I had called it wrongly. What has had a bigger impact on how adventure developers view projects is the advent of the iPad. Never has a new platform been so perfect for the adventure genre than this. I think that adventure developers who don't take this and the Android platform into consideration when creating new games are seriously missing a trick.

Ingmar: What's your reaction to the groundbreaking Kickstarter campaign by Double Fine?
Steve: I think it's great that Tim Schafer will be creating a new adventure with Ron Gilbert – what's not to love about that? I nearly supported the Kickstarter project myself but when it quickly passed its target I changed my mind. I'd rather not have the updates on the game's progress and simply play the game when it comes out. Maximise the enjoyment. Tim Schafer is probably the only person in the world who could raise three million dollars for an adventure game.
Ingmar: Many other adventure game developers have followed their trail and more are about to follow. Your view on Kickstarter and its pros and cons so far?
Steve: I would say that if you launch a KS campaign you need to be prepared for constant updates, promotion and engagement with the backers. You need loyal fans who will help promote the campaign and act as advocates on your behalf. You need to instil in others the love the project needs.
Ingmar: Speaking of crowdfunding, Broken Sword 5 wasn't the only Kickstarter project you've been involved in personally. Sam Suede caused quite a drama between various parties when it appeared. Could you tell us the story of that whole Al Lowe/Replay Games/legal situation from your perspective?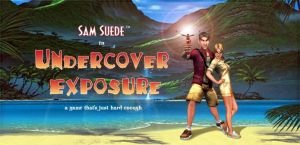 Sam Suede in Undercover Exposure
Steve: Because there have been threats of legal action surrounding the whole episode, I have to be a little careful what I say. Although a certain party behaved in a way that I felt was a betrayal to the wonderful adventure community, I tried to keep a level head throughout. It doesn't pay to add fuel to a fire. I will say, though, that Ken Wegrzyn and Wisecrack Games acted within their rights at all times. For the record, Replay knew of Al Lowe's involvement with Sam Suede long before the Kickstarter was launched and knew that Al not only had an agreement with Wisecrack but also gave his blessing to use his involvement as part of the Kickstarter campaign.
Ingmar: Was that controversy the main reason that Sam Suede failed on Kickstarter or do you have a different take on this? Does the project still have a future?
Steve: I think it's impossible to say for sure but I suspect that Sam Suede wouldn't have made its target even without outside interference. The thing that strikes me about big budget campaigns on KS is that they will only make their goal if the people involved have a loyal fanbase they can bring to bear. I hope Sam Suede has a future. I know that Wisecrack are looking at other ways to raise the money and I hope they're successful as it would be a great project to work on. I like the Wisecrack guys and it would be fantastic to do something with them.
Ingmar: For many years adventure games were declared dead. This may have changed to some degree with all these successful Kickstarter campaigns and many big franchises returning. What's your opinion on the current state of adventure games?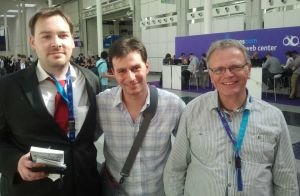 Ingmar Böke, Agustín Cordes, Steve Ince at gamescom 2012
Steve: I think there have been a good number of quality adventures in recent years, particularly if we look at the work of Daedalic and Wadjet Eye, two companies offering very different adventure experiences. I think adventures are in a pretty healthy state, but I do think that more developers need to look at broadening their release platforms in the way that Revolution are doing. Creating a system that enables simultaneous development across a wide range of platforms is the best way to move forward.
Ingmar: Adventure games often get criticized for being the only genre that never really evolved. Do you agree with that, and how far should adventure games evolve in the future to regain a similar status like they had in the '90s. Any ideas?
Steve: Adventures have clearly evolved and there will always be room for further evolution, but with such a solid style of game and interactive storytelling it's bound to be a slow process. It's somewhat akin to the slow evolution of the novel or of film, both of which remain fundamentally unchanged in their delivery for many years. I think one of the strengths of the adventure is that slow evolution. If it had moved much faster we wouldn't recognise them as adventures and they probably wouldn't be such a perfect fit for the new mobile platforms that have emerged in recent years. Now it's up to us to tell stronger and richer stories using a long-established format.
Ingmar: At gamescom you showed some very impressive material for another project you're working on, Caroline's Secret.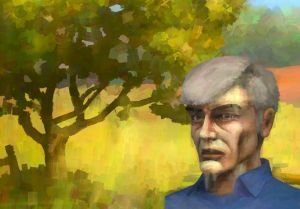 Caroline's Secret
Steve: Caroline's Secret is a project that's a loose continuation of Story to Nowhere I did a while ago. While it won't be necessary to have read Story to Nowhere, people who have done so will perhaps get a little extra from the game. The story is about Mike, who returns home after a few months away following his wife's death. He discovers something that suggests she had a secret he knew nothing about and sets out investigating what it could be, fearful that he may not have known the woman he loved as well as he thought he did. The art style is intended to be very loose and painterly. There has been an obsession in recent years with higher levels of detail (as shown by the recent retina displays) and I wanted the location screens to be beautiful as a whole and not a collection of details. In a way the images are like a "hi-res, low-res". I hope the whole thing will be very personal and emotional.
Ingmar: I read your book on writing for video games and I especially enjoyed it because it's straight to the point. Tell us about your feelings towards the book and how you approached this project.
Steve: Thank you. It always gives me a warm glow when I hear/read that people enjoyed reading the book. I was actually approached by one of the editors at A&C Black because they wanted to do a game writing book and after reading a couple of my articles thought I'd be right for the task. Very flattering, of course, but I still had to submit a book proposal then have a meeting with them to finalise matters. My first thought when I started writing it was to wonder how I'd ever write enough words on game writing to fill a book. So I approached it in a similar way to how I write and design games. Starting with the high level proposal, I developed each chapter in an iterative manner through a series of notes, rough versions to final version. The whole thing came together very well in the end and I loved writing it. Some people within the games industry missed the point of the book. I was asked to write a book that would give an existing writer a perspective on how their skills might fit within game development, which I did. There's probably a different book needs writing that takes a more in-depth approach to the game writing task. Perhaps one day...
Ingmar: Again, thanks a lot for doing this interview. It's always a pleasure to talk to you, Steve Looking forward to the next time!
Steve: Thank you. It's always a pleasure and an honour that you take such an interest in what I do.
Referenced Adventure Games
interview
Other articles you might enjoy