Following Freeware: April 2012 releases
This month the zombie apocalypse has arrived at your front door, and you'd better be ready for it. Over in the Ukraine, an abused mother searches for the strength she will need to rescue her lost son. Meanwhile, a warring family decide that happiness can be achieved through some most unorthodox travel arrangements. Finally, a fantasy world witch hunter seeks a way to locate an innocent girl. All this awaits you in this month's round-up of releases from the freeware scene.
 
---

The Kite
Living in a dilapidated apartment in the Ukraine, life is hard for Masha. She struggles to feed her son, Andrew, and her unemployed partner Oleh drinks too much and abuses her. When another failed job interview causes Oleh to attack her again, Andrew flees the apartment with the kite he loves so much. Trapped in the kitchen, Masha fears for her offspring. With the safety of her child at stake, she will risk anything to protect him.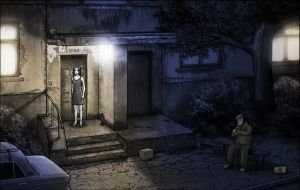 This first release from Anate Studio is a disturbing yet compelling tale. The graphics are presented in a realistic style, depicting the squalor of Masha's home in unpleasantly fine detail. Paint peels from the walls and the common hallways are full of rubbish and graffiti. To enhance this grim feel and the night-time setting, a muted colour palette has been used, with individuals rendered entirely in grey. Whilst movement does not always match the motion of characters' legs perfectly, the animations are of an equally high quality as the rest of the artwork. A selection of melancholy pieces from Beethoven, including "Fur Elise", form the soundtrack, together with appropriate sound effects.
Point-and-click controls are used, with a mouse cursor appearing over hotspots, whose buttons flash to indicate if you can interact or simply examine. You will talk both to Oleh and some of the other residents of your block, though only a few will assist you, usually for a price. Inventory is key to most of the puzzles, including trying to direct a wayward cat. There is also a math-based standalone puzzle. Given the domestic abuse at the centre of the story, this is not a light-hearted tale, and in keeping with the overall tone, the ending does not provide a clichéd happy resolution. Whilst swear words in text dialogue are partially obscured, the overall content makes this game unsuitable for children.
The Kite can be downloaded from the developer's website.

Choice of Zombie
For years, many books, films and games have been warning us about it, and now it has finally arrived. The Zombiepocalypse is here. Fleeing your home, you must seek shelter from the ravenous hordes and find companions that will help you survive. With the whole country overrun, making it to safety is not going to be an easy task. You'd best hope that the life you lived up to now has given you the skills you will need to make it.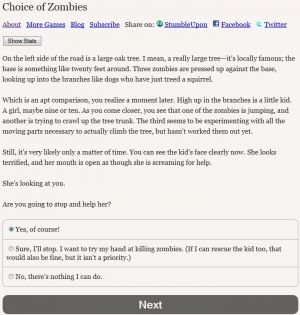 Choice of Games have taken a predominantly action-based ordeal and turned it into a wide-ranging interactive fiction adventure where every action has its consequences. The presentation is purely text-based, with black Calibri font clear against a beige background. Decisions are made by selecting a radio button from the choices on offer and clicking 'next' to advance the plot. The game tracks your place as you progress, allowing you to later continue from where you left off on the same computer. A button at the top of each page gives you access to your personal statistics, such as medical or firearms ability, and also provides a restart link for those who don't like the way their adventure is going.
Whilst there is some dark humour, this game is largely played straight as you attempt to get away. Near the start of the game, you are asked some personal questions about yourself, and answers to these set the majority of your individual stats for the remainder of the game. Your responses not only affect the choices that will later be available to you, but also the results of some of those choices. Players who have described themselves as unfit will suffer dire consequences from any choices requiring them to move quickly. The gender you choose also affects that of some characters, altering them to match or oppose yours for story purposes. The text is well-written and a variety of endings are available depending on player actions. You will also be rated on Selfishness/Heroism and Sensitivity/Bloodthirst in your final statistics.
Choice of Zombie can be played online at the developer's website.

subAtomic
After another pointless argument, a bickering couple decide the answer to their problems is to take their son on holiday. Opting to use the latest advance in space travel, Space Holidays via Accelerated Transport, they hope to travel to far-flung worlds. With its unique system of shrinking you to microscopic size and firing you out of an Accelerator, they will be there in a jiffy. There couldn't possibly be any risks that would make it more dangerous than conventional transport, could there?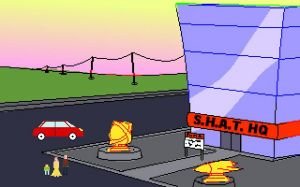 Murray Lewis and David Blake have created a game which, whilst small in many ways, is packed with humour. Made in 72 hours for the "Tiny World"-themed Ludum Dare 23, this adventure demonstrates what creative minds can achieve in a short space of time. The graphics are unashamedly crude, with the people especially rendered as bundles of large blocks. This simplicity of the graphics makes the basic animations effective, however. Good use of colour and some finer detail work on the backgrounds, including an unfortunate machinery fire, make for a clear playing environment. A retro sci-fi-style tune plays in the background, supplemented by sound effects such as the operating noise of the Shrink-a-Tron.
A tone of lightly dark humour runs throughout this game. Using simple point-and-click, you sometimes control the father of the family, alternating with scenes spent controlling the scientist operating the machinery. The cursor animates over hotspots, though the graphics also make them easy to locate, with left-click examining and right-click interacting. Inventory use is handled automatically, with the appropriate object being used when you click on a relevant hotspot. The simple puzzles range from the mundane operation of the travel machinery to surreal negotiations with a microscopic Carl Sagan and Albert Einstein. The latter half of the game also includes three possible solutions to resolve a major problem, with a slightly altered end sequence for each.
subAtomic can be downloaded from the AGS website.

Hood: Episode 3
I have finally tracked down the witch that has been plaguing this small village, and put her to the sword. The girl with the red hood, so reviled by the villagers, has been cleared of the charges against her. Yet this young girl is still missing, and all my conventional attempts to locate her have failed. As a witch hunter, my work here is done, but my conscience will not let me just leave. Perhaps the time has come to fuse magic and technology as I may need to take the search beyond this world.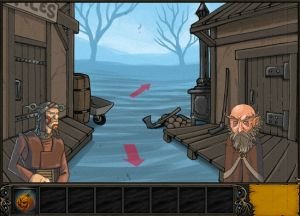 This latest instalment from Hyptosis continues where the previous episode left off.  The same watercolour cartoon style has been carried over from the previous two episodes, together with the distortion effects as if the images are a film projection. You will once again explore the wood neighbouring the village, as well as a mysterious portal. The overall tone of the graphics are muted as always, fitting the dark tone of the game.  Once again, a fairy-tale tune reminiscent of an old music box provides the audio backdrop to the adventure.
The overall operation of the game mirrors that of previous episodes, though with some refinement to the look of the interface. Only one item has carried over from the previous instalment: a magical pumpkin which produces interesting results when used on the environment. Seeking the aid of the local Fithling Scientist, you will construct a device that allows you to see hidden writings and use this to work out a way to open an ancient portal. Inventory, riddle-solving and some simple mechanics all play their part in this quest.
Hood: Episode 3 can be played online at Newgrounds.
 
---

Other new releases
Not all games are created equal, and freeware games especially come in all shapes and sizes.  Not to be overlooked, the following list might also be of interest, though these games may be significantly shorter or less polished, more experimental titles than those detailed above, some perhaps only borderline adventures to begin with.
JayisPonies by JayisGames – Hunt for pizza in this choose-your-own-text adventure based on the gaming website.
Sneak Thief 5: Final Five by Pastel Games – Has the Sneak Thief finally found the location of the prize he seeks?
Murder Most Grisly by Steptoe – In 1910 London, Lord Harrington has been murdered, and it's up to Detective Harry Faversham to solve the case.
Covert Front 4: The Spark of Life by Pastel Games – World War I spy, Kara, continues her pursuit of German scientist Karl von Toten to Lisbon Portugal.
 
---
That's it for this month. Think we've missed a gem or want to tell us about your own game? Then pop in to our Adventure forum and tell us about it!  (Note: With the recent site re-launch, there is no longer a specific forum for freeware adventures.)