Beneath a Steel Sky - Remastered
review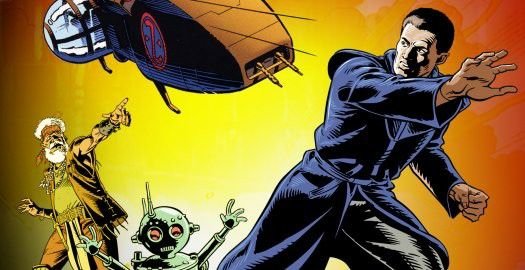 Game information
You might also like these adventure games
Advertisement
Adventure games by Revolution
BITMAP BOOKS
Technology has always been a double-edged sword. We can communicate with each other more easily than ever these days, but our communication is now less personal, and computers – devices that have enabled so many peaceful endeavors – were originally designed and enhanced for military purposes. Revolution's Beneath a Steel Sky is a game originally released fifteen years ago that offers a warning on what happens to a society that becomes overly reliant on technology. Funnily enough, it is our own advancements in handheld devices that make it possible to play this classic game anywhere from airplanes to parks to subway trains. A new "Remastered" edition of BASS has now been released for the iPhone and iPod Touch, and while the controls are slightly quirky (there's that double-edged sword again), the classic appeal of this oldie but goodie shines through even in the new millennium.
Beneath a Steel Sky is the story of an adult orphan named Robert Foster and his robot sidekick, Joey. Robert lives in a post apocalyptic-style Australia where cities have become isolated city-states and the barren, dangerous wasteland between them is referred to collectively as "The Gap". The Gap is where Robert has spent most of his life up to this point, being the only survivor of a helicopter crash outside the city walls as a child. Taken in by some friendly wastelanders, Robert built Joey out of spare parts and has lived a life of peace until now. However, in the newly-revamped opening cinematic, Robert's foster father details his vision of evil beneath the nearby city that he believes is coming for Robert! As if to punctuate this portent, helicopters immediately land, kidnap Robert and Joey, and heartlessly kill everyone else. Robert is unwillingly flown back to the city, where his bad luck with helicopters acts up again (or is it good luck in this case?). The transport crashes, Robert escapes with Joey's circuit board, and finds himself trapped in a strange and often hostile city many stories above the ground. Now the pair face the daunting task of escaping back to the Gap, along with finding out why Robert was kidnapped in the first place.
Since the game itself is essentially the same as the PC original, you can read our review of that version for detailed analysis of the story and gameplay. Revolution knew enough not to mess with a good thing in an enduring classic, so the main highlights here will focus on how well it's been ported to the smaller, much different platform.
The basic point-and-click interface actually remains fairly traditional, with hotspots on each screen that can be examined or manipulated. Robert can pick up items to use in his environments or try combining with other objects, and characters he comes across can be talked to. The key difference is that the controls are now all touch-screen based. Press your finger on the screen and any nearby hotspots will be indicated with pulsing blue circles. Release the screen over one of these circles and any available interactions will appear to examine, interact, and talk to accordingly. Touching one of these will make Robert perform the appropriate action on that hotspot. It's an intuitive system, but there are some minor hiccups; often the device thinks you've touched outside the icon, which makes them disappear rather than activate the one you want. It takes no time at all to try again, however, and none of the puzzles rely on fast reflexes. Just don't be surprised if once in a while you need to try using the same hotspot more than once to get it to work.
Accessing inventory is equally simple. There's a permanent icon in the lower left corner, and selecting this displays Robert's possessions. You can tap one for a quick description, or hold your finger on it for a second or two to "pick it up". The object's icon will then be draggable and appear above your finger on the touch-screen. Simply release it over the hotspot you wish to use it on and Robert will take it from there, either using the item appropriately or shrugging his shoulders if you're on the wrong track. Using one object on another in your inventory works much the same way, by dragging the first item over the one you wish to combine it with.
Conversation remains easy as well. After starting one with a character, your written dialogue options will appear on the screen. Simply click the one you like and listen to the result. And "listen" is meant literally here, as the game includes all the original voice acting and music. The vocal performances and characters hold up strongly after all these years, nicely supported by the remastered sound in this version. The only unfortunate issue is at one point in the game when almost an entire conversation has subtitles that don't match the voices at all. I don't remember if this was an issue with the original as well, but it seems odd it hasn't been fixed either way, since the mixup is impossible to miss if you have both voices and subtitles enabled. As with the general interface, you'll find some button pressing blemishes along the way, but accidentally clicking on the wrong dialogue option causes only a minor inconvenience in most cases.
Even the gaming experience itself is fairly easy as a whole. Not only is the interface simple to pick up, but Beneath a Steel Sky is a game that holds story well before puzzles. There are plenty of obstacles and challenges throughout the game, but the low number of hotspots in each location makes the solutions rather easy when compared to other adventures. That's not to say you won't get stuck once in a while. Pixel hunting has been all but eliminated by the game's hotspot interface, but it's not always clear exactly what Robert has to do next, and sometimes you'll come across an obstacle that is impossible to deal with until later in the game but gives no indication that this is the case. Often the solution is just to walk around the city and talk to everyone, even if you've thoroughly interviewed them before. Robert will frequently have more to say after talking to other people or discovering new information on his own. The only downside to this is that Robert walks rather slowly and backtracking can get very tedious.
If you really get stuck, the game offers an easy way around the problem in the form of a built-in hint system. A blue question mark in the upper right corner can be pressed to access answers to whatever puzzle you happen to be stuck on at the moment. It's context sensitive, which means it will provide hints only to the puzzles in your current location. This is a nice idea but has a bug or two of its own. For example, if you're standing outside a locked shed door it won't help you open the shed at all, but stand in the location where you need to use the item locked inside the shed, and the game will then walk you through what you need to do to get that door unlocked. Generally, though, the hint system fits the game well, for while BASS has a fairly open ended world, right down to certain characters wandering on pre-determined paths through the city, the puzzles themselves are fairly linear in nature. It should be noted, however, that the hint system is really more like an answer page. It doesn't provide gentle nudges or hints so much as directly tell you the answer to the puzzle, so make sure you've fully given up before using it.
The only graphical enhancement is in the updated intro movie and epilogue, drawn by comic artist Dave Gibbons of Watchmen fame, and these are quite impressive. The rest of the visuals are dated now, of course, but on a screen as small as the iPhone's they make an adequate showing. Robert and the other characters have a somewhat pixelated appearance, but their movements are believable and the voice acting gives them all plenty of character as it is. The backgrounds, meanwhile, are just as beautifully designed today as they were fifteen years ago, and still convey a great deal of the game's rich atmosphere.
Unfortunately, an inconsistency in the game's atmosphere is one of my few complaints about it. BASS seems to idly flip back and forth between silly humor and chilling danger. Right off the bat, Joey mocks Robert for plugging his circuit board into a vacuum cleaner, and then five minutes later a violent act occurs right in front of them, complete with a slight touch of blood and gore. One minute Robert is taking off his coat to reveal he's wearing a sweater with a teddy bear on it, the next he is in serious danger of being brutally murdered. This dual personality makes for a somewhat uneven experience where I wasn't sure how seriously to take the plot at any given moment. For every dark moment, there's one that wouldn't be out of place in a game as comical as Monkey Island. Yet despite the mixed tone at times, the story is solid with lots of fun (if not entirely unexpected) twists along the way.
There aren't many other changes in the remastered version. There's a button that allows you to email a friend about the game's existence, but one hardly needs a function to accomplish this. There's another feature that allows the game to post tweets on your Twitter account as you discover new things. It's an interesting idea, but the reality is that these tweets will likely amuse you more than anyone else reading them, even fans of the game. The only real addition to the story that I was able to discover is the brief animated epilogue after the closing credits. The animation has no voices or words, and is more confusing than anything else, but seems to hint that a long-awaited sequel might possibly be forthcoming. Perhaps after 15 years, the viability of platforms like the iPhone may finally help make that happen.
While it's one of the more expensive apps on the market at $4.99, Beneath a Steel Sky – Remastered makes a solid showing on its new platform and justifies its price admirably. Adventure enthusiasts who have never played the game have no excuse not to download this classic, and existing fans of the game will likely enjoy the new format. However, since the game is legally free to download for PC, it all depends on how important the mobile aspect is to you. One thing is for sure, at least. This enhanced port shows that the iPhone and iPod Touch can easily handle adventure games along with the more casual games they're currently known for. Technology may have been the bane of the city denizens in this game, but it has sure made my subway rides more entertaining for the last few days.
Our Verdict:
Beneath a Steel Sky – Remastered is great port of a great classic that still holds up after fifteen years, though with so few actual enhancements, its relevance all depends on if you want to shell out five bucks for the portability.


By Advie on Jun 25, 2012
a master piece , and one of the little appreciated SciFi Games in the history of Adventures
Read the review »


By Jaremaing on Jun 18, 2012
Great game, great story, and one of the best interfaces I've seen on my iTouch
I paid for the iPod version without knowing that the game was free, but after playing the free version, I'm glad I got this. The sound is so much better. The music sounds incredible, not...

Read the review »

review
Other articles you might enjoy