Thaumistry: In Charm's Way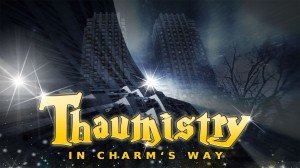 Eric Knight is a former child prodigy who now feels like a failure at the age of 23, and weird mechanical malfunctions tend to happen when he's around. Soon Eric discovers the existence of Bodgers, a group of people through whom magic flows into the world. Some Bodgers aren't aware of this ability, but those who realize their identity can learn to channel this mischievous magic. The aim of a Bodger is to make a small thing go wrong in order to make big things go right. Eric must determine whether he is a Bodger, but first there is an imminent danger to deal with. Another inventor has created a thaumeter – a device that measures magical energy. Its unveiling is planned for the end of day, and if that happens then the existence of the Bodgers will be exposed, and mass persecution will follow.
Stuck in
Thaumistry: In Charm's Way
, or looking for the best way to proceed? Click below to view our walkthrough for
Thaumistry: In Charm's Way
and wonder no more!
Note, these will contain spoilers.

Posted by Karlok on Oct 13, 2017
Modern "old-school" text adventure with excellent parser

Thaumistry is a modern "old-school" text adventure. There's a background story, but the focus is on solving puzzles, casting spells and interacting with NPCs. The puzzles are easy for the most part. I was stuck a few times though, and used the...
SELECT wt.entry_id as entry_id, we.entry_id as review_id, wt.title, we.field_id_46 as rating, wd.field_id_71 as series FROM exp_channel_titles AS wt, exp_channel_data AS wd LEFT JOIN exp_playa_relationships as rl ON (rl.child_entry_id = wd.entry_id AND rl.parent_field_id = 31) LEFT join exp_channel_data as we ON we.entry_id = rl.parent_entry_id WHERE wt.entry_id NOT IN (SELECT entry_id FROM exp_category_posts WHERE cat_id = 10) AND wd.channel_id = '2' AND wt.status = 'open' AND wt.entry_id = wd.entry_id AND wd.field_id_19 NOT LIKE '%Hidden Object' AND wd.field_id_85 != '0'  AND wd.field_id_76 = 'Science Fiction'  AND wd.field_id_75 = 'Text Only'  AND wd.field_id_22 = 'Text parser'  AND wd.field_id_19 = 'Text adventure'  ORDER BY rating DESC LIMIT 16
You might also like these adventure games