Adventure Gamers - Forums
Welcome to Adventure Gamers. Please Sign In or Join Now to post.
You are here: Home → Forum Home → Gaming → Adventure → Thread
Post Marker Legend:
New posts
No new posts
Currently online
Adventure Game Scene of the Day — Tuesday 22 October 2013 (NSFW)
WARNING! Graphic imagery follows! Sick Bastich, Inc., shall not be responsible for any damages due to the violent expulsion of stomach contents from viewing the scene below. Proceed with caution!
.
.
.
.
.
.
.
.
.
.
.
.
.
.
.
.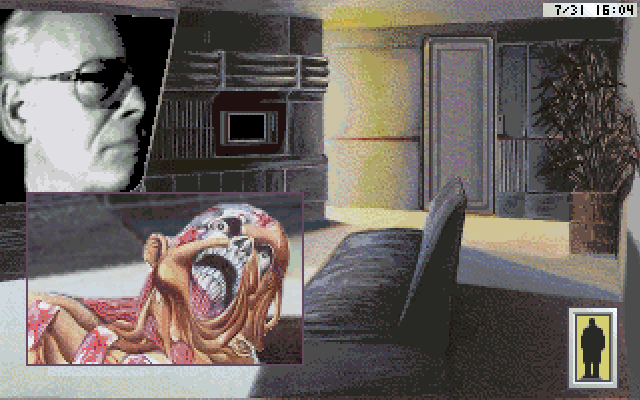 Today we have some nasty side effects, death probably being the worst, from a drug overdose in Rise of the Dragon (1990), a Cyberpunk game drawn in a comic book style that I really enjoyed back in the day.
While there are no drugs in real life that will melt you away like that at the speed it occurs in the game, Krokodil can make a decent attempt at it in its own way. I warn you NOT to click the previous link about Krokodil if you don't want to see something very disgusting and quite real. I'm dead serious on this one. It's extremely graphic and horrible. Don't say I didn't warn you.
at PKD's Scanner darkly there is drug that eats the brain just as fast
,substance-d it's name if I remember correctly
one of Sierra's failures! but (speaking of PKD) it proves that Blade runner is the greatest Sci-Fi ever .. on the game's devs I really never liked Dynamix, never understood why Sierra made up that branch , was it for the non-Adventure games and so to keep their trend clean (not sure),
also I need to mention as a positive thing for Dynamix ;they did a good job on Space Quest V.
Rise of the Dragon was ahead of its time. Graphic interface, real time, multiple solutions and paths, skippable action sequences… Even if Dynamix ripped off Blade Runner a bit, they still made one of the better cyberpunk games for DOS. Great attempt at dark dystopian future, although that's probably the only disturbing scene in the whole game.
PC means personal computer
I loved Rise of the Dragon! I loved Heart of China too. I thought Dynamix was doing some interesting and amazing things in the Early 90's. (Sierra didn't make them up, they actually bought them out and brought them into the "Sierra Family")

Bt
(Sierra didn't make them up, they actually bought them out and brought them into the "Sierra Family")


Bt
Thanks for this Clearing up ,but you didn't like thexder or did you?
I enjoyed Thexder and Silpheed, yeah! Those were "GameArts" imports from Japan.

Bt
Welcome to the Adventure Gamers forums!