Adventure Gamers - Forums
Welcome to Adventure Gamers. Please Sign In or Join Now to post.
Adventure Game Scene of the Day — Saturday 29 June 2013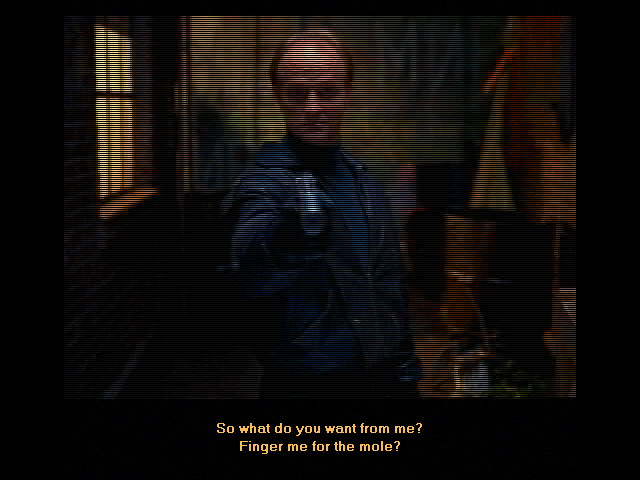 Spycraft: The Great Game (1996) was actually a pretty good game, featuring a much different variety of challenges than the average adventure game. If you are looking for a change of pace from endless inventory puzzles, it's a good choice.
If I recall correctly, the above screenshot depicts one of several scenes where you need to be careful of what you say or things can end badly. I should probably mention that the game has some action sequences though.
"Finger me for the mole?" - What kind of response is that?
"Finger me for the mole?" - What kind of response is that?
Now playing: Blade Runner (post-CPT) | The Witcher: Enhance Edition (on hold) | Danganronpa: Trigger Happy Havoc (on hold) | Professor Layton and the Azran Legacy (3DS)
Recently finished: Whispers of a Machine (CPT) - 4/5 | Beneath a Steel Sky (CPT) - 3/5 | 3 in Three - 3.5/5 | Puzzle Gallery: At the Carnival - 2.5/5 | The Fool's Errand (replay) - 3.5/5 | The Dig (replay) - 4.5/5 | Return of the Obra Dinn (CPT) - 4/5 | Beavis and Butt-Head in Virtual Stupidity - 3.5/5 | League of Light: The Game (CCPT) - 3/5 | realMyst: Masterpiece Edition - 2.5/5 | Contradiction - 3/5 | Tex Murphy: Mean Streets - 2/5 | The Last Express - 3.5/5 | South Park: The Fractured But Whole - 4/5 | Indiana Jones and the Fate of Atlantis (replay, CPT) - 5/5
I am pretty clueless too, I could think of two meanings.
Pointing finger = blaming me to be the mole (informant).
The other one I will not write down.
Currently playing: Stasis
Recently finished: Detective Grimoire, Portal, Tormentum: Dark Sorrow, Emerald City Confidential (CPT)
My game reviews and other stuff: Lux Atarnia
I thought it meant accusing (or blaming) him of being the mole.
I'm smart enough not to do a Google search though.
Give a man a fish and he will eat for a day.
Give a man a rod and he will sit on a boat and drink beer all day. - USA Network
Welcome to the Adventure Gamers forums!