Tom Stossno – The Adventures of Bryan Scott
interview
I was excited when I first read about an upcoming point-and-click adventure inspired by Broken Sword, as Revolution's classic has influenced plenty of us in our creative ventures and captivated many more. Its formula has been emulated more than a handful of times over the years, but since most have fallen well short, I tried to temper my enthusiasm about The Adventures of Bryan Scott. But when I heard that these developers were furiously attempting to copy the Broken Sword style right down to the music, plot development and the voice of George Stobbart himself, I was caught – hook, line and sinker.
Via Zoom, I recently had the privilege of spending many hours over the course of a week with Tom Stossno, owner of Radio Silence Studios and creator of the game. During that time I got an extensive behind-the-scenes look at the development process, learning all the ins and the outs of this incredible adventure game and witnessing first-hand the passion oozing from Tom and his team. The Adventures of Bryan Scott has shot to the top of my personal hype-o-meter.
I hope you enjoy the early video teaser below, but there's plenty more where that came from. Over the course of the game's production, we will be releasing more exclusive media treasures worthy of Bryan himself. But for now, let's get to know Tom and his incredible adventure a little better.
Joshua: Please share a bit about yourself, your company and your inspiration for creating adventure games.
Tom: Hi, I'm Tom, 31 years old, married and founder of Radio Silence Studios in Germany.
When I first played Broken Sword: The Shadow of the Templars in 1996, I was just seven years old. My father had to work a lot at his job at that time and usually came home late at night, so I could often play adventure games on his computer after primary school and homework. (Assuming I kept my mother's time limit. *laughs*)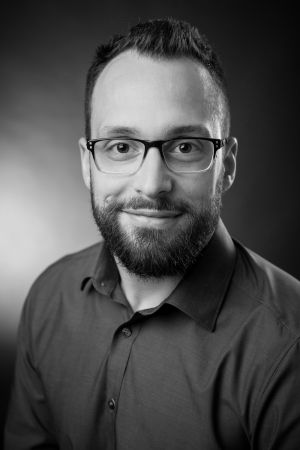 Tom Stossno
I can still remember how obsessed I was with progressing in the game and exploring the story. At that time the Internet was still in its infancy, so you couldn't just look for the solution if you got stuck in the game. It had to be a thick, printed solution book for 50 D-Marks. When I think back to the 90s, gaming has lost a lot of its special charm since then. And yet I believe that story-based computer games will never die out and will still be produced and developed in 20 years' time.
As an adolescent, I discovered my love for composing music and also the urge to write stories. I think it was just a matter of time before I felt the desire to create my "own" adventure game.
Every day I see so many talented people who implement their creative ideas, be it in films, music, pictures or even computer games. That motivates me a lot and I firmly believe that The Adventures of Bryan Scott will be a great game.
I originally founded the company for my work as a music composer. In addition to developing my own game, I've been working with an indie developer from Berlin for quite some time now, composing the music for their new game. Naturally, the soundtrack of The Adventures of Bryan Scott will also come from my pen.
Joshua: What can you tell us about the protagonist?
Tom: The hero of our story is Bryan Scott, a laid-back, calm guy in his 30s. Since the death of his father, it has been difficult for him to face life with the usual joy. Everything seems boring, familiar and anything but exciting.
Until the day when Bryan unexpectedly receives a small package, which turns his entire life upside down.
Joshua: How does it do that?
Tom: Bryan Scott, son of the late well-known archaeologist John W. Scott, receives a small package from the Near East, in which he finds a diary of the missing treasure hunter Kate Williams.
He discovers out that she has been looking for the legendary treasure of the Queen of Sheba, which is mentioned in the Second Book of Kings from the Bible. Bryan's father had searched for this treasure for many years as well, but without success. Not entirely voluntarily, Bryan travels to Africa shortly afterwards in order to pick up Kate's trail.
Woven into the actual story are elements of a father-son relationship that can only really unfold now that Bryan's father is dead. By following in his footsteps, gradually Bryan gets to know his father anew and begins to understand what drove him. There will also be a lot of bizarre characters, funny dialogues and challenging puzzles in the game.
Joshua: Can you give us a teaser as to some of the locations that we will visit?
Tom: Sure! We will send the player on a dangerous journey around the world, using many different locations. The first major setting will be Aksum, a city in Ethiopia. Other places on my list are the jungles of South America and an old castle in England. But I can't reveal more at the moment.
There is also something to say about our implementation of the animations. Many developers now rely on a mixture of frame-by-frame and skeleton animations such as Spine. We, on the other hand, use 100% classic frame-by-frame, as was the case in 1996 with Broken Sword.

Joshua: Are there any other tidbits regarding the game that will captivate people's interest?
Tom: Apart from the fact that Bryan is spoken by Rolf Saxon and (German voice actor for George Stobbart) Alexander  Schottky? *laughs* Yes, there will be a few other things.
For example, the role of Hugo, the little capuchin monkey who appears as Bryan's companion and helper. There will be special quests in the game that can only be solved with Hugo's help. I'm also planning to make Kate a more playable character.
Another personal highlight are the animated cursors for interacting with objects. Everything has been implemented with elaborately designed animations and already feels really finished.
Joshua: This game is obviously inspired by Broken Sword. Are there any movies that influenced you as well?
Tom: Indeed! I'm a big fan of the Indiana Jones films, especially the third part with Sean Connery as the father of Indy, which inspired me a lot. I like films that tell an exciting story, for example Minority Report or The Adventures of Tintin from 2011. And I have an absolute weakness for plots in which the protagonist is on his own, such as Tom Hanks in Cast Away, Will Smith in I Am Legend or Matt Damon in The Martian. Of course there are too many others to mention here, but that should be enough for today.
Joshua: The plan is to release the game at first on PC. Do you hope to port it to consoles?
Tom: That depends largely on the success of the upcoming Kickstarter and the response from the fans. Those who have already tried the game have asked about ports for PlayStation 4/5, which of course we take very seriously. I can't really estimate the cost of porting yet, but I'm in contact with some people who are familiar with it and can also support it. However, the game will be available for Windows and Mac for the time being.
Joshua: Thanks very much for sharing so much of your time to tell me about your game. When will we be seeing more of The Adventures of Bryan Scott and have the chance to support its production?
Tom: The Kickstarter campaign will be launched near the end of this year, with an expected release date for the finished game due sometime in 2023. That's the goal.
Thank you, and to all of the fans interested in our game. I cannot wait to introduce you all to Bryan Scott!
KEEP ME UP TO DATE ON

The Adventures of Bryan Scott
Subscribe to our newsletter and we'll keep you up to date!



» Check your e-mail to finalize registration!