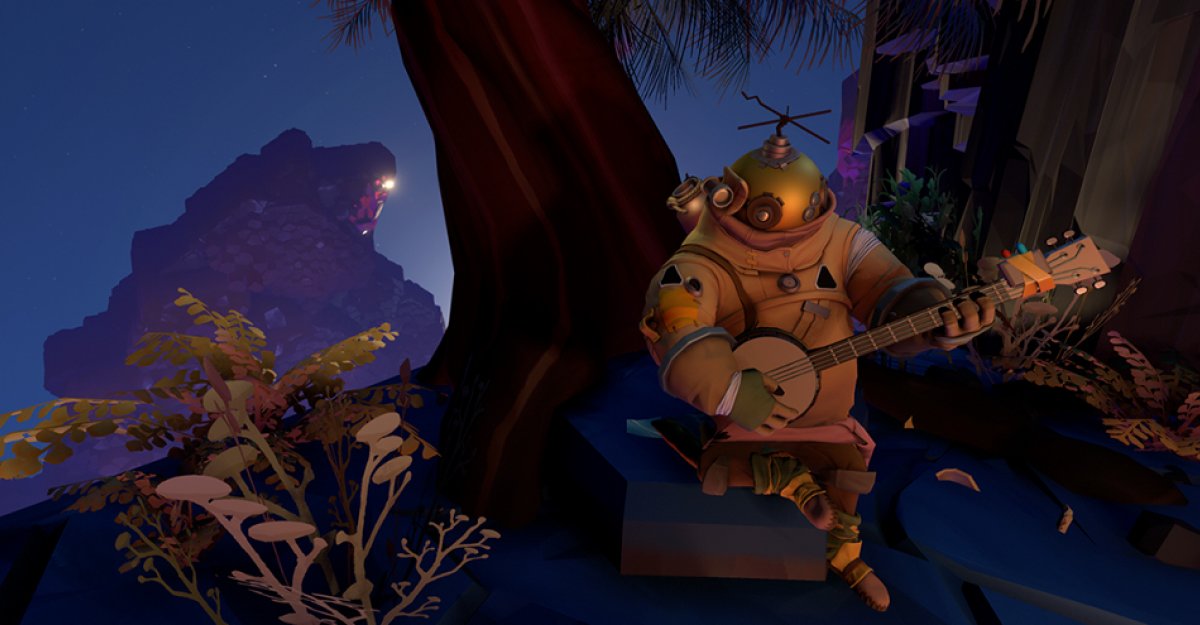 Game information
Adventure Gamers Awards
You might also like these adventure games
Advertisement
Adventure games by Mobius Digital
BITMAP BOOKS
Back in the 1980s, when Sierra was king, games had no problem with killing players off. Save early, save often was the mantra. Fortunately, designers eventually realized that constant game-overs and loss of progress was not very fun. So it's curious that over thirty years later, Mobius Digital would develop a game that doubles down on death while simultaneously throwing out the ability to save. Then again, no one ever said exploring a whole solar system whose sun is about to go supernova was going to be a walk in the park. The strict adherence to punishing real-time limitations in Outer Wilds will no doubt leave some feeling frustrated by this 3D exploratory experience, but there are diverse worlds and an intriguing mystery to discover that will surely garner a passionate following as well.
This is an odd adventure to review. Ordinarily it makes sense to evaluate a game's pros and cons to help provide people a sense of whether they'd enjoy it or not. Outer Wilds stands out in that the very elements that are an integral part of the charm for the people who will really love this game are the same ones that will be showstoppers for everyone else. This is a very well-made game with a specific vision that does not have a lot of middle ground between love-it and hate-it.
Players assume the first-person role of an unnamed Hearthian, a multi-eyed, blue skinned race that is just starting to explore its own solar system in steampunk-esque ships that look like they're held together with spit and baling wire. After taking off from your home planet, you're able to freely fly to any of a dozen worlds, moons, and space debris. During these exploratory junkets, you'll discover ruins left by an ancient civilization known as the Nomai. Or perhaps not. Space, you see, is very dangerous and you could well die before finding anything. I did before even getting into orbit by accidentally stepping from a high platform and plummeting to my doom. My second attempt wasn't much better as I wasn't sure how high I had to fly to escape the planet's gravity and ended up being pulled back down and crashing.
Death, as they say, is only the beginning, however. Upon dying the game rewinds. A weird alien TV monitor comes up on-screen and shows a sequence of stills from your latest run through the game, reversing until you wake up at your campsite next to the launch tower again. This Groundhog Day-esque time looping is at the core of the Outer Wilds experience. Every time you die (or quit), you are returned to the beginning again. If you want to resume your interrupted exploration, this means that you will have to take off (again), fly back to where you were (again), land (again), and walk back to the location where you died (again). Unless you'd rather simply strike off in a new direction, returning to your previous position later on, as at all times you are free to explore elsewhere should you so choose.
Outer Wilds actually has an impressive number of ways to die. There's death by spacesuit puncture (and asphyxiation), death by drowning, death by plummeting into the sun, death by being swallowed by giant alien anglerfish, death by being smothered by sand, death by "ghost matter" radiation, death by air tank depletion, death by spaceship explosion, death by autopilot navigation into a planet, death by impalement…the list goes on. Suffice to say there's a lot of dying. Generally speaking, most of these deaths can be avoided by taking your time and being methodical. However, the game gets you there too because the sun is on its own course for disaster. Even if you manage to not off yourself, the sun explodes after 22 real-time minutes, which, unsurprisingly, means another death and another start back in camp. Consequently, while all the environmental dangers will encourage you to be slow and cautious, the ticking countdown will forever be pushing you to move faster, faster, faster.
It's hard to gauge how much playtime Outer Wilds actually offers. It's all about exploration and learning why the sun is imminently going to explode and what, if anything, can be done about it. Clues and parts of the story have been scattered by the Nomai across the system. Learning everything you need will require thorough examination of all the stellar bodies that can be landed upon. Game duration will depend on how good you are at staying alive and how lucky you are at finding the places that must be explored. I clocked it at a whopping 42 hours (which, for you Douglas Adams fans, seemed appropriate for an adventure about the repeated destruction of a solar system). For a while I kept track of how long I spent just getting back to where I'd last died. By my estimate, of those 42 hours only about 14 went into actually exploring and unravelling the mystery. The rest of my time was spent watching the loop rewinds, backtracking, or waiting for the autopilot to take me to my next destination. To be sure, 14 hours is still a significant amount of gameplay, but not when it's watered down by so much repetition in between.
It's very easy to get frustrated with Outer Wilds. Often I felt it simply wasn't respecting my time. And yet it's hard to be angry with the game. In a way, its mystery only works because of the high prevalence of death. It would be a vastly different experience without the pressure to get as much out of each time loop as possible. This inherently restrictive nature is the singlemost important factor in whether you're likely to end up ragequitting or absolutely, undyingly loving this game. The rest of this review is for the latter – or at least those who still have an open mind about the possibility. For everyone else you can stop right here, because if the frequent unavoidable deaths and overall timed element is a turn-off for you, nothing else I can say will change your mind.
The key appeal of Outer Wilds is in delving into the mysteries the Nomai have left behind and learning how they relate to the sun's fate. Across the solar system are tidbits of observations and experiments they were conducting. As a member of the Outer Wilds Ventures space corps, part of your job is to investigate these clues to expand the knowledge of all Hearthians. Since these can be scattered across the different planets, it will require a fair bit of travel to find them. However, you can choose any world as a starting point to pick up the trail of breadcrumbs. There's no right or wrong way to proceed.
There's also no real direction given. Outer Wilds simply drops you into its scenario and expects you to decide for yourself which clues, rumours and leads to follow up on. Given that ultimately the game must be concluded within the allotted 22-minute window, the finale can actually be reached with a minimal set of actions. Of course, many of the secrets hidden away will first need to be found to provide the context within which to perform those actions. It's by no means necessary to discover everything, however, and depending on what you choose to pursue, you could miss out on huge chunks of content if all you're concerned with is getting to the end as quickly as possible.
To aid you along the way you carry several important tools. The signal scope can be used to detect radio frequencies around the solar system. As you aim it about, the radio sounds become clearer and a targeting reticle on-screen switches from red to green. The distance to the transmission source is also indicated, but it's a straight line distance. Following the scope will usually get you into the general vicinity of a signal, but you may have to figure out how to find the actual source itself, especially as some emitters are buried in caves under the surface. Signals run the range from other Outer Wilds explorers playing instruments, to distress beacons, to the mysterious emanations of quantum fluctuations.
Another main tool at your disposal is the scout launcher, a combination probe and camera. During your travels you'll sometimes find cracks or passages that are too narrow for you to traverse. Fortunately, you can throw your scout launcher into these and take pictures of what lies beyond. This often reveals something helpful about the off-limits area such as another tunnel opening, providing clues on how to access those places. The camera also plays a vital role in investigating various quantum objects – objects that randomly change locations when not being observed – but to say more would reveal one of the big secrets of the game.
As the newest member of Outer Wilds Ventures, you've also been given an experimental translator device. This is useful for reading the Nomai writings you find, which are displayed on walls as simple curved lines. In such fashion, the Nomai explorers left conversation transcripts and records in their ruins. Hovering the translator over them reveals what the writings say in English text. This also causes additional curves to sprout outwards, each of which can be read in turn.
Your final tool is the omnidirectional jetpack you wear. Different planets have different gravitational forces. In some cases gravity is so high that you'll need the jetpack just to jump short gaps or distances. In other cases, gravity may be so low that you'll find yourself drifting off into space and need to use the jetpack to return to solid ground. The jetpack only has a limited amount of fuel. After consuming that it can still be used but it starts to eat up your oxygen supply. Your spacesuit holds about eight real-time minutes of oxygen, but thankfully most planets have clumps of trees that will replenish your air supply. If all else fails, you can always return to your ship and refill both your oxygen and jetpack fuel there. In practice, I found I was dying so often that that the oxygen and fuel limits weren't particularly constraining.
Although it's not a tool per se, the most valuable asset you have is the rumour board in your spaceship. This is the only element of the game that does not reset with every pass through the time loop. As you read Nomai writings, the rumour board is updated with notes about the different planets and other space bodies in the system. It's basically a glorified, automated notepad containing all the hints, clues, and discoveries you've made so far. It also lists when there's more to discover in a particular area. It's helpful to have, although it would have been even more so had it been portable and not just confined to the ship.
Finding information, following up on leads, and exploring comprises the bulk of puzzle solving in Outer Wilds. There is no inventory to speak of, and only occasionally can an individual item like a message scroll or teleportation destination disk be picked up. These rare objects are almost always used in the immediate vicinity of where they're found. A few locations have glowing orbs set in tracks. Moving the targeting reticle over these orbs allows them to be dragged in their tracks, which produces simple mechanical results like opening doors. Really, though, the entire game is one large puzzle all driving towards its final conclusion, which has enough detail to be satisfying but also ambiguous enough to allow a certain degree of personal interpretation.
The solar system has a handful of planets, each of them remarkably different from the others. Dark Bramble, for example, is a planet that resembles a thorny mass of plant vines sprouting from a giant seed. Descending into the seed takes you into a fog-enshrouded environment where other seeds exist. Dropping into these, it soon becomes apparent that the planet is bigger on the inside than the outside. It takes careful navigation not to get lost in the thorny depths (or eaten by a ravenous giant creature).
The twin planets of Ash Twin and Ember Twin are another intriguing pair to explore. At the start of each loop, Ash Twin is covered in a deep layer of sand. As time progresses, a twister appears that blows the sand from Ash over to Ember Twin, a planet with a lot of belowground tunnels to explore. This adds another timed element to the process, as you can only venture inside Ember early on in the loop, before it fills up with sand. Similarly, you can only explore Ash late in the countdown once enough sand has been sloughed off to expose a series of otherwise buried structures.
The solar system is also home to the Interloper, a frozen comet that's hurtling about. Here, too, time is a critical factor. When the comet is far away from the sun, its surface is covered in ice. As it draws nearer the ice melts, granting access to hidden passageways within. Indeed, most locations have some manner of timed component where certain areas are only available at the correct time. Occasionally there are vague clues as to when these times of access occur. In other situations, you will have to get lucky by being in the right place at the right moment. I spent more than a few loops just hovering around planets watching for places to reveal themselves as time went on.
By and large your journey is a solo one, though there is a colony of Hearthians on your home planet of Timber Hearth that can be talked to for a few initial clues. As well, members of the Outer Wilds team are spread across the other planets. Some of them are easy to get to, while others require a little ferreting out. However, it's usually worthwhile seeking them out as they offer advice about what to look for on the planets they inhabit. Characters are unvoiced, so talking to them is done in typical dialog tree fashion, with different conversation options being listed at the bottom of the screen.
I never got any deep sense of characterization from the people I met, although with that literal deadline always looming, I tended to skim over what they were saying. The same holds true for the Nomai writings I found. There is an option to pause time while reading, but once I understood that the game would kill me in 22 real-time minutes, without the benefit of an in-game timer I found it more convenient to turn this option off so I could manually keep track of how soon the drop-dead time would arrive. Often if I only had a few minutes left in a loop, I'd find some way to kill myself rather than starting to investigate a new area.
Outer Wilds can ostensibly be played with a game controller, but I'm not sure how well as it completely got the axis controls on mine messed up and there was no ability to remap. Since much of the movement consists of flying the spaceship or using the jetpack, I suspect the more nuanced handling of a controller would work well. As it was, I had to use the keyboard and mouse. Both the ship and jetpack have thrusters on all sides, offering full freedom of movement (until you get into a gravity well, which causes you to always orient towards the surface). The thrusters, in theory, can be fired at different levels of intensity, but on the keyboard it's full blast or nothing, which causes more than a few difficulties in a late-game navigation of Dark Bramble.
Triggering the thrusters imbues you with a certain degree of momentum. This is most noticeable when piloting the ship in space. Steering the spacecraft so that it drifts to the left will likely later require steering back towards the right to balance things out. It's a tricky maneuvering system to come to grips with, and with the keyboard always applying full thrust I found it very cumbersome. Even after 42 hours of play time, navigation in low- or zero-gravity environments never became comfortable.
Visually the game lands somewhere between realistic and a cartoon. There is a certain degree of caricature to organic forms like the Hearthians, the vines of Dark Bramble, and the clumps of trees on different planets, while structures have a clean, simple look that is pleasing to the eye. All of the different astral bodies have some measure of dynamism, even if it's just the flowing of light and shadows caused by orbiting around the sun. Many places get more explicit animation, however, such as the sand funnel on the twin planets and a series of tornadoes covering the water planet of Giant's Deep.
The soundscape is filled out nicely with the rumble of thrusters, cracking of ice, whoosh of refilling oxygen tanks, and so on. The half-roar, half-growl of Dark Bramble's anglerfish is the second most heart-stopping effect in the game. The most fearsome sound is the twangy music that kicks in a couple of minutes before the sun explodes. You will learn early on that this music heralds the end of all things, so if you're in the middle of something it's best to get a move on. Beyond that, the music is sparse. Its catchy, eminently hummable main theme plays gently in the background when in deep space, while variations of the same are whistled or played by the other members of the Outer Wilds corps with drums, a banjo, a harmonica, or other such folksy instruments.
An overall score should always be the least relevant part of any review, but in Outer Wilds that is especially true. The question isn't so much whether the game is any good, but whether it's right for you. For many players, the constant death and time pressure will be dealbreakers. But for those who can tolerate the repetition and revel in the challenge of staying alive in a hostile environment, the game's layered mysteries and open exploration are guaranteed to richly reward. Either way, it could have been more user-friendly, with better keyboard/mouse controls, manual save option, a remote-access rumour board, and ideally even an instant transport option to your previous destination upon time resetting, with the appropriate time deducted. That said, the game knows what it wants to be and executes on that exceptionally well, making it a one-of-a-kind experience and a refreshing change from the norm.
Our Verdict:
For those who won't be deterred by the endless deaths and time-looped backtracking in Outer Wilds, its intriguing mystery and non-linear exploration of an entire solar system will be a novel and deeply engaging experience.
What our readers think of Outer Wilds
Want to share your own thoughts about this game? Share your personal score, or better yet, leave your own review!

review
Other articles you might enjoy