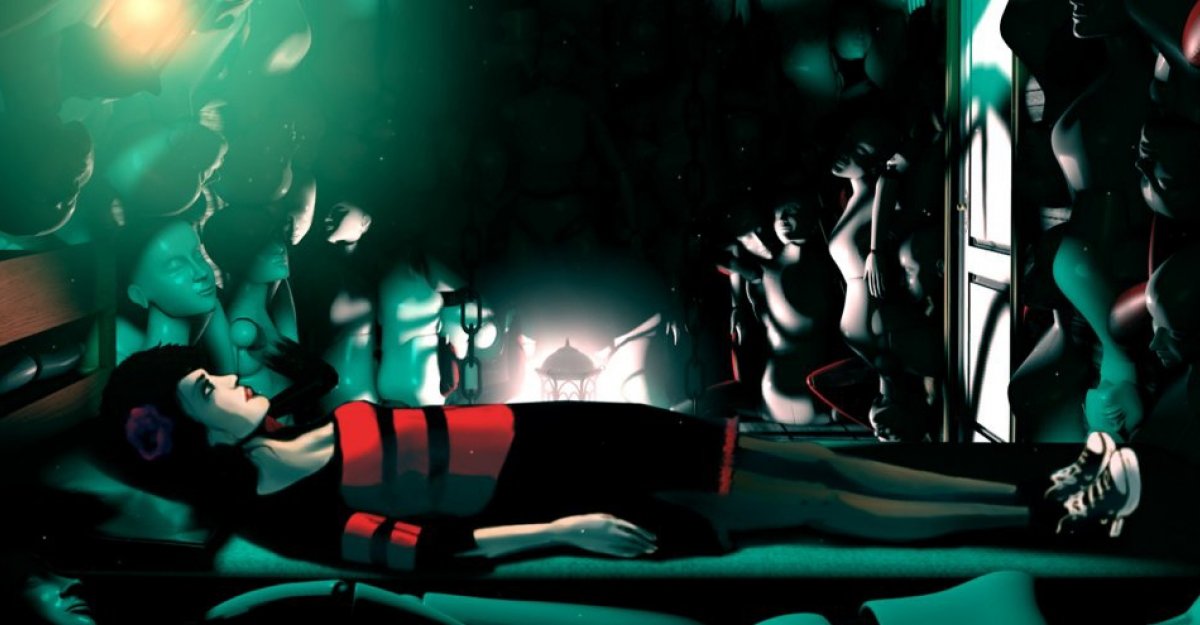 Game information
Adventure Gamers Awards
You might also like these adventure games
Advertisement
Adventure games by Harvester Games
BITMAP BOOKS
Coming-of-age tales can run the gamut from hilarious sex romps to near-puritanical-final-girl-escapes-while-her-partying-friends-die-in-the-woods slasher films. In the newest indie adventure by Rem Michalski (Downfall, The Cat Lady), you'll experience one young woman's transition to adulthood that uses disturbing psychological horror as a backdrop. Delivering a complex story with just a few pitfalls, Lorelai puts you through the ringer as you help the titular protagonist navigate the creeping foulness of her tragic home life. You'll encounter only a few traditional puzzles as you explore astonishing and shocking scenes conveyed through vivid art design and innovative camera work, but you'll be faced with poignant dialogue and gameplay choices throughout that add welcome depth to what could easily have fallen back on standard genre fare.
We first meet Lorelai on a bus as she's returning to her depressing brick apartment on Roseberry Lane. The scene that greets her at home stands in stark contrast to the street's sunny name. Miranda, her mother, sits blowsy and listless in front of a flickering TV. You get the feeling that Miranda isn't listening as Lorelai relates the trials of her first day of work at a nursing home (she bathed an old lady, was kissed by a ghost, and was told that she will die tonight; no biggie). But Miranda is dealing with her own issues, sporting a black eye she says she got from tripping on a carpet. Indeed, today seems like the nexus of bad events for this family as John, Miranda's hideous boyfriend, is still out drinking away his frustration brought on by the shuttering of the factory where he worked.
Despite this unfortunate tableau of events, many of the individual settings are inspired in their composition. After a fruitless conversation, Lorelai finds herself in a doorway framing the smoke-filled living room, her mom slumped on the sofa. To the left of the frame is the ominous silhouette of an empty stroller – a shadow that hangs heavy over the scene. Move further into the apartment and an infant's wails pierce the walls. It's Beth, Lorelai's baby sister, her voice hoarse from having screamed all day. The pain of the howling made me hesitate to proceed into the room bathed in cold blue light, dark shadows crisscrossing a lonely crib, but I made myself do it and was met with the terrible sight of the baby fallen out of its crib. Lorelai's life is one of a squalid sadness.
When her frozen dinner explodes in the microwave, Lorelai pledges to leave this wretched life behind and take Beth away from it all. But that desire is interrupted by the entrance of a drunken John. The game tells you there's a reason Miranda has stayed with this horrible man, as he's a war veteran who saved their family from destitution when Lorelai's father died. Even with that backstory, however, there's no getting away from the fact that this is an odious man with no redeeming qualities. A beast that is not only an alcoholic lout who clearly has anger management issues, but one who hates his own child and is a pervert to boot, hitting on Lorelai and demanding that she never lock the bathroom when she uses it. Gross.
From this point on, it becomes hard to tell what's a dream, what's a memory, and what's real life, since Lorelai's existence is so close to hellish. When you see John throw baby Bethany to the floor, is it really happening or a nightmare? The story devolves further into madness during the latter half of the game, which sees Lorelai moving between the world of the dead, where she meets with the Queen of Maggots, and the living world where she must decide whether she will help the Queen so that she can finally leave her horrible home life – but if she does, what price must she pay?
Getting around both worlds is easy enough. As with its predecessors, this game is a third-person side-scroller that you can navigate with a controller, although I played with my keyboard. The controls are simple, using the arrow buttons to move and E and Q to interact and observe hotspots, which highlight as you walk near them. There aren't a huge number of hotspots, but there are a few objects that you can pick up to help you overcome (or slash your way through) obstacles you encounter.
Most of the puzzles are inventory-based. As you gather items, you'll be able to use them in the environment or combine them with others, although you won't use the combination ability very often. Perhaps because they are so infrequent, the puzzles at times pulled me out of the story when they occurred. Instances where it seems Lorelai must quickly act to save herself or see if someone is hurt end up slowing to a crawl as you're given plenty of time to find what she needs, draining these moments of any urgency. Beware, though, as this isn't always the case. There is at least one sequence that I only realized was (apparently) timed after the fact when I paid with Lorelai's life for standing dumbstruck without acting quick enough. But even that payment wasn't overly painful as the game autosaves, and I was able to restart close to where I made the mistake. This only happened to me once, fortunately, and didn't seem to be repeated elsewhere in the game.
When the puzzles are good, they immerse you in an atmospheric feeling of horror – I don't want to think too much about what I had to do with a bloodied pig's head or a grasping hand frozen in a death rictus. But you're not just finding things and determining where to use them. You're also tasked with making decisions about what to say or how to treat the people you meet. At times your actions will affect a karma meter. It doesn't occur often, but occasionally I'd see text saying that my karma had gone up or down after solving a particular puzzle or making a choice, though there's no immediate feedback loop to indicate what such a karma change will do to your path through the story. Usually this meter exists strictly behind the scenes, but there is one section where the meter actually showed up at the top of my screen, though it appeared only briefly and didn't move up or down while present.
Similar to Michalski's previous games, you can impact the ending you get through the actions you perform to that point, but it's not entirely clear how this mechanic works unless you play the game more than once. Still, even the first time through I found it gave my choices weight, as I felt a need to check my impulses. In many adventure games, you're rewarded by just clicking and interacting with anything and everything. Here I would observe everything in my current environment, but then stop and think about whether I wanted to engage with something as it could have consequences, perhaps unintended, on what happens next. In one such example, you might think you're just idling harmlessly, but linger too long on one element in particular and it may just have an unexpected effect on a nearby character with an addiction.
The dialogue choices and actions required never felt forced to me. In my playthrough, there was always a particular way that Lorelai could act and speak that made sense to me, and those were the decisions I made. Because different options have an impact on the ending, I do want to replay the game, although making alternate choices might not feel as natural for me given that I lean toward a better-angels nature when roleplaying a character.
The backdrop to all of these dilemmas is a wildly varying landscape. From the nondescript apartment blocks, to lonely seascapes littered with flotsam and fishbones, to a derelict brick factory filled with hellish machinery belching smoke and draped in chains, this world is, at times, a living nightmare. Michalski brilliantly uses colors to evoke feelings and paint scenes very differently. Lorelai herself is all moody and adolescent, drenched in black and red, with two pops of hopeful red roses in her hair. Her untidy living room is clogged with thick yellow smoke, a miasma that drags your mood down to the depths. Elsewhere, Lorelai finds herself outside with the wind whispering amidst verdant grasses and fields filled with sunflowers that sway heavy and dark, silhouetted against a hazy ocher sky. Walk back and forth, however, and those sunflowers transform into jet-colored crosses backlit by a fiery orange, instantly turning the plain into a hellish giant graveyard. Later, when she comes back from a visit to the underworld, colors in her world have changed: Lorelai's room is a stark black and white, the walls adorned with smears of red blood as she looks at her own headless body.
Headless body? Well, yes. You might remember feeling like you actually wanted to die if you had to go to work at a job you hated and came home to a dysfunctional family when you were a teenager, but here Lorelai does actually die, or so it seems, after a particular bad day. Following her initial death (the first of many before the game is over), the world melts into a macabre landscape littered with decapitated bodies, countless naked mannequins, monstrous mutations, and a mounting body count. Navigating Lorelai through this foulness quite often had me holding my hand to my mouth as I forced myself to move forward. There are also quite a few jump scares. Trust me when I tell you to be careful looking into small spaces, and beware unexpected projectiles.
The game has many moments where the camera work and imagery are decidedly cinematic and break open the usual claustrophobic feel, such as when Lorelai goes into her depressing bathroom and looks into the mirror. The camera zooms into her face, but as it pulls away you see her not reflected in a mirror but instead through the window of a train as she daydreams a way out of the squalor – a brief respite of calm before John grossly barges in to drunkenly pee. Graphic distortion at times liquifies the screen. Videos and bits of pop culture make their way in as well, layering on a sense of surrealism as the discordant images of Donald Duck traipsing about an old TV screen mock you with their tinny happiness. While such visual flourishes can be brilliant, there are some shortcuts taken as well, where the screen goes black for characters to perform certain actions that have no animations.
The ambiance is deepened through the haunting tones of a woman singing of sadness each time you begin play. In-game, Lorelai listens to harsh metal music to escape her misery, while wailing musical distortion amplifies some of the most terrifying and stressful moments, building to a fever pitch when blood spills from a pierced throat, for example. And I won't soon forget the horrifying crunch, crunch, crunch that happened just off-screen before I approached a hideous monster.
Helping subvert the old trope of the hero always rescuing the princess when she sets out to do the rescuing, Lorelai's journey to adulthood is filled with trauma, depression, responsibility, and all-too-brief moments of joy. Capturing this range of emotional turmoil is an actress that beautifully voices her horror, resolve, and sorrow with a soft steeliness. She's nicely contrasted against some of the characters she meets in the nursing home, such as the dour Zoe and the bright and bubbly Maria, her fellow caregivers. Unfortunately Zoe's voice-over is a bit stiff, but she's a well-rounded character. She's relentlessly stern and comes down hard on Lorelai, but the more Lorelai gets to know her and the hopeless place she works in, the more she understands that this is a protective exterior developed to protect her from the sadness seeping from the elderly residents. Maria, though she seems in need of friendship and seeks it from Lorelai, has also developed an outer shell, in that she seems always in need of playing pranks (at times mean-spirited).
It's in these scenes at the nursing home where Michalski's life observations ring the truest and most poignant. The silent elderly resident Marjory sits vulnerable, wrinkled, and naked as Lorelai washes her. She's not just this frail, anonymous woman at the end of her life, though, as you'll hear about her experiences when she was young and in love. We learn of her time with her beau as bombs dropped around her city and lit it on fire. Such memories make it all the more despairing when you see how her life has ended up.
Back at home, Lorelai's neighbor Zack is an unassuming indie game developer (a fairly obvious author stand-in) who shyly hands her an umbrella for her first day at work. Talk to Zack a while and you'll experience one of the innovative ways that Michalski has interwoven gameplay. If you ask Zack enough questions, you'll not only hear descriptions of his games, you'll also briefly get to play them, like when I suddenly found myself playing as anthropomorphic gentleman dog lashing out at zombies with my own leash. Such tidbits don't just break up the oppressiveness of the story, they also add refreshing shades of detail to the character's background.
If you've had the pleasure of playing through Michalski's other games set in this universe, you'll be rewarded with cameo appearances by familiar faces and places from those titles, which isn't just fan service as they play key roles in Lorelai's themes of life, death, and rebirth. While you don't have to play those previous games to fully enjoy this latest standalone entry, they do add another welcome layer of depth.
The choice to help or defy the Queen of Maggots is similar to the one a different character was given in The Cat Lady, and Michalski really fleshes out this choice nicely in Lorelai. For example, as the protagonist tries to complete a task the Queen has given her, you're given insight into a particular character and see that his life choices have been complicated and not at all straightforward. You learn a lot about his character and really yourself as well as you choose a path for Lorelai to take.
If only we had seen this same level of depth in John's character. John is one of the game's major villains, but in his sexist and vileness he is so one-note that a scene toward the end nearly pushed me to shut down my computer. I couldn't figure out how to escape the scene, and it played for minutes at a time with John attacking Lorelai. The sound of his punches was horrifying as they pounded into her face over and over again as he unleashed a torrent of horrifically misogynistic abuse. Violence against women is sadly a very real threat, and ultimately I discovered a way to move forward, but I found the excessive brutality repeated unavoidably here to be a misstep for the game.
Eventually Lorelai must face a final showdown with her antagonists, but this was so much less interesting to me then her interactions with the nursing home caregivers and residents or her small intimate moments with Zack. The Queen of Maggots storyline is so convoluted with dreams within dreams that they removed me far from Lorelai's real life, to which I kept wanting her to get back. In one of these dreams, you encounter a mysterious character whose insertion made little sense to me. He is introduced so late in the game that I felt no connection to him even as the game asked me to make life and death decisions about him. A better balance and connection between the dream and real worlds would have moved the game into the very top category for me along with The Cat Lady.
Having said that, Lorelai does move beyond a straightforward coming-of-age story in a variety of ways. It delves into symbolism and mythology through its imagery, the repeated use of mannequins calling to mind marionettes being controlled by a puppet master, and shades of Persephone sealing her destiny after eating fruits of the underworld. And one of the very satisfying things I found in exploring this universe a third time was the distinct echo of the first two games. I kept having small moments of deja vu and little instances where I thought, ah, everything now makes sense!
Over the course of eight harrowing hours, Michalski again shows himself to be an artist who is able to build beauty out of horror. Puzzles take a back seat to relevant choices you must make about how to interact with this world and the people you meet. While Lorelei's journey becomes a bit of a convoluted mess once she crosses death's threshold, the world and characters, including the protagonist's personal development, more than make up for it. It's not this developer's best, but I definitely recommend Lorelai for those looking for a thoughtful exploration of love, survival, and the horrors of growing up.
Our Verdict:
It's a little rougher around the edges than Michalski's previous masterpiece, but if you're looking for a coming-of-age story with an edge that laces the banalities of a troubled life with pure elements of horror, then don't be afraid to enter Lorelai's nightmare.
What our readers think of Lorelai
Want to share your own thoughts about this game? Share your personal score, or better yet, leave your own review!

review
Other articles you might enjoy