Florian Köhne – Trüberbrook
interview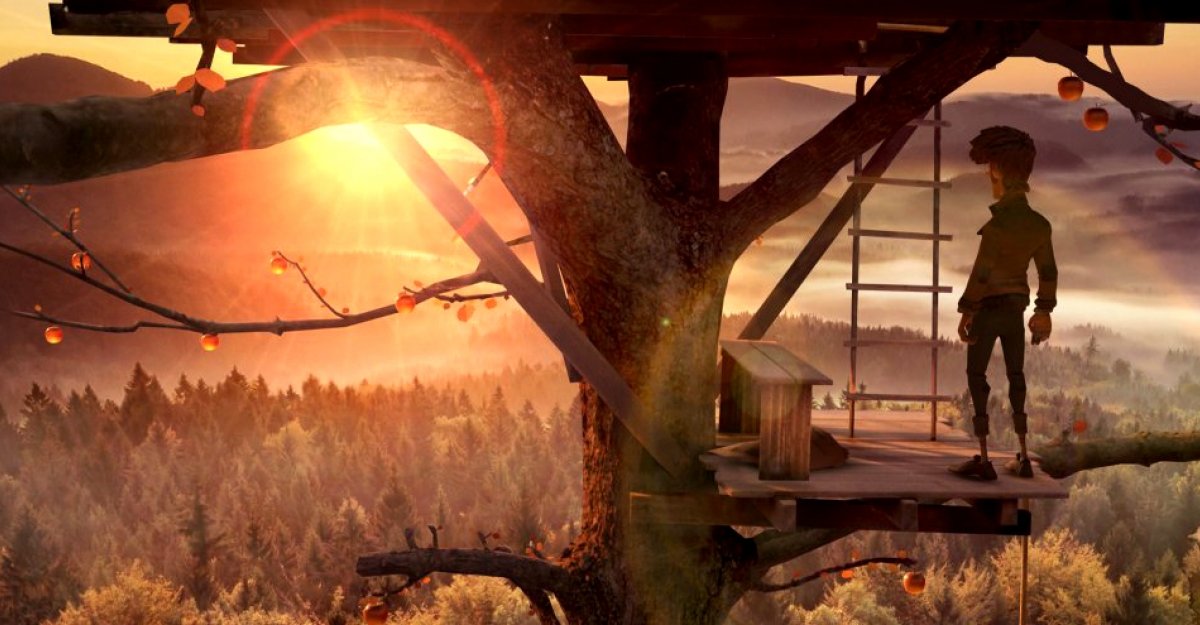 When btf launched a Kickstarter campaign for its point-and-click adventure Trüberbrook in late 2017, the German studio blew past their original funding goal of 85,000 Euros within a mere 30 hours, ending up with more than double the original target. And it's not hard to see why, given the game's combination of computer generated animation and gorgeous miniature hand-crafted sets of an intriguing rustic setting. With Trüberbrook's release on Windows, Mac, and Linux due on the 12th of March, with console versions to follow on the 17th of April, there's no better time for a closer look at what's to come. Read on as designer/director Florian Köhne takes us to the quirky village of Trüberbrook and shares behind-the-scenes insights into the creation of btf's sci-fi mystery adventure.

---

Ingmar Böke: Hi Florian, it's a pleasure chatting with you here at Adventure Gamers! I assume that many of our readers know btf from your upcoming adventure game Trüberbrook. As a German, though, I primarily used to think of btf as a production company of award-winning TV shows and documentaries in Germany. How did the Trüberbrook project happen, and what can you tell me about your own background, and the rest of the Trüberbrook crew?
Florian Köhne: Thank you, Ingmar!
Well, as a company, we like to lay hands on different genres and media, ranging from TV and film to music videos, exhibition design – and also video games. When I started working at btf more than five years ago, I had a very early draft of Trüberbrook in my drawer. So when one day we casually talked about that concept, everyone was willing to explore the idea of creating an adventure game set in Germany with a strong mystery vibe and hand-made scenery. That's how it started. I took some time to flesh out the concept, the story and the game design, and applied to the Medienboard Berlin-Brandenburg for funding to get things started.
btf's Florian Köhne (left) with Hans Böhme
I have a background in graphic design and animation, and worked as a designer on different projects at btf before starting my work on Trüberbrook. Before that, I had the chance to work a lot with miniature sceneries and stop motion animation during my studies. I also learned a bit about game design and have always been a fierce fan of classic adventure games. So the idea of creating a game that would be inspired by some of my favourite TV series, combined with a passion for hand-made environments, puppets and stop motion wasn't really that far-fetched.
In the core team, we are five people working full-time on the game, including Lead Artist Hans [Böhme] and developer Simon [Sommer], who were both hired fresh out of their graduations for the project, as well as producers Lea [Gamula] and Darius [Cernota]. Depending on which stage the project was in, the team of course grew and shrank now and then. Naturally, there was a lot of reinforcement from btf's nucleus of artists, who usually work on different projects in the company, like animators, sound designers and set designers. But I also brought a lot of friends and former classmates to work on and contribute to the project.
Ingmar: Trüberbrook takes place in a fictional German village. Please introduce us to the setting, story premise, and your inspirations.
Florian: The year is 1967. The game is set in the village of Trüberbrook, a run-down health resort somewhere in rural Germany. American physicist Tannhauser, the main protagonist, arrives on a beautiful summer's day, hoping for a relaxing vacation and a well-deserved break from university. But as soon as he falls asleep in his cozy bedroom in the folksy guesthouse Waldeslust, his paper on quantum physics is stolen by a mysterious burglar! Tannhauser teams up with Gretchen, a student of paleoanthropology, who herself is on a hunt for a spine-tingling ritualistic site in the area. It soon becomes clear that there is more to the village than meets the eye.
The story that follows may or may not include: mad scientists, underground laboratories, dinosaurs, aliens, sea monsters, secret agents, ghosts, parallel universes, time travel, artificial intelligence, medieval knights, a lot of strange villagers and a cat named Klaus. Also, in the end someone needs to save the world.
The game is inspired in parts by TV series like The X-Files, Twin Peaks and Star Trek, built on a solid basis of German folklore and a Heimatfilm atmosphere. It also draws a lot of inspiration from the great classics in adventure game history, as well as many personal experiences from growing up in an area much like Trüberbrook.

Ingmar: How likely is it that we'll see more games from btf in the future? Do you have an interest in exploring other genres as well, or would you prefer to stick with traditional adventure games?
Florian: Though adventure games may be close to us, as we are familiar with storytelling, we thirst to venture out and explore other genres and forms of gaming, as we feel we have just scratched the tip of the iceberg yet. There is still much to learn!
Ingmar: Thanks a lot for taking the time for this interview, Florian. Much appreciated, and all the best with Trüberbrook's impending release!
Referenced Adventure Games
interview
Other articles you might enjoy