Florian Köhne – Trüberbrook
interview
When btf launched a Kickstarter campaign for its point-and-click adventure Trüberbrook in late 2017, the German studio blew past their original funding goal of 85,000 Euros within a mere 30 hours, ending up with more than double the original target. And it's not hard to see why, given the game's combination of computer generated animation and gorgeous miniature hand-crafted sets of an intriguing rustic setting. With Trüberbrook's release on Windows, Mac, and Linux due on the 12th of March, with console versions to follow on the 17th of April, there's no better time for a closer look at what's to come. Read on as designer/director Florian Köhne takes us to the quirky village of Trüberbrook and shares behind-the-scenes insights into the creation of btf's sci-fi mystery adventure.
 
---
Ingmar Böke: Hi Florian, it's a pleasure chatting with you here at Adventure Gamers! I assume that many of our readers know btf from your upcoming adventure game Trüberbrook. As a German, though, I primarily used to think of btf as a production company of award-winning TV shows and documentaries in Germany. How did the Trüberbrook project happen, and what can you tell me about your own background, and the rest of the Trüberbrook crew?
Florian Köhne: Thank you, Ingmar!
Well, as a company, we like to lay hands on different genres and media, ranging from TV and film to music videos, exhibition design – and also video games. When I started working at btf more than five years ago, I had a very early draft of Trüberbrook in my drawer. So when one day we casually talked about that concept, everyone was willing to explore the idea of creating an adventure game set in Germany with a strong mystery vibe and hand-made scenery. That's how it started. I took some time to flesh out the concept, the story and the game design, and applied to the Medienboard Berlin-Brandenburg for funding to get things started.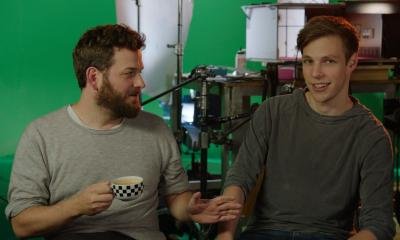 btf's Florian Köhne (left) with Hans Böhme
I have a background in graphic design and animation, and worked as a designer on different projects at btf before starting my work on Trüberbrook. Before that, I had the chance to work a lot with miniature sceneries and stop motion animation during my studies. I also learned a bit about game design and have always been a fierce fan of classic adventure games. So the idea of creating a game that would be inspired by some of my favourite TV series, combined with a passion for hand-made environments, puppets and stop motion wasn't really that far-fetched.
In the core team, we are five people working full-time on the game, including Lead Artist Hans [Böhme] and developer Simon [Sommer], who were both hired fresh out of their graduations for the project, as well as producers Lea [Gamula] and Darius [Cernota]. Depending on which stage the project was in, the team of course grew and shrank now and then. Naturally, there was a lot of reinforcement from btf's nucleus of artists, who usually work on different projects in the company, like animators, sound designers and set designers. But I also brought a lot of friends and former classmates to work on and contribute to the project.
Ingmar: Trüberbrook takes place in a fictional German village. Please introduce us to the setting, story premise, and your inspirations.
Florian: The year is 1967. The game is set in the village of Trüberbrook, a run-down health resort somewhere in rural Germany. American physicist Tannhauser, the main protagonist, arrives on a beautiful summer's day, hoping for a relaxing vacation and a well-deserved break from university. But as soon as he falls asleep in his cozy bedroom in the folksy guesthouse Waldeslust, his paper on quantum physics is stolen by a mysterious burglar! Tannhauser teams up with Gretchen, a student of paleoanthropology, who herself is on a hunt for a spine-tingling ritualistic site in the area. It soon becomes clear that there is more to the village than meets the eye.
The story that follows may or may not include: mad scientists, underground laboratories, dinosaurs, aliens, sea monsters, secret agents, ghosts, parallel universes, time travel, artificial intelligence, medieval knights, a lot of strange villagers and a cat named Klaus. Also, in the end someone needs to save the world.
The game is inspired in parts by TV series like The X-Files, Twin Peaks and Star Trek, built on a solid basis of German folklore and a Heimatfilm atmosphere. It also draws a lot of inspiration from the great classics in adventure game history, as well as many personal experiences from growing up in an area much like Trüberbrook.
Ingmar: How was the idea for this particular setting born?
Florian: We noticed that a lot of games seem to rely on well-established settings. You can find, for example, many games created in Europe that take place in the United States, as most players from around the world can relate to that – given the fact that the US has been a dominating factor in popular culture and movies in the past century.
So when we thought about a setting for the game, we tried to look at places that we are familiar with, places we can tell stories about, and tried to turn this familiarity into something exotic, something that might be appealing for people who haven't seen this before. Like, isn't the German province bizarre and strange enough for someone who didn't grow up with it? Doesn't it look weird from the outside, through the eyes of an international visitor who was just dropped there? Well, that's Trüberbrook.
The town of Trüberbrook is kind of a stylized, condensed version of many different small German villages, like something that could have been seen in romanticized German Heimatfilms. Of course, this conveys a clichéd image of Germany, which was intended to present the idea a bit better. I grew up in a small town at the edge of the Teutoburg forest, and Trüberbrook draws a lot of inspiration from that area. But during the game's creation, I also visited a lot of small towns in other remote German mountainous areas, like the Harz and the Eifel, and Trüberbrook became a fusion of different features one could find there.
The setting in sixties cold-war Germany is an interesting background for a mystery story, as there's the smoldering conflict between two very different post-war German countries, the constant dangers of a foreign threat, competing intelligence agencies, the race to the moon and so on. Of course, all of this enhances the atmosphere and the feeling of seclusion in that little village.
So taking these premises and mixing them up with a plot that could be straight out of a sci-fi movie was very tempting and probably – or hopefully – not done too often before. We wanted to mix different genres, to make the game entertaining yet exciting, funny and a bit scary as well.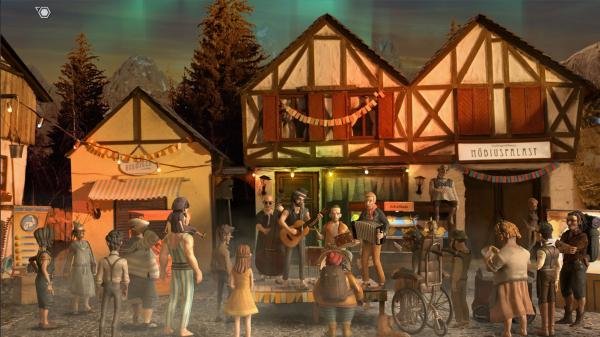 Ingmar: What can you share about the design philosophy behind the game, its interface, and its difficulty level?
Florian: The main concept of the game is definitely inspired by the great adventure games from the good old days. Though it's a mystery game, I like to think that it draws a lot of humour from the classic LucasArts games. On the technical side, we have a classic coin interface that allows the player to interact with the environment, like objects and other characters. The player can also obtain items and utilize them in the environment. Additionally, from an artistic point of view, we wanted to preserve the idea of long distance shots, which was quite usual in the early days of graphic adventure games, and in our case helps underline our hand-made sceneries, emphasizing the impression of peeking into a little diorama or dollhouse.
Apart from these common features, we wanted to make the game accessible for today's gamers, especially players who have no long history of playing adventure games, allowing more people to experience an entertaining and exciting story. Most of the puzzles are designed to advance the story, and less to ponder on how to find the right solution or to cause frustration or headaches on the way. We want it to be fun, without the moments of frustration that can happen with harder puzzles from time to time. But of course there are also some puzzles for the die-hard adventure game enthusiasts, which we believe are a bit harder to solve.
Ingmar: All of the scenery has been built by hand. Please tell us more about the technical creation of Trüberbrook, ranging from the early stages to the final game.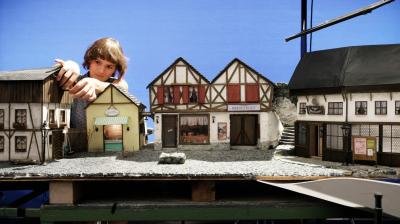 All Trüberbrook sets have been painstakingly hand-crafted
Florian: Right! Most of the scenery you see in the game went through our hands at one point or another. Every detail, ranging from the smallest cobblestone to the tallest tree, including houses, rooms and gigantic caves. As all of these sceneries were built by hand, there is very little room for adjustments or iterations after a particular set is finished being built. This is why the process needed a lot of planning beforehand: when creating the story, the characters and the puzzles, it was important that we come up with precise sketches of the scenes, so that everything important for the story, the world lore and the puzzles would find its intended spot.
There was a team of six insanely skilled and passionate set designers who built more than twenty sceneries in total, all with their hammers, saws and glue. Some of the scenery models grew unexpectedly large and heavy, and since of course our space was limited, we had to do the filming in blocks every few weeks – like four or five sceneries per weekend – and then stow them away to have room to build the next few sets.
For the process of digitalization, we would first create a particular light setup – like, say, an evening setting, using a lot of lights, just like a real film set. We would do some master shots of this particular light setup, which would later be the basis for our textures. The next step would be to take up to 400 photos of the whole set in a neutral or diffuse light setting, the more angles the better, and have software create a 3D model of the whole set. After that, we would then reproject our textures – the ones with the realistic, real lighting – onto the photoscanned 3D model.
The last step would then be to recreate the whole light setup in-engine, so that our digital characters and objects match the real light from the set. This last step was by far the most laborious and delicate process, as it marries the real world with the digital world.
Ingmar: Along with using real lighting to simulate different hours of the day, you also have a particular way of embedding real weather conditions into the environments. Can you give us a better understanding of these production elements?
Florian: Once a set was built, it was comparatively easy for us to set up a different time of day, a different season or different weather conditions. We would usually just redecorate and relight the set differently and the whole atmosphere would be completely different. In most cases, we wouldn't even need to do the 3D photoscan again, as we could use the same photogrammetry data from the first light setup, since the geometry of the set remained largely unchanged. Naturally, our experience grew with every scenery, which is why the later miniature sets are a bit more advanced in terms of our own workflow. Anyhow, depending on the story, we utilized this technique to depict the village, for example, during broad daylight, in the evening or at night – or to show changing weather during the progress of the story.
Ingmar: What were the biggest technological challenges that you've encountered during the development of Trüberbrook?
Florian: We always feared that our digital characters wouldn't match our hand-created environments and that the game would look like a cheap bluescreen or like a collage. We did quite a few experiments to proof that it was possible, but we didn't expect the whole process to be so extremely laborious. Part of the challenge was the pre-recorded shadows in our textures, which came from the real lighting and looked quite good in the photos – but we had to make sure that our digital characters wouldn't cast a doubled or second shadow on these already shadowy areas.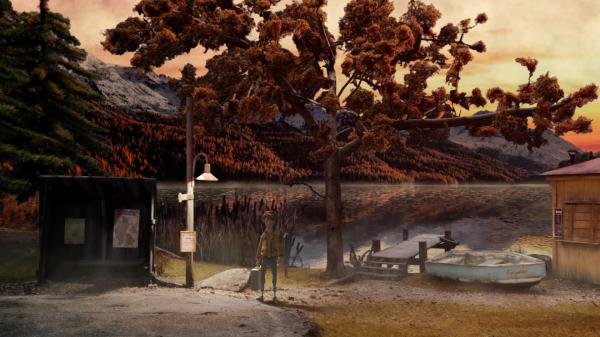 Ingmar: Technology aside, as this is your first big game, what have been the most important lessons that the production of Trüberbrook has taught you about game development?
Florian: No matter how well you planned your timetable, no matter how big the time buffer – in the end, you'll always need more time. And even when the game is finished, it is not finished. In fact, it is never really finished. At least that's my impression.
Ingmar: The PC version of Trüberbrook uses a traditional point-and-click interface. What about the interface of the console versions? To what degree does Trüberbrook feel different if you're playing it on a PS4 or Xbox One?
Florian: We always had the controller in mind when we started creating the game. It is not an adaptation of the point-and-click-interface, but a genuine approach to transfer the experience to a completely different interface. The character is controlled directly with one of the thumbsticks, while the other stick controls the character's direction of view, snapping to points of interest. It feels different, yes, and both interfaces are fun! The PC version even allows you to fluidly switch from the mouse to the controller in-game.
Ingmar: I understand Trüberbrook contains a Kids Mode. Please talk about the specific differences between this mode and the regular version.
Florian: Though small children are not our core target group, we really liked the idea of parents playing the game together with their kids. We originally implemented the Kids Mode to avoid surprises in certain situations, like sudden violence or explicit language. However, the game turned out to be quite kid-friendly in general (even though some of the more dirty-minded players claim to have witnessed sexual references – and yes, there may be the consumption of alcohol), so right now the Kids Mode only converts Tannhauser from a unhealthy smoker to a healthy non-smoker, but we are thinking of expanding the features of the Kids Mode even further.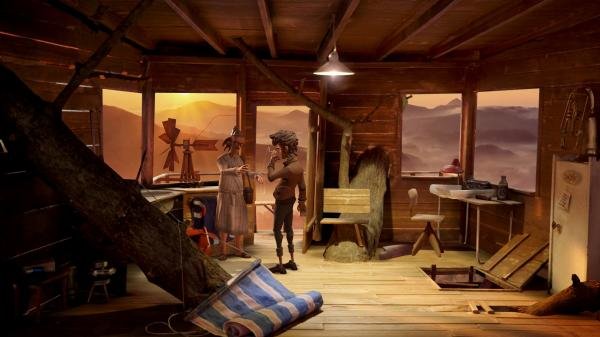 Tannhauser is a smoker by default, but with Kids Mode on he'll have to butt out!
Ingmar: Would you say that the game's humour works on different levels, depending on how much knowledge players have of historical, political, and cultural aspects of Germany?
Florian: The game draws a lot of its humour from the bizarre setting and even more bizarre characters, which I like to think can work in a universal way. There is also a lot of humour coming from references to literature, TV shows, movies, video games, certain celebrities and so on. But of course some of the humour deals with that very special time period in Germany. There are some hints concerning German traditions, myths and legends, and even German cuisine as well, which might all be funnier to those in the know, but at least funnily bizarre enough to those who aren't.
Ingmar: The voice cast features several people that are well-known in Germany, including late night host Jan Böhmermann and actress Nora Tschirner. If I'm not mistaken, the English version of the game uses the same voice talent as the German version. What was your approach for the English dubbing?
Florian: Yes! As the game is set in a rural German village with characters who are not used to speaking English all the time, we wanted them to keep their natural accents in the English version. So I decided that all characters in the game (apart from the main character Tannhauser) would be voiced by the same actors in both the German and English versions of the game. This way, we've created genuine villagers with more or less noticeable German accents, which feels somewhat natural for a formerly well-visited touristy spa town.
Some of the characters were created with a particular actor in mind, secretly hoping she or he would be interested in taking the part. For example, when writing the character of enigmatic inventor Lazarus Taft, I always had the voice of singer Dirk von Lowtzow in my mind, so I was really excited when he agreed to take the part. This was also the case with Nora and Jan. I would like to point out that I am so very happy with all of our voice actors; I would always want to work with every single one of them again.
Ingmar: Speaking of Jan Böhmermann, btf produced two freeware adventure games that were related to his show, both of them having a strong vibe of old LucasArts classics. Please talk about your "career" as an adventure fan and share which games particularly left an impression on you.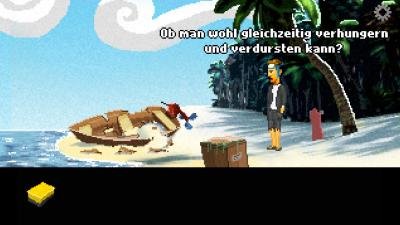 Scene from one of btf's German-only Neo Magazin freeware adventures Game Royale 2: The Secret of Janni's Island
Florian: I grew up with all of the LucasArts classics, and so did most of the team involved in the Neo Magazin adventure games: Maniac Mansion, Monkey Island 1, 2 and 3, Day of the Tentacle, Sam & Max Hit the Road, you name it. I also particularly enjoyed the Broken Sword and Kyrandia series. In later years, I revisited the genre more than once, starting with the Telltale games, which I felt were a revitalizing and fresh take on the genre. I was enchanted by Kentucky Route Zero, strongly impressed by Virginia, blown away by Firewatch and deeply moved by Life Is Strange – all of which were released while we were working on Trüberbrook and thus certainly had some influence on our development. And of course Thimbleweed Park, which felt like coming back home after a long journey.
Ingmar: btf are no strangers to storytelling in other forms of media. How do you feel about the strengths, weaknesses, and unused potential of video games as a storytelling platform?
Florian: Strengths: I like to think that probably the most important, but also most obvious strength is the interaction and immersion you can experience in a video game. You not only identify with a character, you become the character to some degree, and you control her or his actions. That's a huge part of the fun.
Weaknesses: I have experienced that, at least from an artist's perspective, it is much harder to stay in control of your work or your vision. You can, for example, work on a movie and edit it over and over until you are really satisfied with the result, and then release it out into the world – in the end you always know what it will look like in cinema, TV or on the home screen of your audience, at least to a certain degree. But with a video game, especially if it is released on different platforms, with different performances on the machines, with options for resolutions, graphics quality and audio settings, and most important with players whose movements and behavior you cannot predict as they take their own routes in their own time, you may lose a certain degree of control over the intended experience, if you consider aspects like dramaturgy or suspense. But this may only be true for linear storytelling games. Because on the other hand, it is also one of the greatest strengths and part of the fun of open world games like Red Dead Redemption 2.
Ingmar: How likely is it that we'll see more games from btf in the future? Do you have an interest in exploring other genres as well, or would you prefer to stick with traditional adventure games?
Florian: Though adventure games may be close to us, as we are familiar with storytelling, we thirst to venture out and explore other genres and forms of gaming, as we feel we have just scratched the tip of the iceberg yet. There is still much to learn!
Ingmar: Thanks a lot for taking the time for this interview, Florian. Much appreciated, and all the best with Trüberbrook's impending release!