A full overview of all adventure games released in the Thimbleweed Park Series. These can be episodes, remakes/remasters or sequels, created by either one or several companies. As long as the IP is used, we'd quantify this as part of a 'series'.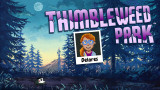 Delores is back home and working as a photographer for the Nickel News. Thimbleweed Park hasn't changed at all in the year she's been away… or has it? Sample Ron Gilbert's new adventure game engine in this free prototype that uses "found art" from the award-winni...
» Full game details
Android, iPad, iPhone, Linux, Mac, PC, PlayStation 4, Switch, Xbox One
Thimbleweed Park is the curious story of two washed up detectives called in to investigate a dead body found in the river just outside of town. It's a game where you switch between five playable characters while uncovering the dark, satirical and bizarre world of Thimbleweed Park.
» Full game details