A full overview of all adventure games released in the Neofeud Series. These can be episodes, remakes/remasters or sequels, created by either one or several companies. As long as the IP is used, we'd quantify this as part of a 'series'.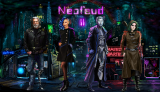 A coup d'état against the posthuman, immortal Neofeudal Royalty has resulted in a tentative return to a long-forgotten world of "Democratic Republics", "Equality, Liberty, Fraternity", and "Rule of Law". But the ultrarich do no...
» Full game details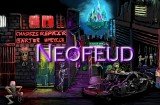 It's 2033, and humans have become genetically engineered supermen, while most sentient robots are now humanity's unwanted bastard children, dumped into a massive landfill known as "The Pile". Karl Carbon is an ex-cop, dishonorably discharged from Coastlandia P...
» Full game details