A full overview of all adventure games released in the Freddi Fish Series. These can be episodes, remakes/remasters or sequels, created by either one or several companies. As long as the IP is used, we'd quantify this as part of a 'series'.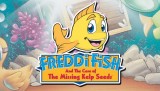 Grandma Groupers kelp seeds are missing and without them all of the sea creatures will go hungry! Good thing Freddi Fish and her finny friend Luther are on the case, and, thanks to a couple of bumbling sharks, theyve got some great leads. But the ocean's a big place--theres lots of ground to cover a...
» Full game details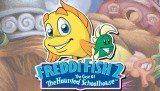 Everyone knows there's no such thing as ghosts... so who is haunting the schoolhouse, taking the toys and practically scaring the scales off of all the guppies? Good thing super-sleuths Freddi Fish and Luther are on the case. Their plan: Build a trap to capture and expose the phony ghost. To reach t...
» Full game details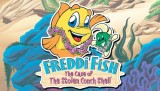 The Great Conch Shell has been stolen and it's up to Freddi Fish and Luther to catch the culprit! All is well on their tropical vacation, until the finny friends realize that Great Conch Shell is missing! Uncle Blenny can't open the Founder's Day Festival until the heralded horn has been recovered!...
» Full game details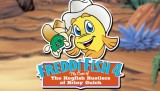 Freddi Fish and Luther are saddling up for the Wild West. Cousin Calico's prize-winning hogfish have been fiendishly fishnapped by some hogfish rustlers. Freddi Fish and Luther resolve to find the rustler's hideout, rescue the hogfish, wrangle those rustlers, and discover the identity of the mysteri...
» Full game details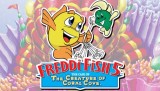 Join Freddi Fish and her best friend, Luther, for the grand opening of beautiful Coral Cove Park. But wait! A mysterious sea creature has been seen lurking inside. If the park is to open on time, you have to help Freddi and Luther find the clues, solve the puzzles and get to the bottom of this water...
» Full game details