Adventure Gamers - Forums
Welcome to Adventure Gamers. Please Sign In or Join Now to post.
Gamechuck Interactive Comics
Hi, everyone!
I'd like to present this unique new kind of adventure game I'm making - an interactive comic! It's like a PnC adventure, but follows the rules of comic books (in the most basic level it means that the entire story is told inside comic panels, so everything you see can later be printed out as your own 'playthrough' comic when you're done.)
This title "All You Can Eat" is the first in (hopefully) many such games, a short comedy about a guy living in an all-you-can-eat diner: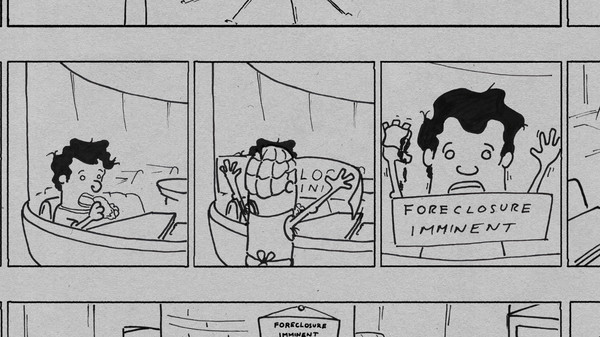 It's a short game with very simple PnC puzzles so you can finish it in around 30-40 minutes and it creates some 50-ish comic book pages in PDF form, depending on how you played. Here's another still from the game: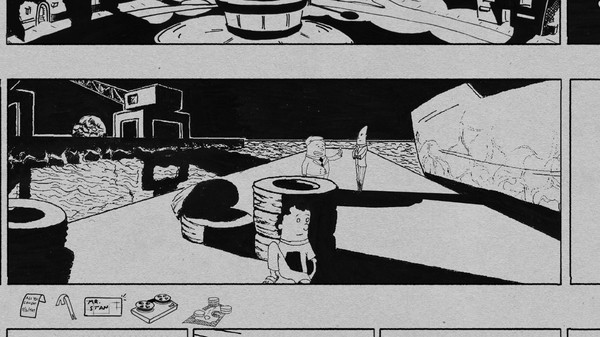 It's available on Steam here and today it's entering its second week of sales.
There's also an audio commentary feature so you can hear us talk about some decisions, such as using the 180-degree rule for dialogues, etc: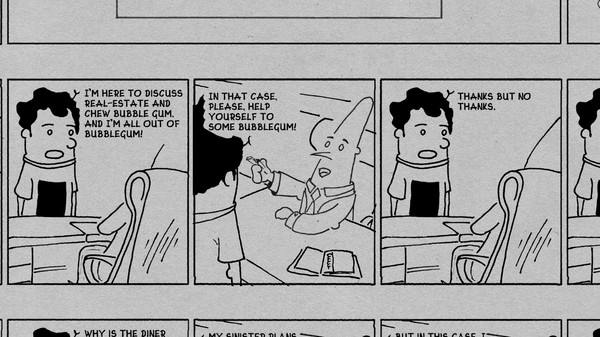 Anyway, after this game hit off with a nice start, I'm hoping to expand on this 'new genre' and make more games that can be printed out as comics. I'd like to create some in full color, some with multiple endings and branching storylines, some in the fashion of 'making your own superhero origin story' and so on, and so on…
If you're interested, check it out and give me some feedback! Thanks a lot!
Cheers,
Gamechuck
Played it, and loved it! Great work!
Thanks a lot!!
I'm very glad that people love it, all of the Steam reviews (for now…) have been positive, and the only thing people say they don't like is the duration (it's too short for them - just 30-40 minutes).
The short length was in part intentional because we're just trying out this new genre and it's good to start small and see how the audience reacts to it. The next one will probably be a much longer and more expansive experience, I think.
The game is now also available on itch!
Cheers!
Hello, everyone!
It's been almost two years since we launched our first game. Thanks to everyone who supported it!
Anyway, we got a new game coming out soon and several other interactive comics in production so we'd like to share the news with you.
vApe Escape
vApe Escape is a point-and-click adventure in a science fiction comedy setting. The player takes control of an innocent ape who must escape the sad destiny of becoming a vape dispenser machine for the wealthy hipsters of the universe.
vApe Escape was a Humble Bundle Original in November 2018 and now it's coming out on Steam and Itch.io for PC on 15 March for free so if you want to see how our concept of interactive adventure comic book games works, you can wishlist it and try it out for yourself. Let us know what you think.
All You Can Eat, vApe Escape and our upcoming adventure The Lot are comedy adventure games with visuals trying to imitate the look and feel of daily comics.
The Lot
The Lot revolves around Harry Hunter, freelance parking attendant, who has to find a freeloading owner of a blue Mustang in his parking lot and make him pay for the ticket.
Sol Invictus Stories: The Heist
Sol Invictus Stories: The Heist is a gritty cyberpunk noir adventure game about rag-tag team of hackers who are willing to risk everything for one big payoff.
The Sidekick
The Sidekick is our take on the superhero genre, in which you play as a sidekick to Justman, in a quest to save the world (and also find out why daddy left mommy
)!
We plan to release these games by the end of the year.
What do you think? Which of these so you like the best? Will you try vApe Escape? We'd love to hear your feedback, comments and questions.
Welcome to the Adventure Gamers forums!