Adventure Gamers - Forums
Welcome to Adventure Gamers. Please Sign In or Join Now to post.
Group P - The BAG VS Tournament
**********************************************
Points 7pt 5pt 3pt 2pt 1pt
1. Full Throttle 170 13 12 4 3 1

************************************************************************************

2. Discworld Noir 109 6 8 8 1 1

************************************************************************************

3. The Last Express 90 5 7 5 1 3

************************************************************************************

4. The Book of Unwritten Tales 70 4 3 4 6 3

************************************************************************************

5. Quest
for
Glory II
:
Trial by Fire 60 6 1 3 1 2

************************************************************************************

6. Runaway 3
:
A Twist of Fate 47 1 2 4 6 3

************************************************************************************

7. Gone Home 39 1 3 2 4 3

************************************************************************************

8. Danganronpa 2 31 3 0 2 2 0

************************************************************************************

9. Drawn
:
The Painted Tower 13 0 1 1 2 1

************************************************************************************
p41
Vote for up to five games you'd like to see advance to the next round.
First choice (7 points)
Second choice (5 points)
Third choice (3 points)
Fourth choice (2 points)
Fifth choice (1 point)
Voting for this group will end on 31st December at 23:59 GMT. The four games with the most points will advance.
Not sure what this tournament is all about? See the Overview thread here. Join in and have fun!

The Last Express
Ladies and gentlemen, please pay attention - the Orient Express is about to depart from Paris! Do I hear somebody playing a violin? This game is a true real-time adventure set in 1914, just before the First World War, in a concrete historical and geographical environment. As you gain control of Robert Cath, time begins to flow. If you fail to solve a part of the mystery until the train arrives at the next station, certain events might follow which will lead to a premature and disappointing ending. You cannot die or get stuck in the game, as you can always rewind the clock and try playing any period of time again. Along with some detective work to do and a couple of inventory puzzles, your main task in the game will be to listen to people's conversations, to talk to them, and to solve the mystery by finding out more information about the bizarre case. There are also some action fighting sequences in the game.

Discworld Noir

This is the third and last PC game based on Terry Pratchett's popular fantasy universe. And it's still top-notch, even though Rincewind is nowhere to be found, and light-hearted humor has been replaced by forboding atmosphere and shady characters. The one thing that it has in common with its predecessors, though, is the sharp British wit… and droning dialogues that seem to take forever. It's set in the most depraved city in the Discworld, Ankh-Morpork, where the sun never shines (because it is always night). You play Lewton, a downtrodden P.I. who was once a member of the Watch until he was fired for accepting a bribe. The beautiful and mysterious Carlotta just hired you to find Mundy, her ex-lover. As you start looking into Mundy's disappearance more missing persons start turning up dead with yours truly as the prime suspect. Throw in a missing artifact, some shady underworld characters, and the ex-girlfriend who broke you heart, and you have all the elements of classic Raymond Chandler noir novels. In a refreshing break from the recent trend of 3D adventures, it's a traditional third-person adventure with a few novel twists. In addition to the standard point-and-click interface, you have a notebook that contains a list of suspects' names and clues. By clicking on one of these and then clicking on something else in the environment that you think relates to it, if the two things are related, you will gain new insights that often lead to new clue(s) appearing in the notebook. Its interesting plot and characters, great interface, and challenging puzzles really brings Lewton's world to life, and make the game's weaknesses seem trivial.

Full Throttle

You are Ben, leader of the Polecats, one of the toughest and meanest biker gangs on the road. You must use your wits sometimes, but more often you must use brute strength, have a bad attitude, and resort to plain old-fashioned thievery to solve the problems you encounter. Full Throttle also adds some arcade sequences. There is one place where you ride your motorcycle around and around on an old mine road, beating up other motorcyclists to gain more powerful inventory items with which to beat up yet other motorcyclists. You also participate in a demolition derby where you have to steer clear of other cars to reach an objective. The puzzles in this game are easier than usual because most of the inventory items get used in the same chapter in which you found them. There's lots of interesting characters (plenty of cliches, but put to good use). The cartoon-style animation is great and the cutscenes all look nearly TV-quality.
The Book of Unwritten Tales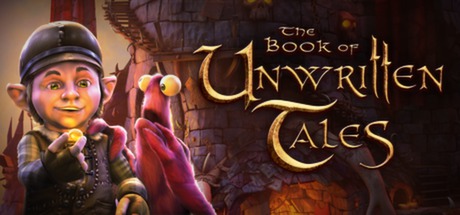 The first thing you notice when looking at this game are the excellent visuals. The scenes are packed with details and in a style that makes you wonder if you're dealing with cartoony 3D models or hand-drawn backgrounds. And as it turns out, the developer is using both of these techniques, meshing them so skillfully that the transitions are practically indiscernable. In a fantasy world ravaged by war, an elderly gremlin guards an artifact that can decide the fate of the world; an army of darkness trys to snatch it and crosses paths with three heroes, who stumbled into the adventure by accident earlier. The protagonists include the little gnome Wilbur; the elf princess Ivo; a human adventurer named Nate. Players can switch the controllable character at any time, and depending on which character is selected, the game even has alternate solutions to certain puzzles, including some that can only be achieved by working together as a team. The game is designed to be a parody taking place in the world of adventure, RPG and fantasy, filled with weird characters and dark humour. If The Lord of The Rings, Indiana Jones or World of Warcraft mean anything to you, you will immediately appreciate the rich game world, with references, allusions, gags and self-irony lurking around every corner.

Drawn: The Painted Tower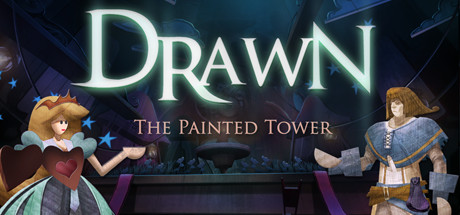 In a bleak world, legend tells of a child queen who will one day rise to give hope to a world filled with despair. In Drawn, you must unlock riddles and solve puzzles as you work your way to the top of The Painted Tower in order to save the young girl who would be queen. A tyrannical king's closest advisor and sorcerer has foretold of a gifted child who will be his undoing! The king has sent forth his men to round all the infants, but a young girl has been hidden in a tall tower at the distant edge of town. Years later, the king discovers the girl and places an evil spell on the tower. Help her escape his grasp and fulfill her destiny. There's a contrast between the dreary, hopeless "real" world with the rich worlds of paintings born of imagination. The higher you go in the tower, the more the rules are thrown out, from giant statues of snails to rooms in a stone griffon's mouth. The Painted Tower is the first installment in the Drawn story that promise an amazing gaming experience.

Quest For Glory 2: Trial By Fire

The sequel to the first Quest for Glory game takes place in the town Shapeir and the desert surrounding it, in a Middle East-like environment. It seems that the powerful elemental spirits have been troubling the Shapeir folk recently. Something, or someone, is behind those troubles. It is your task to find out what is going on, to get acquainted with the many inhabitants of Shapeir and to prove once more you are worthy of your heroic title! Just like its predecessor, "Trial by Fire" is an adventure game with text-based interface, puzzles to solve, and characters to talk to, mixed with a role-playing character development system and battles. You can play as either a fighter, a thief, or a wizard, and also become a paladin in this game. The combat is action-based. You gain better parameters by fighting enemies, training, and performing other actions.

Runaway 3: A Twist of Fate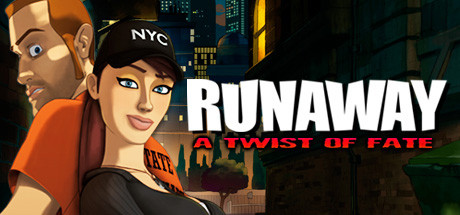 This is the third and final game in the adventure series Runaway. What is certain though is that players will once again take control of the likeable youngster in the third game. That is to say, it's played via flashbacks. Besides re-enacting Brian's experiences, which start off with him being convicted for murder, players will also at times take control of Brian's better half, Gina Timmins. Unlike their last adventure, Gina will play a larger role in these events. Consequently, players will also be solving puzzles as the former stripper with her sporty hairdo and tight-fitting outfit. It has visually improved thanks to a new graphic engine. The game now has high resolution backgrounds, more detailed and expressive characters, and more realistic animations. The interface has also been improved and offers an inventory allowing you to check each item from every angle possible.

Gone Home

This is a conceptual simulation game somewhat themed after classic adventure titles where how you interact with space around your characters determines how far you progress in the game. This title is all about exploring a modern, residential locale, and discovering the story of what happened there by investigating a deeply interactive gameworld. The development team aims to push for true simulation, both in the sense of the physics system but also in allowing the player to open any door or drawer they'd logically be able to and examine what's inside, down to small details. It's set in 1995. Investigate the Greenbriar family's house. Discover what's happened to them. Go home again.

Danganronpa 2: Goodbye Despair

Players will take on the role of a high school student as they are thrust into a life-or-death situation, and must use their wits and teamwork to survive. Each student was chosen for a special ability they possess, making them the "ultimate" example of something. Similar to the previous game, Danganronpa 2 features two main styles of gameplay; School Life, which is split into Daily Life and Deadly Life sections, and the Class Trial. Its exceptional plot is every bit as an emotional rollercoaster as the first game.
another great group!
7 - quest for glory 2
5 - book of unwritten tales
3 - discworld noir
2 - dangan ronpa 2
1 - full throttle
7 - Danganronpa 2
5 - Discworld Noir
3 - Full Throttle
2 - Gone Home
1 - Runaway
7 - Full Throttle
5 - Quest for Glory 2
3 - The Last Express
2 - Danganronpa 2
7 - The Last Express
5 - Discworld Noir
3 - Full Throttle
2 - Gone Home
PLEASE stop handling venomous things and start saving the world, okay? - Lise, Kelvin and the Infamous Machine
7 - Danganronpa 2
5 - Full Throttle
3 - The Last Express
2 - Runaway
7 - Full Throttle
5 - Discworld Noir

If only I had gotten around to playing The Last Express already. I'm curious to know where I'd rank it among Full Throttle and Discworld Noir…
Now playing: Blade Runner (post-CPT) | The Witcher: Enhance Edition (on hold) | Danganronpa: Trigger Happy Havoc (on hold) | Professor Layton and the Azran Legacy (3DS)
Recently finished: Whispers of a Machine (CPT) - 4/5 | Beneath a Steel Sky (CPT) - 3/5 | 3 in Three - 3.5/5 | Puzzle Gallery: At the Carnival - 2.5/5 | The Fool's Errand (replay) - 3.5/5 | The Dig (replay) - 4.5/5 | Return of the Obra Dinn (CPT) - 4/5 | Beavis and Butt-Head in Virtual Stupidity - 3.5/5 | League of Light: The Game (CCPT) - 3/5 | realMyst: Masterpiece Edition - 2.5/5 | Contradiction - 3/5 | Tex Murphy: Mean Streets - 2/5 | The Last Express - 3.5/5 | South Park: The Fractured But Whole - 4/5 | Indiana Jones and the Fate of Atlantis (replay, CPT) - 5/5
1) The Last Express
2) Full Throttle
3) Discworld Noir
4) Gone Home
5) Book of Unwritten Tales
7 - Discworld Noir
5 - Full Throttle
3 - Drawn: The Painted Tower
2 - The Book of Unwritten Tales
I never liked The Last Express, and always found Gone Home heavily overrted, so….
7 Runaway: A Twist of Fate
5 Drawn: The Painted Tower
3 Discworld Noir
2 Full Throttle
1 Gone Home
7 - Quest for Glory 2
5 - The Last Express
3 - Discworld Noir
7 - Book of Unwritten Tales
5 - Full Throttle
3 - Gone Home
2 - Runaway: A Twist of Fate
1 - The Last Express
Oh man, these new threads are brutal. lol

1. The Last Express
2. Discworld Noir
3. Danganronpa 2
4. Full Throttle
5. Quest for Glory II: Trial by Fire
7 - The Book Of Unwritten Tales
5 - Discworld Noir
3 - Full Throttle
2 - Gone Home
1 - Runaway - A Twist Of fate

I think this is the first group I've used all 5 votes and hard to separate the first 3. I could have used more votes in other groups but some of the games I've played just weren't worth voting for.
Never cry for something that can't cry for you.
Welcome to the Adventure Gamers forums!