Adventure Gamers - Forums
Welcome to Adventure Gamers. Please Sign In or Join Now to post.
I really don't understand gamers sometimes, but anyway…
Although I haven't played it seeing as I find the franchise really lame, I remember reading that all the hate was due to Abby being an hard-to-root & unrealistic mess of a character (and that infamously bizarre sex scene…) and because director Neil Druckmann got really political and kept expressing his views on male privilege & minorities ad nauseam, and then unsurprisingly killed off the male protag and pushed Ellie's sexuality into the forefront. Also, it's such a detailed, highly destructive and realistic environment yet the drooling all over a synagogue felt really iffy because it outright denied the option for the player to shoot at any of it—Druckmann is Jewish fyi.

I've finally tried Devil May Cry 5 and it's a massive disappointment.
It poo-pooed all over every character, plot thread and overall tone from the previous Capcom entry(ies) in favor of the worst fanfic-tier writing imaginable. Those who've rightfully criticized Ninja Theory's DmC for shifting everything way too much are now eating this one up even though it does mostly the same, praising to high heavens what amounts to a glorified Bloody Palace with disjointed story beats. Nothing adds up:
Why would the human-hating Vergil impregnate a rando? Why is Nero behaving like a psycho gf dumped by Dante? Why is Nero so unrecognizable in every single way, even mocking humans in suffering? Why are Lady & Trish treated way more disrespectfully than ever before? Why is this hobo-Dante so dumb? Why is J. D. Morrison black? Why does the Yamato suddenly do that when stabbings were always a thing? And what in the holy hell was even this: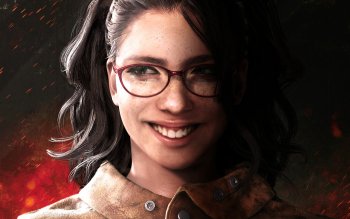 The potential to an actual good story was there. Capcom could've echoed their other franchises by maintaining their until-then leitmotif: Nero could've found out that he's in fact the by-product of DMC4-Agnus's experiments similar to Breath of Fire 4 Yuna's alchemical meddling of inhuman genes for power and progress. This would've given a proper role to his heartthrob too, Kyrie—instead of being a bland damsel in distress, she would've served as Nero's anchor to humanity, restraining his metastasizing demon genes akin to Street Fighter's Satsui no Hado.
But nooo, gotta bring back the fan favorite Vergil even if it means turning him into a cartoon villain and ruining other characters in the process.
Finished mafia and I loved it, easily a 8.5/10 for me. Yes it is a little short and the AI is brain-dead but the story is still wonderful and the time period is great.
Im currently trying tales of beseria and also really enjoying that game as well. My favorite jrpg "series" of late on the ps4 is the trails of series. I ran through trails of cold steel 1 through cold steel 3.
Welcome to the Adventure Gamers forums!