Adventure Gamers - Forums
Welcome to Adventure Gamers. Please Sign In or Join Now to post.
Adventure Game Scene of the Day — Monday 26 August 2013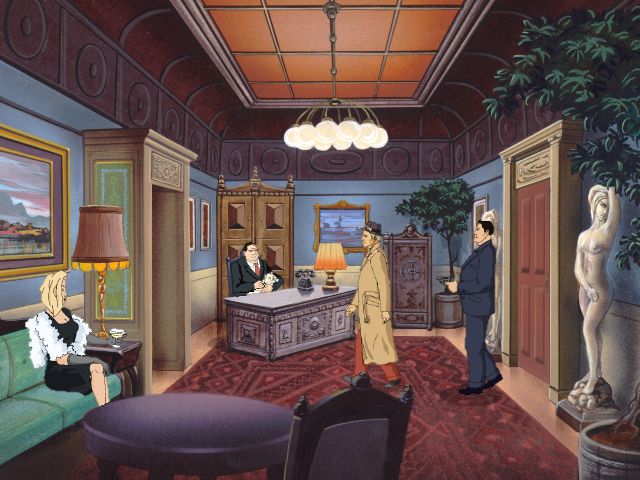 Jack Orlando (1997) was a game that looked really promising but fell a bit short. Its presentation is really nice as far as graphics and music, but some of the gameplay stuff was kind of annoying, like the fact that probably 75% of the items you pick up in the game are red herrings that serve no purpose other than to clutter up your inventory. It's an enjoyable setting to be in, but not all that much fun to actually play.
This game, on the art side, has amazing production values. It's so nice to look at. Sadly it not only plays horribly but has some of the worst dialog I've ever encountered and horrendous voice acting. Such a dud. And I even paid full price for it just because of the pictures on the back of the box.
Terrible game, one of the worst I've played.
Yeah, this game had me interested by its visuals, but all the bad reviews it's gotten made me stay clear of it.
Duckman: Can you believe it? Five hundred bucks for a parking ticket?
Cornfed Pig: You parked in a handicapped zone.
Duckman: Who cares? Nobody parks there anyway, except for the people who are supposed to park there and, hell, I can outrun them anytime.
My local library had a copy of this game. I pounced on it when I found out - a good-looking adventure game with music by Harold Faltermeyer??? Must play!!!
Unfortunately, it's little more than a good-looking adventure game with good music. The story is weak, voice acting is run-of-the-mill, dialogue is weak and it's ultimately a rather uninteresting game. I decided halfway in to speed through the rest with a walkthrough, just to get to the end and be done with it…
Now playing: Blade Runner (post-CPT) | The Witcher: Enhance Edition (on hold) | Danganronpa: Trigger Happy Havoc (on hold) | Professor Layton and the Azran Legacy (3DS)
Recently finished: Whispers of a Machine (CPT) - 4/5 | Beneath a Steel Sky (CPT) - 3/5 | 3 in Three - 3.5/5 | Puzzle Gallery: At the Carnival - 2.5/5 | The Fool's Errand (replay) - 3.5/5 | The Dig (replay) - 4.5/5 | Return of the Obra Dinn (CPT) - 4/5 | Beavis and Butt-Head in Virtual Stupidity - 3.5/5 | League of Light: The Game (CCPT) - 3/5 | realMyst: Masterpiece Edition - 2.5/5 | Contradiction - 3/5 | Tex Murphy: Mean Streets - 2/5 | The Last Express - 3.5/5 | South Park: The Fractured But Whole - 4/5 | Indiana Jones and the Fate of Atlantis (replay, CPT) - 5/5
The story is weak, voice acting is run-of-the-mill, dialogue is weak and it's ultimately a rather uninteresting game.
Usually this would be harsh words about a game, but in this case I'd say you're being generous
I've played the demo (inside the hotel) a long time ago, it was ok , but didn't quite convince me to buy and play the whole game…
Welcome to the Adventure Gamers forums!