Best Console/Handheld Adventure (retired)
Aggie Award Winners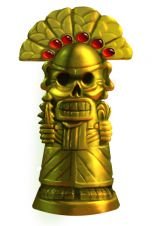 The home console and handheld platforms haven't quite championed a genre resurgence like we once hoped they might, but there were still several quality titles released in the past year. To avoid duplication, the following includes only those games exclusive to non-PC platforms. Ports are not deemed to be original releases, and are therefore ineligible.
The Aggie award winners:
Readers Choice' Award winners:
By far the biggest winner in this category was "No answer", earning a whopping 79 more votes than its next-highest competitor. This goes to show that adventure gamers are still largely a PC/Mac-centric group. But of those that were nominated, this was also the most competitive category of all. We say it every year, and it happened once again: Professor Layton vs. Phoenix Wright won the reader award by one vote! Even with two cracks at it, the Danganronpa series wasn't quite able to top the star-studded lineup in Nintendo's 3DS crossover adventure.
The PlayStation 3 may not have a lot of adventures, but it is the exclusive platform for Quantic Dream's interactive dramas (much to the chagrin of PC gamers worldwide). Three years after Heavy Rain won similar Aggie honours, now BEYOND: Two Souls follows suit as the top console exclusive, convincingly trouncing its closest handheld competitors.
Another title sure to spark plenty of "is it an adventure?" and even "is it a game?" debates, Journey is incredible, and on that we agree. It's a stylishly beautiful, melancholy exploration in which the "journey" is far more important than the destination, and even better when shared with an anonymous multiplayer partner. It's a shame that it's available solely on PS3, but for those with access to Sony's home console and don't mind some gentle platforming elements, it's a must-play experience.
The clear winner of the reader poll was really "no answer", proving once again that adventure gamers are an overwhelmingly PC-centric lot. But among those who have branched out into other platforms, the unique new adventure by Shu Takumi proved just as popular as its Ace Attorney predecessors in taking home the best console or handheld adventure award, handily topping an impressive pair of challengers in 2011.
Many people lament and even resent the fact that Heavy Rain is a console-only exclusive. But there's no doubt that Sony and Quantic Dream achieved their goal of presenting a highly cinematic interactive drama. Its gritty premise, multi-character narrative arc, organic control scheme, and of course an impressive amount of freedom to control the storyline all added up to one of the most memorable adventure experiences of the year, regardless of platform.
Apparently we're all suckers for a good puzzle. Or if not just one, then for a mind-boggling (and not for the last time) 150-plus puzzles in the stylish Professor Layton and the Diabolical Box. Sure it may be more a puzzle game than fully-integrated adventure, but the Professor's second title is the sort of challenging, just-one-more experience that makes people consider buying a Nintendo DS all on its own.
See? We told you few would deny how good Professor Layton is, although the supporters of Apollo Justice: Ace Attorney and Strong Bad made a worthy but ultimately futile effort to keep the puzzle-centric DS adventure from top spot. But just as every puzzle has an answer, so every reader poll has one too, and to this choice of the winner we can only declare: CORRECT!